It's #SourdoughSeptember!
Fomented (and fermented) by the Real Bread Campaign, #SourdoughSeptember is the international celebration of genuine sourdough, encouraging people to buy it from small, independent Real Bread bakeries, or make it at home.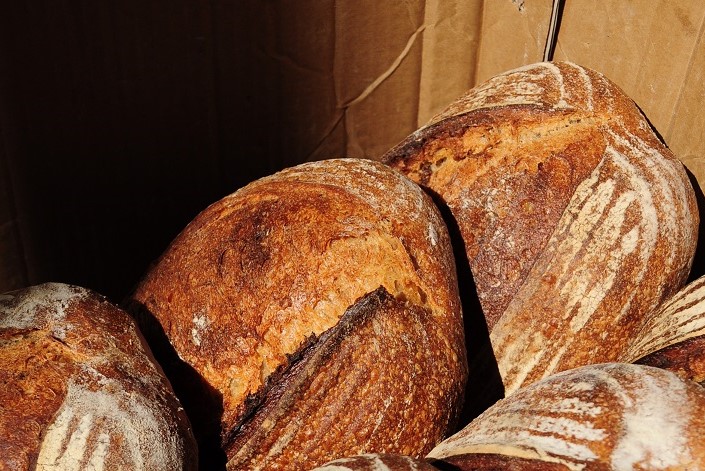 For the 5th anniversary year, fermentalists around the world have been encouraged to run classes, feasts, tastings and simply giving away pots of starter – the latter also being the focus for bakeries in the Real Bread Ireland network.
They include:
#LifeOfALoaf bread clinic and starter giveaway at Bluebird Bakery, Leeds and Malton
River Cottage sourdough classes at Borough Market, London
Hobbs House Bakery class with Tom Herbert, Chipping Sodbury
Two-day simply sourdough course at Loaf, Birmingham
Out in the social media sphere, genuine sourdough will be celebrated with the #SourdoughSeptember hashtag.
WIN
Twitterists have the opportunity to win a Doves Farm ancient grains hamper (RRP £50). Simply follow @realbread and @dovesfarm on Twitter and tweet a photo of your best sourdough loaf yet, using the #SourdoughSeptember hashtag.
Paid-up Campaign supporters also have the chance to WIN a Dualit Long Slot Lite toaster (RRP £116) or an AGA loaf tin and apron bundle (RRP £83). Details in issue 32 of True Loaf, the Campaign supporters' magazine.
More information
Genuine sourdough bread is leavened using only a live starter culture, produced by mixing flour and water to nurture yeasts and lactic acid bacteria (related to those used to make yoghurt and cheese) that occur naturally on the surface of cereal grains, and therefore in flour. Genuine sourdough is not made using baker's yeast or artificial additives.
People can find details of sourdough (and other Real Bread) events/activities, facts and FAQs, information on the potential benefits of eating sourdough Real Bread, a list of baking schools, the Real Bread Finder directory of where to buy additive-free loaves made by more than 700 small, local bakeries, plus why and how to join the Campaign at: www.realbreadcampaign.org
ENDS

NOTES

Part of the charity Sustain: the alliance for better food and farming, the Real Bread Campaign finds and shares ways to make all loaves better for us, better for our communities and better for the planet.
The Campaign defines Real Bread simply as made without the use of processing aids or any other artificial additives, and welcomes everyone to join to support its work.
An honest crust?
The Campaign warns people of paying a premium for sourfaux - high-speed, industrial imitators of genuine sourdough, boosted by baker's yeast and sometimes laden with artificial additives.
Loaves sold by some retailers as 'fresh' are in fact made elsewhere and merely finished in a store's 'loaf-tanning salon'. Legal definitions for words including 'sourdough', 'artisan' and 'wholegrain' as well as full ingredient listings for all loaves are part of the Campaign's call for an Honest Crust Act – the next step in this drive will be launched during #SourdoughSeptember.
Some sourdough facts
Genuine sourdough…
…bread's origins are unknown. The oldest existing records that appear to show leavened bread making are from Egypt, with estimated dates around 5000 years ago…though nobody's certain.
…cultures are easy to start at home in a matter of days using just wholemeal flour (thriving with yeasts and lactic acid bacteria that live all around us, notably on the surface of cereal grains) and water
…bakers use various terms to refer to their cultures, including starter, chef, levain and mother
…is not yeast free! Labelling it as such could fall foul of consumer protection laws
…cultures are all different, some containing Saccharomyces cerevisiae, aka baker's or brewer's yeast, the same species (though almost certainly a different strain) as commercial yeast
…doesn't have to taste sour. Skilled bakers control the conditions in which their starters are cultured, and doughs are made, to ensure that the levels of sour, vinegary acetic acid produced don't overwhelm the subtler lactic acid.
…cultures can evolve over time, so that '150 year old' starter might not contain the same balance or even species of bacteria and yeasts it did even a few years ago.
…has been shown to reduce the glycaemic index (GI) of bread
As well as resulting in a greater depth and complexity of flavour, aroma, and texture than using commercial baker's yeast, some studies have found long fermentation with a sourdough starter culture to have a range of dietary benefits. The Real Bread Campaign calls for more research into these.
The Real Bread Campaign's sourdough page.
Support our charity
Your donation will help support the spread of baking skills and access to real bread.