Good Food Review: The Dinner Ladies
Excited to meet a whole new type of dinner lady, Abi Aspen Glencross headed down to Putney Embankment for a 'Supper at Sea'.
For me, the words 'dinner ladies' conjure up memories of women wearing hairnets, ladles in hand, serving up hot school meals of rice pudding with jam and potato smileys. These 'dinner ladies' are very different. Lily Cai and Emily Plunket founded the bespoke events and catering company in 2015, cooking up food inspired by flavours from around the globe while championing British suppliers.
They have shown extreme kindness and resilience in the face of Covid-19, converting to online deliveries offering whole tarts, picnics and breakfast boxes. They also set up a meal service using their kitchen to cook food for key workers and those in need.
Lucky for us they host regular supperclubs, and on a warm August evening we attended their 'Supper at Sea' dinner at the London Rowing Club HQ on Putney Embankment.
The first stop on the magical mystery ride was oysters with a ginger granita. The cold fiery granita cut through the salty oysters refreshingly well.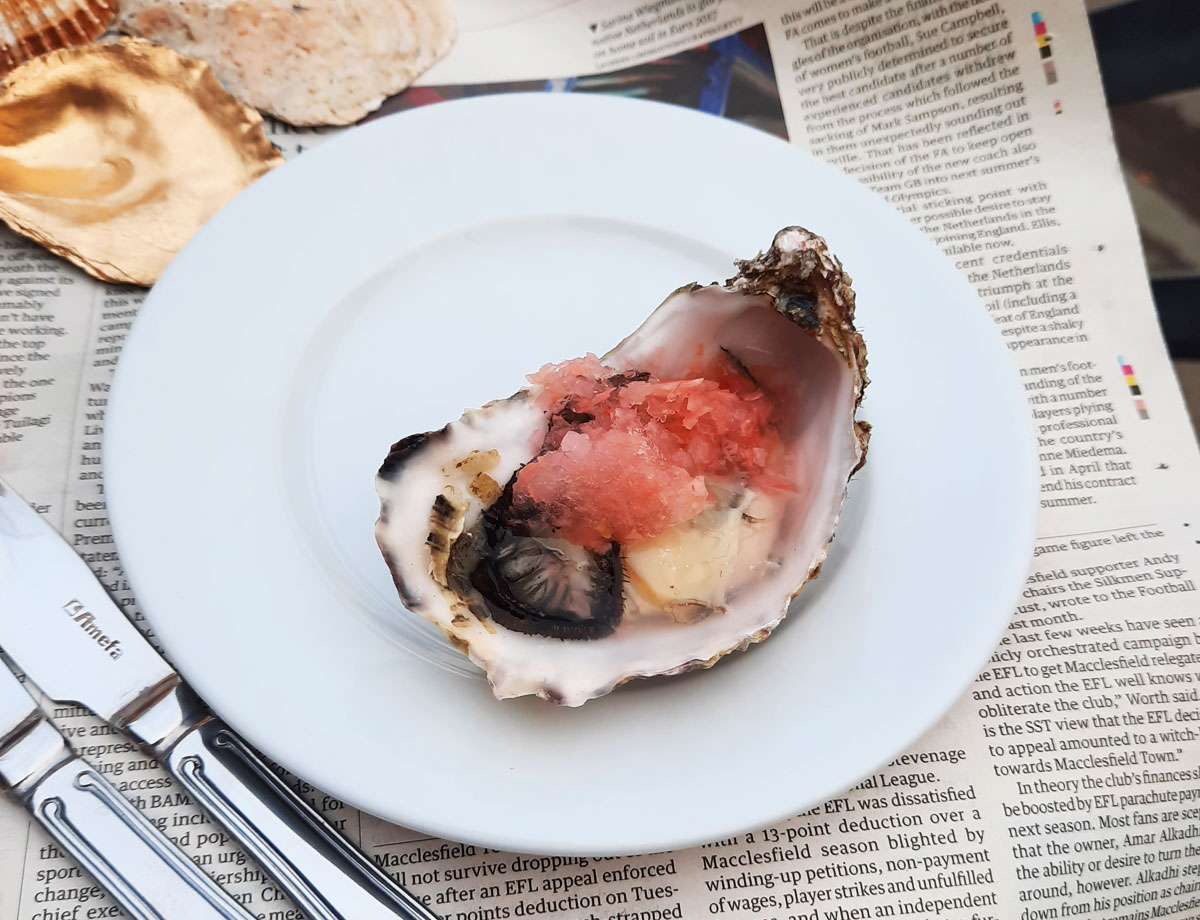 Photo: Abi Aspen Glencross
Chilled fennel and grapefruit soup with crab gougère (little cheese choux buns) was to be our second course. The grapefruit provided a tart lift, while the crab-filled choux gave a pleasant salty tickle on the tongue.
A delicately interesting take on tartare with mackerel came next, followed by crowd-pleasing fish tacos.
The final savory course was red mullet laksa with mussels and aubergine puree. Inspired by Dinner Ladies sous chef Nikika, the authentic laksa paste gave the curry a gorgeous punch.
For dessert, the ladies did not disappoint with a coconut ice cream with mango coulis and a sweet brown butter crumble. Cool, sweet, tangy, fruity and crunchy.
After dinner we had a chat with the ladies about their fish sourcing. They expressed gratitude to their sustainability focused fishmonger James Knight, who sends monthly Marine Stewardship Council reports. The ladies opted for predominantly British fish. It worked well. Sustain's Sustainable Fish Cities co-ordinator Ruth Westcott said: "Oysters and mussels are some of the most sustainable fish you can eat" but for some fish like red mullet you might need to dive in for more information.
This was our first dinner since the start of Covid, and what a dinner it was. Great hospitality, incredible cooking and the perfect setting. At £35 with a welcome drink included, the price was perfect for a 'little bit fancy' date night. Alternatively, you can try one of their online picnic hampers.
Dinner Ladies will be re-opening their Supper at Sea in June 2021
---
Visit Sustainable Fish Cities at www.sustainweb.org/sustainablefishcity to check the sustainability of the fish you are eating.
www.dinnerladiesltd.com
@Dinner__Ladies
RELATED ARTICLES
NEWS