6 Amazing Vegan Events You Don't Want to Miss
Whether you're a fully-fledged vegan, or taking steps towards a plant-based diet or just want to celebrate the late summer harvests, here are five fantastic plant-based Urban Food Fortnight events to tuck into.
Harvest Festival Supper Club
22 September, Fields Beneath Kentish Town, NW5 3LN
Hosted by accomplished Chef Barney Pau, this vegan supper club is inspired by Harvest Festivals. Guests will be treated to five courses of delicious plant-based dishes served alongside a traditional harvest loaf, with seasonal fruits and vegetables taking centre stage. Each vegan dish celebrates organic British produce at its best, and 15% of proceeds will go to St. Mungo's, a charity dedicated to tackling homelessness. Info here.
Waste Not Want Not: Free cookery class on potatoes
25 September, The Platform Café, SW9
Mandy Mazliah runs a class with Small Change, Big Difference for Londoners looking to up-skill in the kitchen while also saving on waste, money and the planet. Participants will learn how to make curried potato quinoa burgers (can be made with leftover mashed potato) with potato peel chips, grated carrot and mustard salad and vegan slaw. Info here. And if banana's are more you thing, then you can check out their free class on bananas on 2 October.
Blower's Place Supper Club
27 September, Origin Coffee Roasters, SE1 0XN
Join renowned eco-chef George Blower as he delivers his third, and likely final, supper club for 2019. You can expect a welcome cocktail, five-course tasting menu and delicious treats throughout the evening. The menu is designed to be vegan-by-default, showcasing the wonderful simplicity of how seasonal and local produce can be paired and cooked to create spectacular flavours. Info here.
Going Vegan Masterclass
2 October, Made in Hackney, N16
"I'll show you just how easy, enjoyable and creative it can be to become vegan!" Create creamy and cheesy flavours and textures, such as béchamel sauce for a Cauliflower Bake, a 'Meatless Ball' recipe with hearty meaty flavours and textures, plus vegan desserts such as Chocolate Brownies with 'Nice Cream'. Info here. You might also want to check out MIH Cooking with Aquafaba course on 5 October to learn how to use this amazingly versatile vegan egg replacer to make delicious meringues, chocolate mousse, mayonnaise, butter and more. Includes a delicious organic lunch and recipe pack. 20% off both for London Food Link Supporters.
Capital Growth's Urban Harvest
Various dates across the fortnight, 16 locations across London
Capital Growth's Urban Harvest is a unique chance to visit London's local larders and share in their celebration of locally grown fruit and veg. From mushroom-growing to edible terrariums, you will get a chance to learn about and taste fresh, delicious food grown in the city. Check out the map here.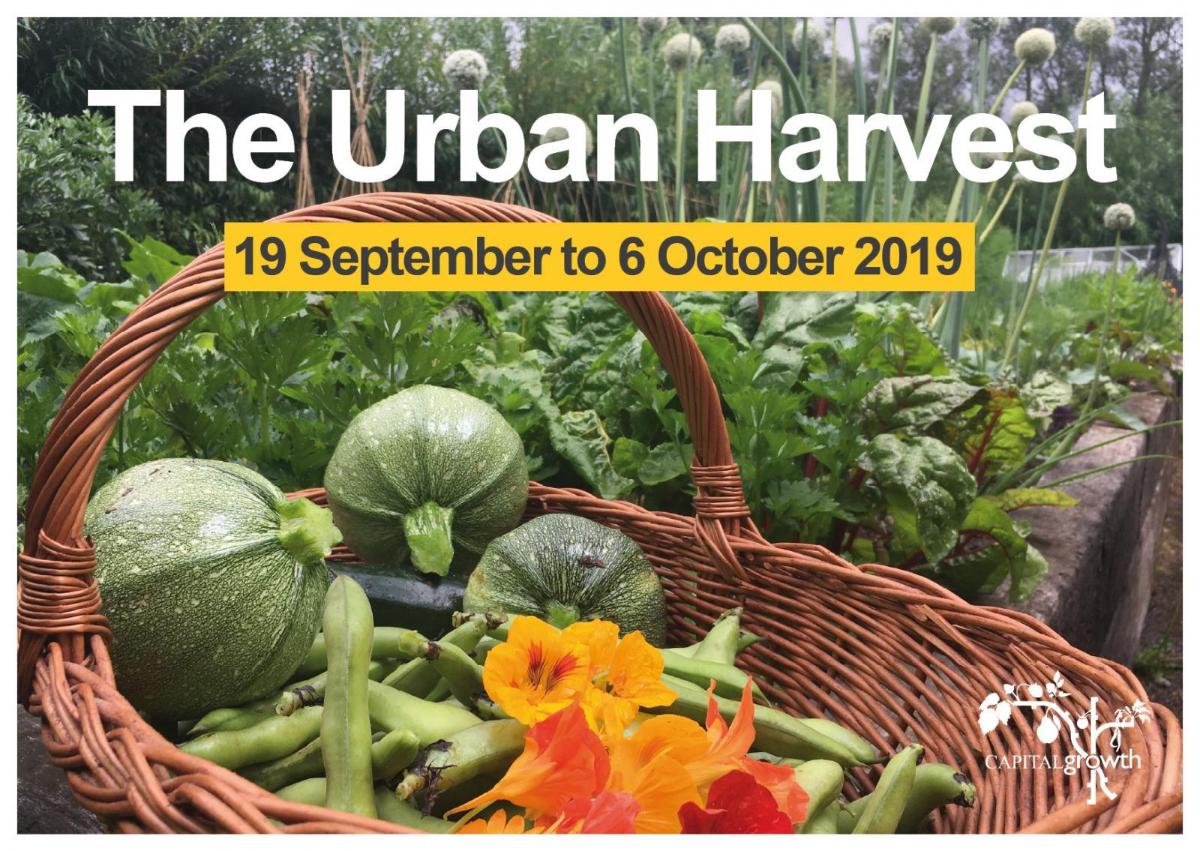 Family Fermenting Fun
5 October, Brockwell Park Community Greenhouses, SE24 9BJ
Get the young ones excited about the power of plants - hear a story about magical microbes, walk around the gardens picking edible flowers, herbs, fruits and vegetables and then get fermenting! You will take home a jar of vegetables to ferment at home, as well as water kefir grains to make a delicious probiotic drink. More info here.
This year's Urban Food Fortnight takes place across London 19th September – 6th October with a series of workshops, pop-ups, supper clubs and more celebrating London's finest local food and many of them have a plant based focus this year.
RELATED ARTICLES
NEWS