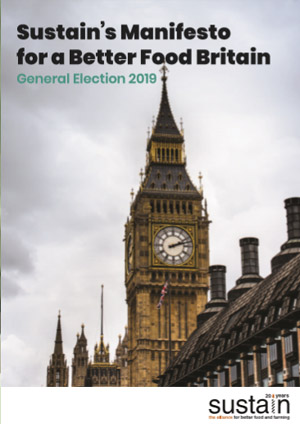 Sustain's Manifesto for a Better Food Britain 2019
Our manifesto sets out what we want government and policy makers to do, to secure a Better Food Britain.

Download the 2019 Sustain Manifesto
Political party manifestos 2015

Food & farming table

Party

Support for Farmers / Producers

Animal Welfare

Organic / GMO statements

Environment

EU Common Agricultural Policy

Food Poverty

Healthy food / food safety

School food / Public procurement

Conservatives

Taxes to be smoothed over 5 years, not 2 to improve resistance to volatility. Treble apprentices. Farmer led data collection. Champion Grocery Code Adjudicator so farmers get fair deal from supermarkets.
Promote British products and encourage British exports.

Push for higher standards and incorporate them into international trade agreements.

Have science-led advice on GMO

Science based approach to pesticides. See also EU CAP

Reform and spend £3 billion from the Common Agricultural Policy on countryside over the next five years, to clean up our rivers and lakes, protect our stonewalls and hedges, and help our bees to thrive.

Take action to reduce childhood obesity, support people struggling with obesity to help them back into work.

Green

Subsidies designed to protect the soil, reduce flood risk, conserve wildlife, improve water quality, increase recreation and assist carbon capture.
Encourage fair trade to guarantee a decent livelihood for farmers at home and also in countries that export food to the UK.
Protect productive land from development.
Increase localisation of food supply.
More powers for the Supermarket Ombudsman

Move away from intensive farming, ban on cages for hens. CCTV in slaughter-houses, 8 hour limit on transportation and end to live export for slaughter

Promote non-chemical ways of farming. Increase support for organics. Support a moratorium on GM crops

Reduce use of pesticides, help bees. Stop overuse of antibiotics.
Ensure people eat less, but better quality meat. Ban waste food and organic material from being sent to landfill.

Reform to promote landscape conservation

Ending food banks and food poverty. Ensuring that nutritious food is available to everyone at prices they can afford.

Extend VAT to less healthy foods, including sugar, but spend the money raised on subsidising around one third of the cost of fresh fruit and vegetables.
Improve traceability and labelling

Free nutritious (school) lunches to all children and get children involved in growing, preparing and cooking food where possible.
Encourage sustainable supply to schools and hospitals (including local and GM-free ingredients).
Introduce a Hospital Food Plan.

Labour

Create a world-leading Food, Farm and Fisheries sector that creates better paid jobs and apprenticeships across the rural economy.

Create long-term strategy for the sector, to promote the best of British produce.

Strengthen Grocery Adjudicator.

End badger cull

Emphasis on protecting environemnt, tackling climate change, including 'ambitious action plan'

Reform, will not join Euro

A greater emphasis on publich health and prevention.

Set maximum levels of fat, sugar and salt in foods marketed to children.

Give local authorities new powers so that local communities can shape their high streets and manage the future number of fast food outlets locally.

Guarantee parents of primary school children access childcare from 8am to 6pm (which would impact food provision).

Liberal Democrat

Ensure farming support is concentrated on sustainable food production, conservation and tackling climate change. Support Groceries Code Adjudicator

Review the use of cages, crates and routine preventive antibiotics. Introduce, science-led ways of controlling bovine TB,

Ensure sustainable and healthy food is served in the public sector. Protect bees as pollinators.
Extend food waste collections.

Reform and shift CAP payments to the active farmer rather than the landowner

Restrict marketing on junk food, better food labelling. Extend food waste collection. Maintain 5-a-day campaign. Encourage traffic light food labelling. Introduce a National Food Strategy to promote the production and consumption of healthy, sustainable and affordable food

Extend free school meals to all primary school children.
Further invest in Defra's Food Plan for Public sector procurement.
Quality food in NHS.

Plaid Cymru

Reform of Red Meat Levey rule.
Strengthen Groceries Adjudicator role.
Get young people into the farming industry.
Increase domestic and international market for Welsh produce.
Reduce red tape in farming.
Support for allotments and home growing.
Will support food festival promoting local produce.

Support adoption of Animal Welfare law at all levels of government and creation of EU Animal Welfare commissioner.

Against growing of GMOs in Wales and UK.

Ensure farming is sustainable.
Will introduce food waste bill.

Support the CAP, keeps 80% of Welsh farmers in business.

Remove the need for Food banks. Through food waste bill donate surplus food to charities for distribution.

Supports a tax on sugary drinks.
Will work with food and drink manufacturers to reduce sugar.
Tackle Food fraud and ensure food safety standards aren't breached. Oppose lowering of standards through TTIP.

Increase procurement of Welsh produce.

SNP

The full devolution of all food levies to support the promotion of Scotland's food and drink

Abolish the Bedroom Tax and would invest the £35 million spent by the Scottish Government to compensate those affected in tackling - and eventually eradicating - food poverty.

Continue to work on promoting local food supply, including within the public sector.

UKIP

Redistribute payments away from wealthy landowners and to farmers.
Favour smaller food producers and family farms. Introduce a UK subsidy of £80 per acre.
Fair price for dairy farmers, allow farmers to counter power of purchasing cartels.
Refine brief for Grocery Adjudicator

Ban export of live animals to slaughter, install CCTV at abattoirs and deal with violations seriously.

25% premium on subsidy for organic farms. Support research into GMO's and have a free vote in parliament.

Match-fund grants made by local authorities towards rural capital projects, such as creating a lake, wetland, and repairing traditional stone walls, which enhance the local environment, encourage rural education, or help recovery from environmental disasters.

Leave EU

Develop food banks into community advice centres

Protect Meals on Wheels.

Place a statutory duty on all primary schools to offer before and after-school care, 8am - 6pm during term time, with option to extend this to all-day provision in school holidays. These sessions will include breakfast and healthy snacks.
Share
Get updates
Menu
Support our charity
Donate to enhance the health and welfare of people, animals and the planet.