A world leading Healthy Start scheme requires a healthy investment from government
The Healthy Start scheme has received renewed interest in recent months thanks to a coalition of civil society organisations, spearheaded by Marcus Rashford. Cecily Spelling runs through the changes that have been announced and what needs to happen next to ensure children get the healthy start they deserve.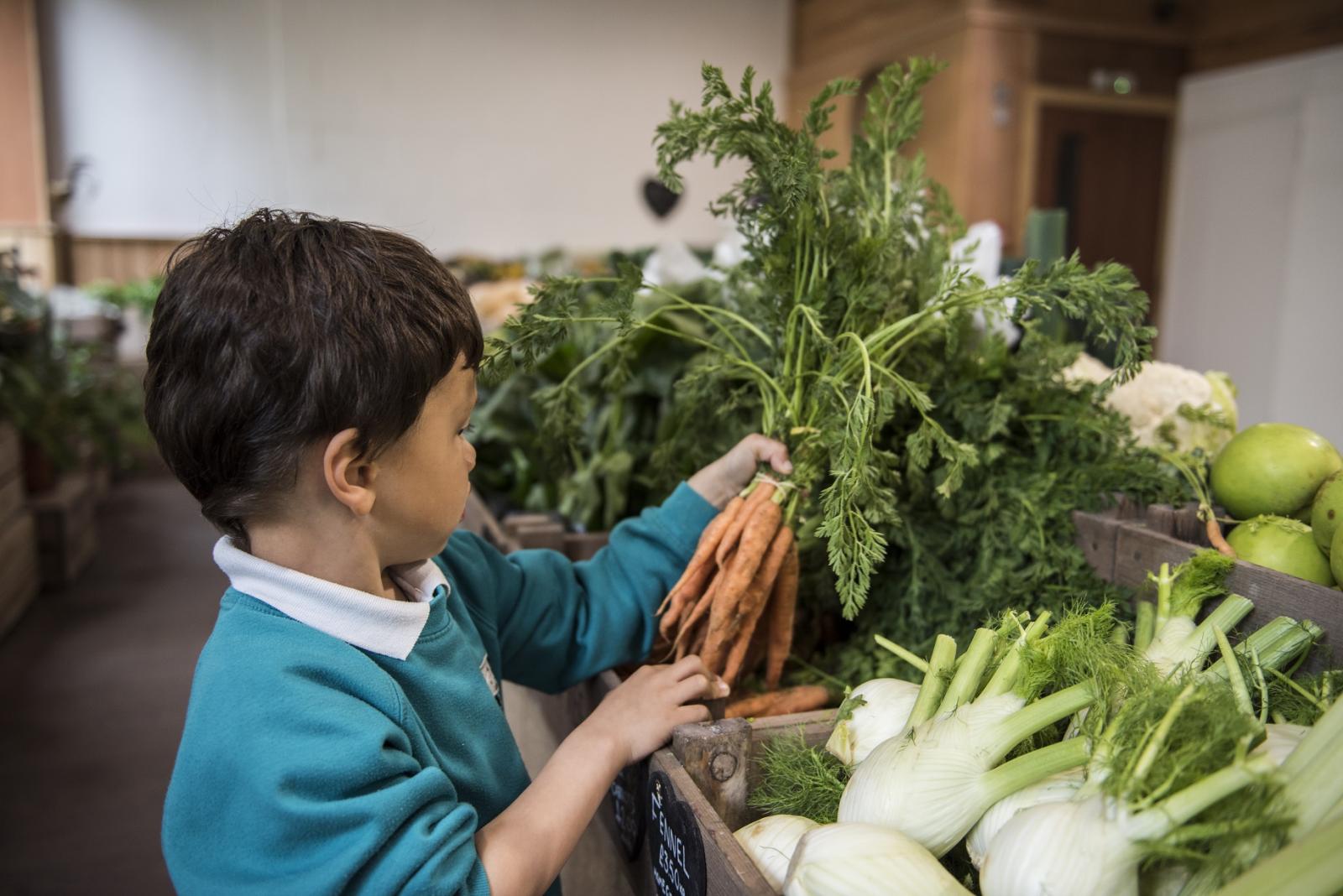 Children buying food / Credit: GLA
Healthy Start provides young pregnant women and low-income families with children under the age of 4 in England, Wales and Northern Ireland with free vitamins and food vouchers to purchase vegetables, fruit, pulses and cows' milk.
Why is the scheme needed?
An estimated 8.4 million people in the UK struggle to get enough to eat. In addition, unhealthy food options that are high in fat, salt and sugars are often cheaper and more readily available. So, when money is tight families struggle to access a balanced diet. The Healthy Start scheme is designed to counteract that trend by providing support for families to buy the food they need to ensure a healthy start for their children. Ultimately, the scheme is a sticking plaster for a much more complex and deep rooted problem, but until that problem is fixed, the scheme is needed more than ever.
That's why a coalition of civil society organisations, including Sustain, spearheaded by Marcus Rashford, have been calling on government to adopt three recommendations of the National Food Strategy: expand free school meals to more children living in poverty, expand the Holiday Activity and Food Programme and expand and raise the value of Healthy Start vouchers. It seems the Government is finally listening. Earlier in November, it announced an increase in the value of vouchers from £3.10 to £4.25, due to come into effect in April 2021 in England. Though, both Welsh and Northern Ireland Governments are yet to confirm if this increase will also be introduced in their nations.
Retailers are also waking up to the need for healthy options to those most in need. For example, Iceland is offering a free bag of frozen veg to all families using Healthy Start vouchers in their stores. Tesco and various Co-op branches will also add an additional £1 to all healthy start vouchers used in-store across the winter. We'd also like to see more retailers paying at least the real Living Wage to their staff and offering a fair deal to their suppliers.

What should happen next?
Food poverty alliances and food partnerships we work with around the country are doing all they can to support children and families, but they believe additional changes to the Healthy Start scheme are needed to ensure it delivers what it's set to do. In addition to the welcome increase in value of the vouchers, we would like to see the following:
A digital version of the scheme by April 2021.
This would prevent precious government and NHS time and money being wasted on redesigning and printing the paper vouchers for them to quickly become redundant when the digital scheme is launched in October 2021 (as currently planned). In turn, this would help increase uptake of the scheme from both beneficiaries and stores by reducing the admin involved and creating a more dignified, discreet payment method. This would also bring the rest of the UK in line with the Scottish scheme, Best Start, which is already digital, offering an online application process and a pre-loaded card instead of paper vouchers.
Extend the scheme to all families in receipt of Universal Credit
According to the Children's Future Food Inquiry, in 2019 only 50% of children living in food poverty were entitled to support from the scheme. Of those who were eligible, only 30% were actually benefiting from it. The National Food Strategy Part One estimates the scheme would benefit another 290,000 pregnant women and children under the age of 4 if extended. Given the impacts the pandemic has had on families, this change alone could make a huge difference to the health of mothers and children.
Fund a £5 million communications campaign to increase awareness and uptake
Uptake of the scheme is falling year-on-year, dropping to just 48% (251,547 beneficiaries) in June 2020, meaning that 272,080 eligible mothers and children were not registered for the scheme. Many food poverty alliances and food partnerships around the country are running their own projects to rectify this downward trend, working with local health professionals, stores and community groups to advertise the scheme. This work should not sit on the shoulders of already overstretched charities and local authorities though. As a government scheme it is the government's responsibility to ensure it reaches those in need and a government supported communications campaign would help achieve that.

The need is there. The support is there. Now we just need the government to level up support for children so they can access the healthy food they need to have the best, healthiest start in life.
Cecily worked at Sustain for two years from September 2020 as the Communications and Network Coordinator for Food Power, the Food Roots Incubator and the Food Learning Forum.
Cecily Spelling
Communications and Events Coordinator
Food Power
Support our work
Your donation will help communities identify ways to alleviate food poverty and increase access to healthy food.