Which countries are already serving up school food for all?
Did you know that several countries around the world already dish up school food for all their children, including some in the UK? Well, you do now and this blog tells you all about them, how it works, and why we should Say Yes to School Food For All too!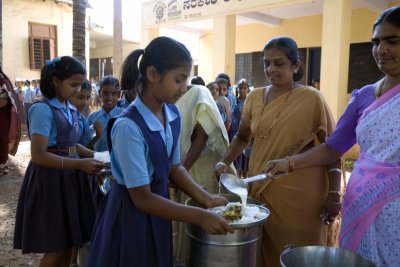 Children enjoying their mid-day meal program in India.
There is no doubt that access to nutritious food in school is rising up the agenda in the UK. Both Wales and Scotland have committed to providing school food for all primary pupils. In England, The Mayor of London recently announced funding for free school meals for all London primary students for the 2023/24 academic year. Though this shows the momentum for universal free school meals, in truth, the UK as a nation is still lagging behind the curve. Countries around the world have already been providing universal free school meals for years, and you may be surprised at who.
India
Since 1995, India's mid-day meal programme has been providing lunch for 125 million children aged 6 – 14. Costing the government $2.8 billion, it ensures that every child is able to access a hot meal, no questions asked. It's the largest school food for all scheme in the world, and it aims to reduce child hunger, increase school enrolment and school attendance, amongst other things. It improves nutritional health, educational outcomes and has even been found to have an intergenerational impact, with fewer shorter children born to women who had benefitted from the school food program, which is a common sign of malnutrition.
Brazil
Brazil had been providing free school meals for children from low income families since the 1940's, but in 2009 they expanded the program to provide for all children. That's 40 million children! This was done in response to growing evidence that free school meals helped tackle obesity and increase nutritional education. Now the scheme uses a nationwide network of 8,000 nutritionists to design the school meals and requires a minimum of 30% of the food served up in these meals to be from local family farms in the schools' municipality. The El Salvador municipality has gone one step further and is dishing up plant-based meals to its 170,000 students.
Estonia
All primary and secondary school children have been receiving free school meals since 2002, ensuring every child in state school receives one hot meal a day. Estonia also runs programmes of free fruit, vegetables and milk in schools.
Finland
Originally announced in 1943, 80 years on and over 900,000 students are still tucking into a free school meal every day in Finland in both primary and secondary. When it was first rolled out, food was donated by local farmers and children had to bring in their own home grown or foraged food for use in porridge and soups. Menus have developed since then, with some firm favourites including meatballs and mashed potato and spinach pancakes.
Sweden
Sweden joins its Scandinavian neighbour in serving up 260 million hot meals a year to students aged 7 – 16, and to most 16 – 19 years old. Research into the Swedish scheme has found that children who eat these meals not only improved their educational attainment, but are healthier as they grow up. Children from families in the lowest income quartile who received free school meals for nine years increased their lifetime income by 6%, resulting in a benefit to cost ratio of 7:1.
The United States
During the Covid-19 pandemic, schools across the USA provided free school meals to all students, to ensure every child was able to access the food they needed. National support has come to an end but multiple states have continued to provide state-wide meals for all students including New York City, Vermont, Nevada, California, Maine and Colorado, whilst others have improved their offering so more children are able to benefit.
Countries in Africa
African nations are actively looking to follow suit too with Benin and Kenya both committing to a long-term vision of universal school food provision, whilst Rwanda has increased its coverage of school food provision from 660,000 to 3.8 million in both primary and secondary schools. Financing for school food expansion is being drawn overwhelmingly from domestic budgets.
Meanwhile back in the UK
Both Scotland and Wales are leading the charge in the UK. Scotland is providing free school meals to all primary age pupils in p1-p5 and this will be extended to p6-7 in forthcoming years. Wales has committed to introducing universal primary meals over the next three years. London joined this elite group too with the Mayor of London announcing funding for all primary meals across London for the 2023/24 academic year. Whilst in England, infant students (aged 3-7) receive universal free school meals but are moved to a means tested system from year 3.
Momentum is building for a universal approach as countries across the world are proving that school food for all is a long-term investment that supports healthier, better educated, wealthier and happier children, free from the stigma of a means testing system. The global School Meals Coalition is an initiative of governments with a vision of a healthy meal every day for every child in school by 2030. It now has 77 member states, including France, Germany, Norway and the European Union, but the UK has yet to sign up.
Do you share this growing global vision of a healthy meal for every child every day, regardless of their background or income? Then Say Yes to School Food For All and let's show our Governments the breadth of support for action!

Cecily worked at Sustain for two years from September 2020 as the Communications and Network Coordinator for Food Power, the Food Roots Incubator and the Food Learning Forum.
Cecily Spelling
Communications and Events Coordinator
Food Power
Support our charity
Donate to enhance the health and welfare of people, animals and the planet.