The revolution will be (organically) fertilised
Sarah Williams, Programme Director at Sustain, reflects on urban farming in London as Capital Growth heads for its tenth anniversary, having supported over 2,700 community food growing spaces.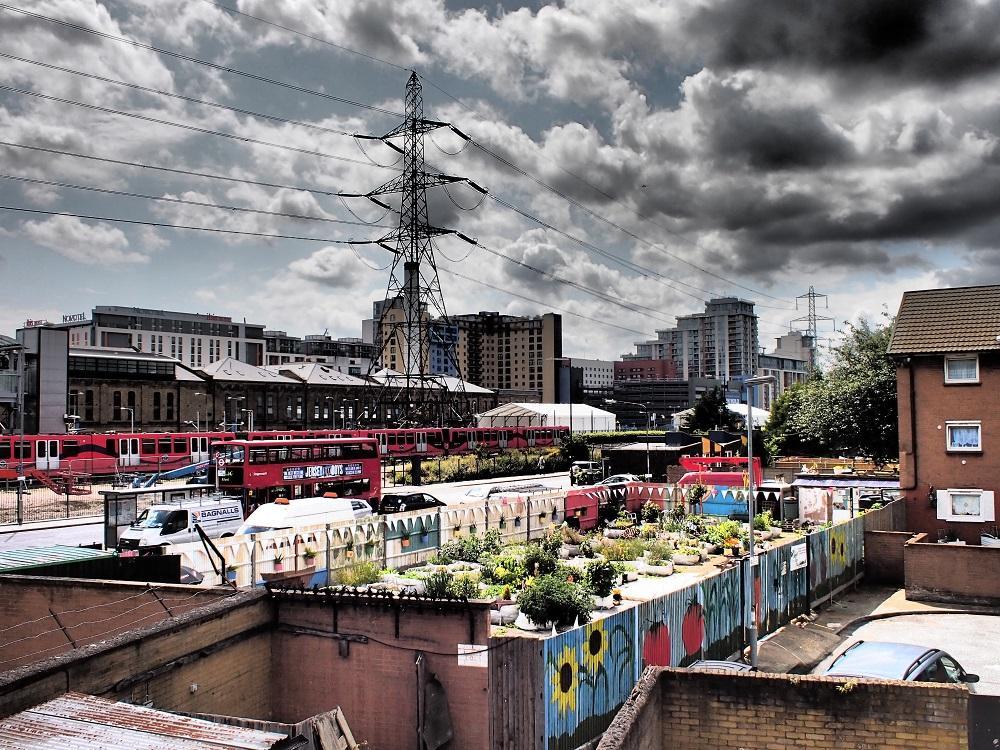 Temporary food growing in East London
"To grow your own food, and provide for yourself, is nothing short of a revolutionary act in today's world." Sofia Marbach
Back in 2008, when working in East London to increase access to healthy food for low-income communities, I heard about a new, ambitious project led by Sustain and the London Food Board to create 2,012 food growing projects coinciding with the run-up to the London 2012 Olympic Games. This got my attention. I had seen, first-hand, people being inspired by a new wave of grassroots grow-your-own projects. And many of these people were from groups we had struggled to engage - older men, families, young people - all getting their hands dirty to grow their own veg. So I was intrigued - could this scale really be achieved in just 4 years?
Fast forward to our 10-year anniversary in 2018 and I have spent the last 8 of those years working on the Capital Growth campaign (as it was named – and yes I got a job at Sustain to make sure it did!), and I'm privileged to be able to reflect on what we have achieved.
And the good news is…
Well, the original campaign was successful! We hit our target of 2,012 new community food growing spaces by the end of 2012 – and what a party that was! And Capital Growth and all those beautiful spaces have kept on growing. We have helped well over 150,000 Londoners get stuck in to growing their own fruit and veg across many more than the original target of 2,012 growing spaces, and still counting. These cover over 78 hectares of urban land, much of it previously neglected, derelict or indeed concreted over waste land.
In the first phase, we gave out hundreds of thousands of pounds in small grants provided by the Mayor of London, helped thousands of people learn new skills through setting up and running a training allotment with the Royal Parks, in the heart of the Regent's Park – a site that still runs a packed programme for budding food growers. We have propagated heaps of thriving side projects - the Big Dig, the Harvest-ometer, Urban Food Fortnight to name a few. And made loads of green fingered friends who continue to inspire us and others every day.
People like Paul Richens, the amazing soil guru and worm-botherer who built the Skip Garden at King's Cross and has run lots of Capital Growth training. Or Carole Wright – the south London bee-keeper-come-community gardener, and most well connected Peabody Trust resident I know. And Sophie Verhagen and the other patchwork farmers, growing hundreds of kilograms of organic salads across Hackney for the Growing Communities box scheme. I could go on… But most importantly – so the people in our network told us – was the fact that being part of Capital Growth made them feel part of something bigger, like they were not treading this new ground alone.
But is it a revolution?
Well – perhaps it's not for me to say, but I will say it is a great start. I loved listening to Ron Finley of south Los Angeles talk about how growing food for him was an act of "spirited rebellion". He also says 'growing food is like printing your own money' in a narrative where he talks of unhealthy eating in "drive thru's killing more people than drive-bys". And here in London, our vegetation-based 'printing press' has been well and truly activated over the last 10 years.
Collectively, the wonderful people involved have changed attitudes on growing your own, and have made it normal to ask a housing officer if you can grow food on the derelict grass on your estate, or to find an unloved park and plant herbs and fruit trees there. Londoners have reclaimed land. They have grown a million meals. They have turned the 'no' that previously thwarted community land use into a healthy 'yes!' and now we have seen productive farms springing up around the peri-urban fringe, growing for box schemes, restaurants and markets. Here, I give a big nod to OrganicLea, Sutton Community Farm, Forty Hall, Growing Communities, Keats Organics and Cultivate London, training the future growers and putting good food on the plates of Londoners.
We have campaigns to get schools growing, projects for older people, ambitions to get food growing 'on prescription' pushing the health service to signpost patients to growing projects and projects providing jobs and skills. Food growing in cities is reaching people in all walks of lives, and giving them the chance to take part in something that - if not a revolution - is a revolutionary act.
But we still have our struggles. There is more work to be done to ensure that food growing is recognised in planning decisions and to protect gardens against the threat of development. More funding needs to be made available for the groups doing amazing stuff with some of our most vulnerable people. And yes, we still have the 'small' matter of a broken food system that exploits too many people, that does not keep our communities healthy, contributes to climate change, air and water pollution and is essentially run for short-term profits.
At 10 years old, a child knows its own mind, speaks up and can start to answer back. So whilst we take a moment in our 10th birthday year to celebrate our victories, big and small, we will also make sure our voices are heard. We will continue to work at building alliances and movements where people are mobilised, gain skills and get savvy in recognising opportunities to fight for their right to good food, including the right to grow their own. So we may not have caused a revolution with people raising spades in Whitehall. But listen, if you take a quiet moment, you might hear it buzzing triumphantly in London's thriving network of edible urban gardens.
Find a local food growing garden, on Capital Growth's Big Dig Day on Saturday 27 April 2019.
Sarah is Programmes Director for Sustain and a member of the Senior Leadership Team, having joined in in 2009 to run Capital Growth campaign, which supported 2,012 new community food growing gardens in London.
Sarah Williams
Programmes Director
Support our work
Your donation will help support community food initiatives and enterprises to thrive as part of a more sustainable food system.