How are London councils responding to rising food insecurity during lockdown and as it lifts?
Maddie Guerlain looks at trends across the city, what local authorities are planning for the summer and four areas of best practice.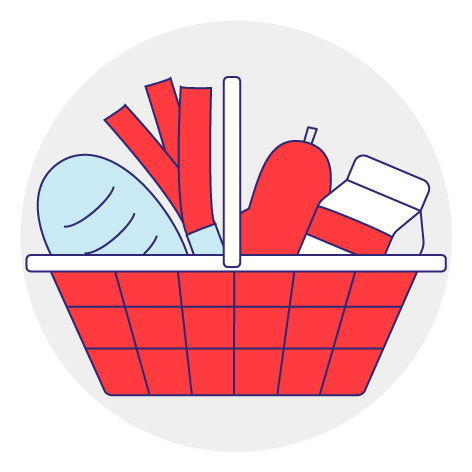 Over the last few months London councils have been supporting residents who are struggling to access food, whether due to shielding, self-isolation or financial hardship. As lockdown begins to ease and re-deployed council staff return to other work, many local authorities are questioning what their role should be moving forward. This presents a particular challenge given stretched resources alongside rising need.
Through conversations with council officers, residents and members of the voluntary and community sector (VCS) over the last month, a number of emerging trends and areas of best practice have come to the forefront, followed by eight case studies.
Most councils have taken a humanitarian approach to their local food response. Eligibility criteria to access emergency food has been loose so that people with a variety of circumstances can get support including medical shielding, self-isolation or financial hardship. For example, in Southwark their ethos is 'no wrong front door' so that anyone who called the support line would be signposted to the most appropriate support. Whilst this meant that council resources were focused on quickly establishing the much-needed food hubs, it also meant that clarity around which budget they were supported by was not always in place, making them hard to sustain indefinitely.

Balancing increasing need from residents with stretched council resources is going to be a major challenge in the coming months. On the one hand, running the hubs is resource intensive (labor, food, premises) and many council staff and premises are beginning to return to their usual jobs. They can't run solely on donations or volunteers and national financial support to date has not been sufficient. On the other hand, councils are simultaneously seeing more people struggling financially and often needing short-term food aid. While no councils have set firm closing dates for their hubs, they are all consulting with their VCS to see what the next best steps are given this situation.

Many council officers who have already been working on improving food accessibility and health report that there is now positive increased awareness about these issues, particularly food poverty. Having a wider variety and higher number of organisations join food partnerships and food poverty alliances has been welcome. Rapid increased membership has, however, caused some worry about keeping up a balanced approach to these issues, for example maintaining nutritional standards.

For the upcoming summer holidays, councils are trying to plan for multiple scenarios to meet the needs of children who would typically benefit from free meals and activities. Working with Kitchen Social and community organisations, in the first scenario children will receive hot meals and activities on site with social distancing, and in the second scenario, takeaway meals will be available along with online activities. This requires very different food procurement and planning so boroughs are trying to be nimble as social distancing guidelines evolve week to week. (NB: Conversations with councils took place before the government's decision to extend free school meal vouchers through the summer.)
Economic Development and Regeneration teams are key to offering specific support for food businesses. For example, helping cafés or restaurants get up to speed with standards for food delivery services like UberEats or Deliveroo, as well as to prepare for re-opening as lockdown measures ease.

Establishing effective triage systems for support phoneline helps reach families with complex needs and higher vulnerability. For example, in Greenwich flagging requests for infant nutrition or nappies has proved to be an important pathway to reaching these families and ensuring that their needs are fully met. This has included the child's wellbeing as well as broader support for local welfare, benefits advice, immigration, housing and more.

Tapping into a borough's VCS to both develop a rapid and effective response to the community's food needs as well as plan for the coming transitional months has been a key strength in many councils. In the best scenarios this has meant that harder to reach communities were not left out nor the local businesses that support them. They have also helped councils to identify community assets and where there may be gaps. For example, if food aid providers need increased refrigeration capacity in order to provide a more nutritional food parcel. In some cases, councils have worked well with existing food (poverty) alliances or partnerships, whilst in others their leadership and collaboration is forming the foundations for a potential future alliance locally.
The following case studies are brief snapshots from June andJuly 2020 that focus on some of the ways eight London local authorities have responded to food needs during Covid-19 lockdown, and what they are planning for the near future. They are not a comprehensive assessment of council action, but have been written to offer a few perspectives on what's been happening and upcoming direction of travel.
Published 29 Jun 2020
London Food Link: This is the umbrella for all of Sustain's initiatives in London. Our work includes helping to influence local government policy, hands-on food growing training, running sessions for public sector caterers, creating guidance for independent eateries and food producers, public awareness campaigns, and joining the dots between people around specific food issues. The LFL supporter network is open to everyone who grows, produces, teaches, peddles, promotes and simply enjoys good food in the capital.
Maddie leads on Sustain's communications strategy and social media, as well as supporting campaigns and promoting the work of alliance members. She also manages Roots to Work, a platform for job opportunities in the field of good food.
Maddie Guerlain
Communications and Learning Coordinator (maternity cover)
Support our work
Your donation will help support community food initiatives and enterprises to thrive as part of a more sustainable food system.