Suzy East explores how breaking away from a linear, single-use, throwaway system to a circular one, in which surplus and waste products become inputs of a new cycle, makes total economic sense.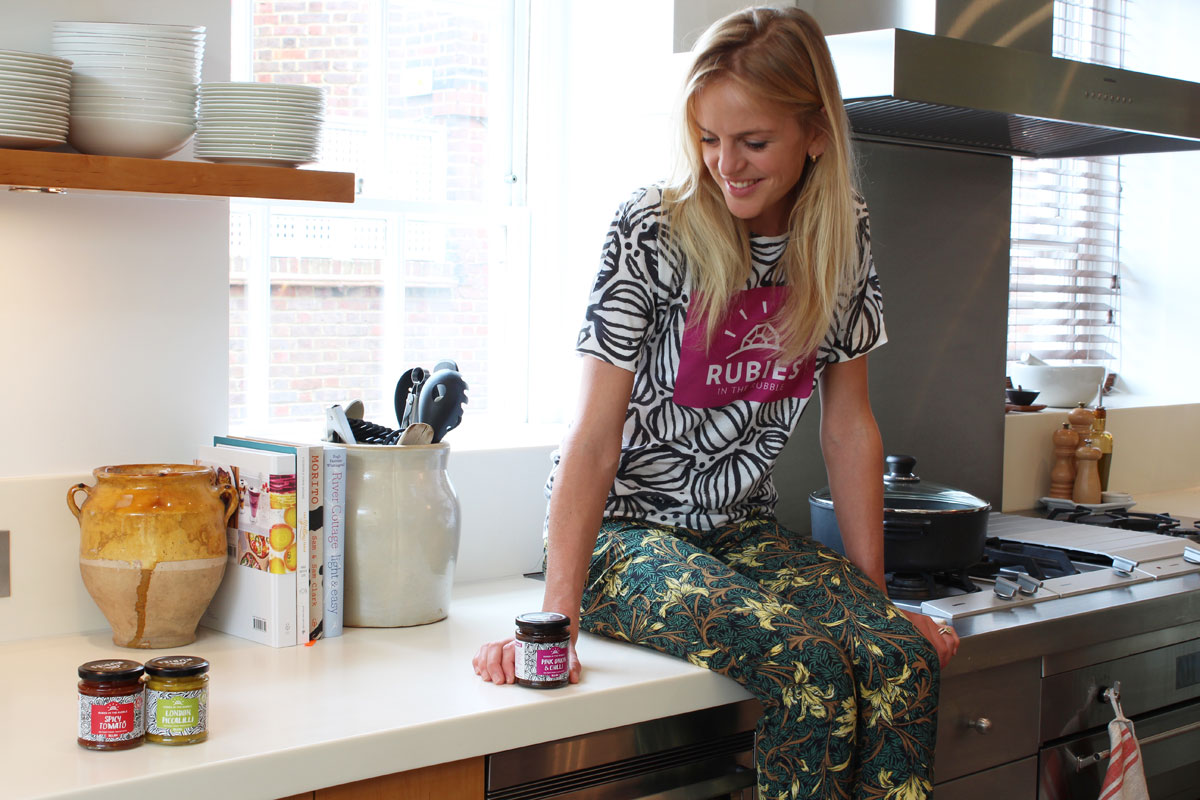 Jenny Dawson, photo courtesy of Rubies in The Rubble
Repurposing surplus food is one area where the capital's circular economy is taking off. Opening the Urban Food Awards in 2016, the Mayor of London, Sadiq Khan, stressed the importance of corporations and entrepreneurs working together to find and fund solutions to food waste.
It has been estimated that reusing, repurposing and recycling resources could bring Europe an annual benefit of €1.8 trillion by 2030. Post-Brexit, the actual numbers are anyone's guess, but suffice to say, big business is sitting up and taking notice.
While more companies are waking up to the idea of fusing social innovation with corporate experience, some have been quietly getting on with it for years. Here are two partnerships where collaboration is the key to reducing food waste and kick-starting the circular economy.
Rubies in the Rubble and Virgin Trains
Rubies in the Rubble were pioneers of the London food waste prevention scene, having launched their surplus fruit and veg chutneys in 2011. Production has since moved to a larger site outside the capital and you can buy their products all over the county. A partnership with Virgin Trains is helping to spread their message far and wide.
Virgin Trains buy 48,000 apples each month, not all of which get eaten. They say this can be due to "damage caused when loading our trains, and changes to train plans, which could result in extended storage or increased handling." The company didn't answer our request for a total number that go uneaten, but said they send around 1000 of them to Rubies each week. In addition to Rubies and The Pudding Compartment repurposing surplus, on the issue of reducing overstocking and waste Virgin said "we've improved the management of our fruit and continue to do so by reducing the amount of fruit that is unsuitable to load on board our trains. To do this, we improve packing and handling, have better forecasting for loading trains."
In the meantime, thanks to the partnership, any unsold apples are packed into a pallet and dropped off at Euston where Rubies collect and upcycle them into a chutney for Virgin's first class cheeseboard. The chutney has a shelf life of two years and is served in individual portions, with about 50 recyclable glass jars served every day.
Jenny says of this closed loop system: "the main draw is that it just seems logical. There's a moral sense that as businesses we should be doing this, we shouldn't be throwing away perfectly good food. The most important thing is that it works for both parties. We get to solve a problem and satisfy demand for a delicious product."
bio-bean and Leon restaurants
bio-bean believes that there is no such thing as waste, simply resources in the wrong place. A trained architect and self-confessed caffeine addict, CEO Arthur Kay put his design skills to work on creating a solution to the waste created by coffee. This recycler's raison d'être is collecting spent coffee grounds and converting them into biofuels to power homes and businesses.
They work with any business that produces waste from coffee, including nearly 40 Leon outlets in London, using the existing waste disposal infrastructure to collect and transport the grounds to their processing plant. The biomass pellets and Coffee Logs created from the waste can then be sold back to offices, airports, supermarkets, factories, as well as cafés, restaurants and coffee roasters – meaning anywhere with open fires or biomass boilers can heat their venues with products produced from their own waste coffee grounds. By offering a model which fits into people's daily lives and work, Arthur is, in his words, "making the sustainable choice, the logical choice" and with buy-in from restaurant chains like Leon, they can prevent thousands of tonnes of coffee grounds from clogging up landfills every year.
What's next?
Above all, these partnerships are so appealing because they're win-win. Fledgling businesses get access to industry expertise, while larger companies can solve an existing problem like waste, reducing outgoings and capitalising on positive publicity.
With sustainability at the top of the agenda for countless industries, we can expect to see more ventures seeking to join the dots to turn our trash into treasure.
---
Circular Economy SME Business Support
Advance London is a three-year programme, jointly funded by the European Regional Development Fund and LWARB. It offers free practical help and advice to SMEs in London to enable businesses to adopt and scale up circular business models.
---
This feature first appeared in The Jellied Eel magazine issue 53, February 2017
Published 1 Mar 2019
London Food Link: London Food Link brings together community food enterprises and projects that are working to make good food accessible to everyone in London to help create a healthy, sustainable and ethical food system for all.
Support our work
Your donation will help support community food initiatives and enterprises to thrive as part of a more sustainable food system.