Along with many other parts of the food industry, restaurants were hit hard by Covid-19. Ellie Costigan looks at how London's most socially and environmentally conscious eateries are putting sustainability at the centre of their Covid recovery.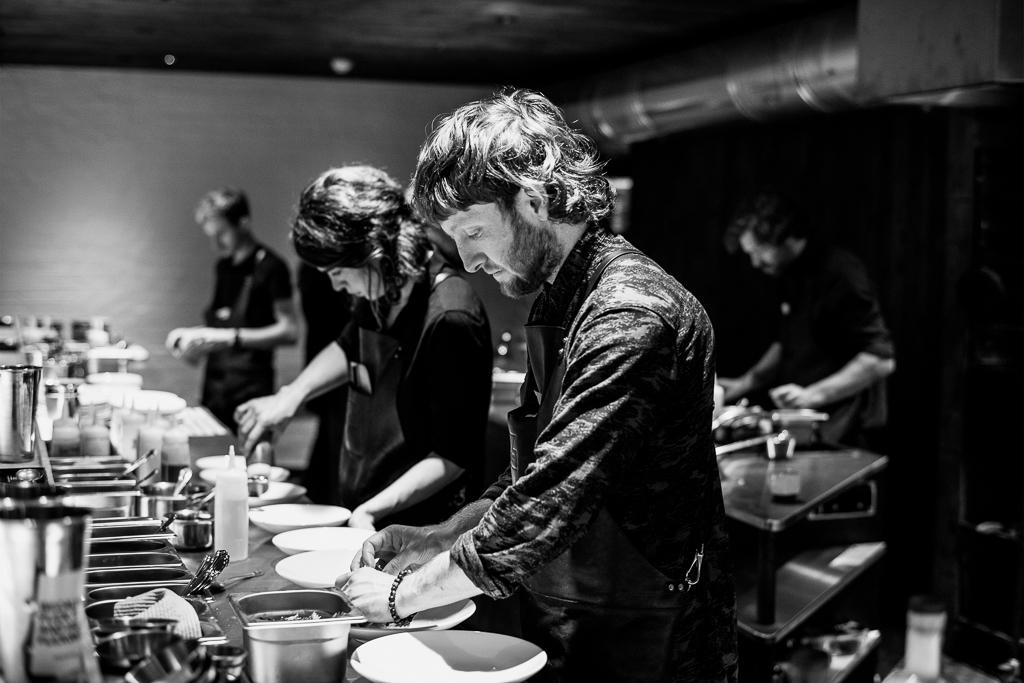 Doug and the team at Silo by Xavier Buendia
"The common thread is, it's been a nightmare," says Tom Tanner of the Sustainable Restaurants Association (SRA) with a dark laugh. "Some of our restaurants hunkered down – furloughed their staff and sat tight. Others couldn't afford to do that."
As Covid hit and restaurants were forced to close almost overnight – with staff to pay, and suppliers and rent to consider – a dark cloud descended over the hospitality industry. While the impact of lockdown shouldn't be understated, what seemed a catastrophically bleak picture back in March inspired impressive creativity from many. Make-aways, takeaways and veg boxes became the order of the day, while others dedicated their efforts to feeding frontline workers.
TIME TO REFLECT
When restaurants were given the green light to reopen, the response was similarly mixed. "Some were chomping at the bit to open and made plans for new ways of doing things; others, those with a small space or for whom Covid had taken too much of a toll, did not reopen." Hawksmoor—which offered 'Hawksmoor at home' and barbecue boxes during lockdown, as well as working with Magic Breakfast and Action Against Hunger among others to help get food to the UK's vulnerable—opened cautiously, one restaurant at a time, with reduced capacity and socially distanced tables. Others took the opportunity to reflect on the sort of restaurant they wanted to be.
"It was a real opportunity to restart," says Tredwells' Chantelle Nicholson.
VEG CENTRIC MENUS
For Chantelle, that meant a chance to refurb—DIY style. Filing cabinets were upcycled into planters; tables were sanded and painted. The menu underwent a refresh too. "We completely scaled back, made it more plant-based. We wanted to take this time to evaluate and see how we could be more sustainable." Tredwells' approach was one the SRA was wholly on board with. "We advised our members to review their menus. A lengthy menu with lots of different dishes, ingredients and suppliers is challenging for a restaurant with fewer staff, less money and reduced covers," Tom explains. "Slim it down and put fantastic seasonal, local produce centre stage. Focus on the most popular dishes and switch to veg-based menus—for sustainability reasons, but also because the cost is lower and the return is higher."

While many have been hard hit economically, there is evidence to suggest customers are more interested than ever in local and sustainable food, says Tom.
"So talk about it. Champion it and be proud of it. Help customers eat their way to a better food future and use their appetite wisely."
A TASTE FOR WASTE
Of course, challenges remain—not just in terms of maximising revenue in restaurants with reduced capacity, but in terms of what the 'new normal' means for sustainability, particularly in terms of food waste and packaging. "Olio redistributed 85 tonnes of food waste between April and August," says Tom. "A lot was rescued and redistributed, but sadly a lot ended up in the bin." With unpredictable footfall and the continued problem of 'no shows' making it hard to plan, this remains tricky. "But our restaurants are doing their best to reopen right."

Doug McMaster of Silo shares Tom's concerns. "Unfortunately, we are now further behind with plastic pollution than we've been in a long time, as everything has to be single-use," he laments. "I do however believe that the pandemic has brought people together, causing a wave of belief in fighting for what's right. I'm hopeful change will happen." Imogen Davis, co-founder of Native, agrees. "I feel concerned that the progress to becoming a more sustainable industry has been undone," she adds. "There is a need to ensure we eliminate the risks of Covid, but with a little imagination, this could still be achieved with sustainability in mind."

Indeed, already we're seeing a fightback, with compostable packaging company Vegware teaming up with Paper Round to ensure its customers can dispose of their packaging sustainably, and the rise of the #contactlesscoffee movement. "It sounds simple, but these little things add up," Tom enthuses. "It's not rocket science to find ways round this kind of stuff. It may be that for a short period we take a step back, but hopefully it's a temporary one before moving forward again."
---
Find out what good food restaurants are opening by checking our Good Food Map and SRA listings:
www.goodfoodmap.org
www.foodmadegood.org
@LondonSilo
@EatnativeUK
@Tredwells
Published 28 Sep 2020
London Food Link: London Food Link brings together community food enterprises and projects that are working to make good food accessible to everyone in London to help create a healthy, sustainable and ethical food system for all.
Support our work
Your donation will help support community food initiatives and enterprises to thrive as part of a more sustainable food system.