Where does the future of farming lie? With the average age of farmers now approaching 60, Muna Reyal talks to some untypical farmers about their routes in.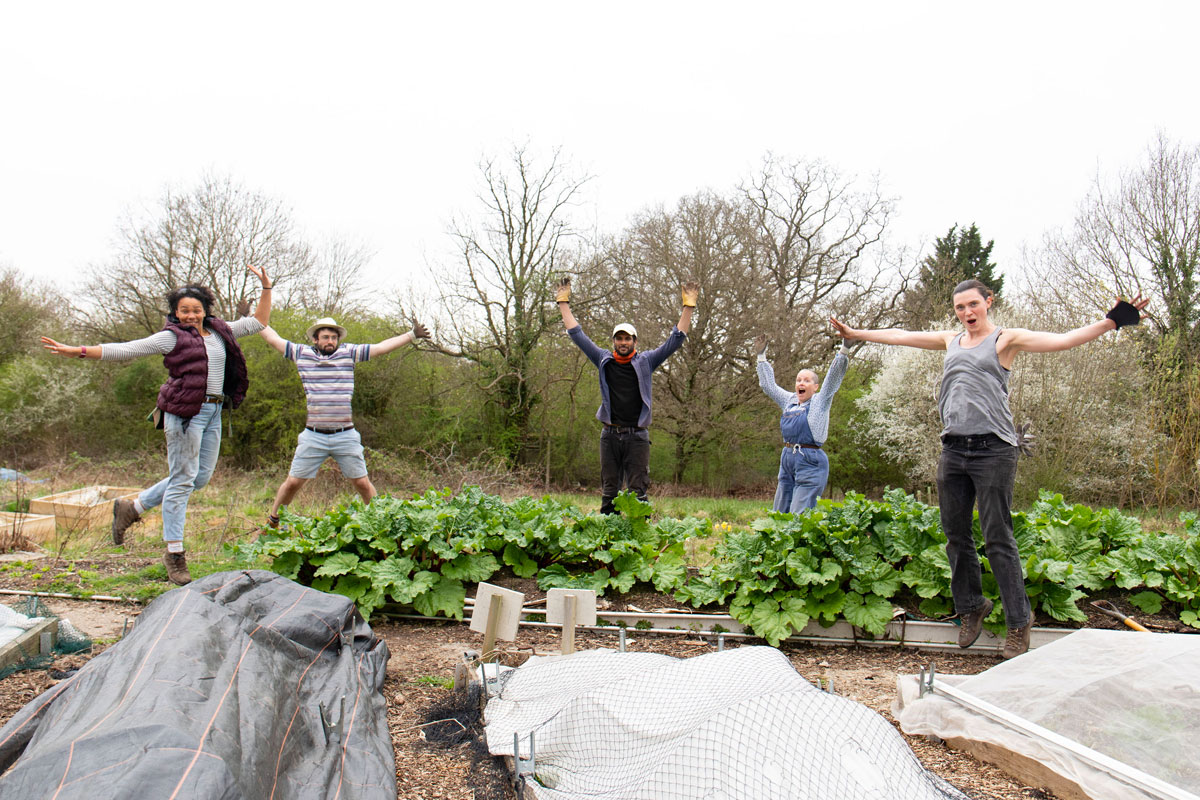 Zoe Warde-Aldam
According to Who Owns England? half of this country is owned by less than 1% of its population – land that is either inherited or held by corporations which consolidate farms into ever-larger 'mega farms'. But there are many others who are breaking into this 'closed profession' and finding their own way onto the land.
BANKING ON A BETTER FOOD SYSTEM
Danielle Ahmet spent 20 years in careers that included banking and fitness before coming to farming – all of which she describes as training for OrganicLea, a cooperative where she is a growers team member and involved in adult education. "I'm on serious catch up because farming is not respected enough as a profession for children to dream of pursuing – we don't value food production, and especially not organic food produced at a small, local level. But OrganicLea showed me that anyone can become a farmer."
OrganicLea is a leading light in London, helping people who are not from farming backgrounds with real life work experience. As well as accredited education and training schemes and popular volunteer days, they also created a farm start programme, securing land and providing support for budding growers. Danielle may one day use this to start growing commercially but until then, "my desire is to think small". She wants to focus her attention on helping her local community see the importance of thinking about how good food is grown, "rather than turning automatically to intensively farmed supermarket produce".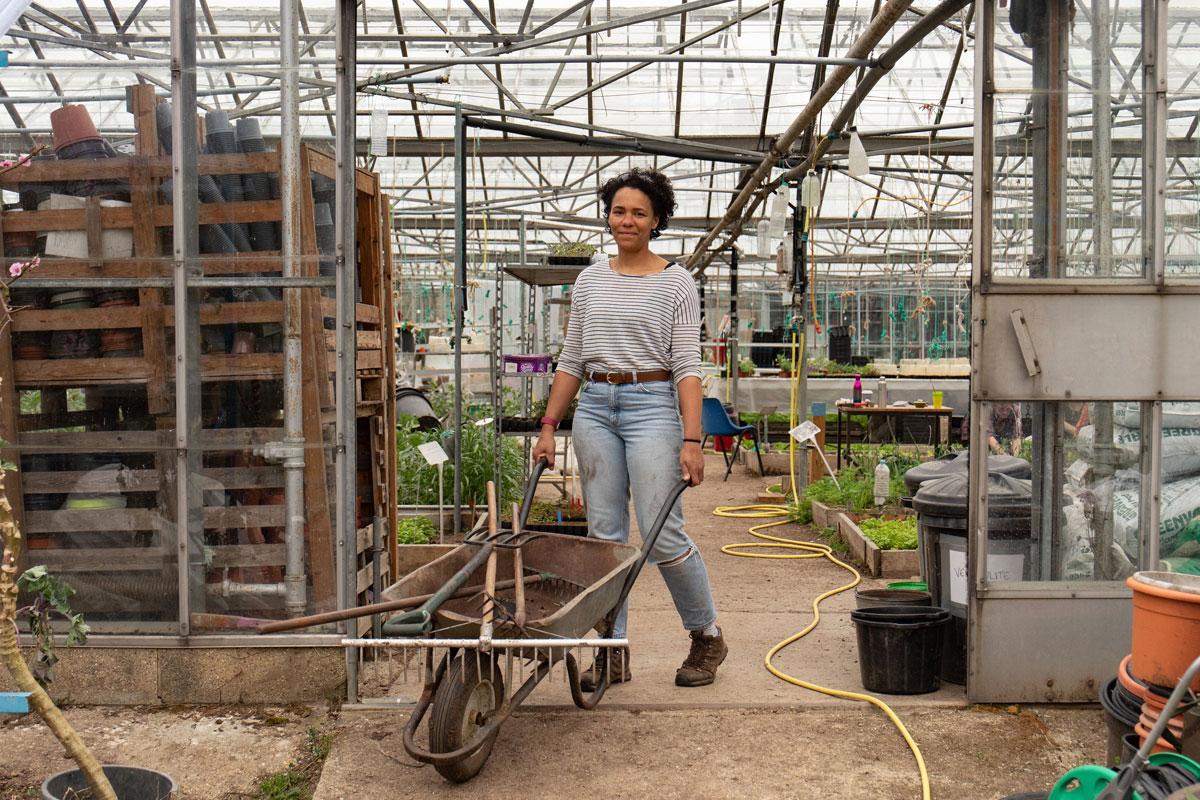 Danielle Ahmet. Photo: Zoe Warde-Aldam
AWESOME EXTRACTION
Sinead Fenton moved from mining to farming after she and her partner Adam started volunteering at a community market garden. In 2017, they were asked to take over its management and, with no experience or training, they simply learned on the job. Sinead believes the best learning is on site. "allotments are underrated – especially those that host community growing projects, because you are among lots of other people growing foods and using techniques you haven't seen before."
Sinead was working three jobs and wanted to take a more revenue-led approach to farming, rather than one based on unpaid volunteers. But land costs were impossibly high. Fortunately, the Ecological Land Cooperative (ELC) gave them an alternative means of entry.
The ELC buys agricultural land, offering smallholdings on 150-year leases. In their eyes, Sinead is the owner of the land but, by keeping the freehold, the ELC ensures the land is farmed agroecologically – something Sinead sees as good accountability.
This year has been tough as the market for their edible flowers, vegetables and herbs is restaurants, but Sinead is confident that her enterprise, Aweside Farm, will be viable. Sinead feels strongly that the industry needs new entrants and the creativity they bring will counter not just a monoculture of crops, but also of ideas and people. "We celebrate diversity in the natural world but we are part of it, so we should celebrate people and different experiences."
COUNTING SHEEP
Max Ruddle woke up on his friend Oscar Harding's sofa one day in 2016 and, to shake off the night before, offered to help on Oscar's Duchess Farm. Before he knew it, he had inadvertently started his career as a farmer. Following only four days with another farming friend in 2020 (this time a sheep farmer in Cornwall), he was offered 75 Herdwick sheep. He went back to Oscar, who jumped at the chance to add livestock to his land – and The Regenerative Sheep Farmer was born. But even with this access to land, Max still had to take on a night job and currently works full time elsewhere to make life as a farmer work.
Although he had a baptism of fire, Max reflects that he learned most from working on the ground, rather than from textbooks. Like many others, he is frustrated that he cannot access any government subsidy or funding, even though his sheep contribute to soil health, carbon sequestration and the farm system as a whole. Reform of farm grants is unlikely as farming is the domain of big landowners. Undeterred, Max plans to create a blueprint so others can farm without owning the land, demonstrating how sharing land with livestock can improve the soil, reduce costs and increase profit margins: "Instead of one person farming on a huge scale, there should be 10 people, 10 ideas, 10 communities working together, sharing experiences."
These different routes into farming show a fairer, more sustainable solution is possible over the current environmentally flawed and socially inaccessible system. While getting on and up the ladder is far from easy, farming as a profession is slowly opening up to create diverse and resilient farmers.

@awesidefarm
@danielleisinthegarden
@eco_land_coop
@theregenerativesheepfarmer
@landworkersalliance
@DuchessFarms
@munapic
Hear more about how peri-urban farms are providing fresh fruit and veg to Londoners.
This article first appeared in our print mag - Issue 63.
Published 23 Nov 2021
London Food Link: London Food Link brings together community food enterprises and projects that are working to make good food accessible to everyone in London to help create a healthy, sustainable and ethical food system for all.
Support our work
Your donation will help support community food initiatives and enterprises to thrive as part of a more sustainable food system.