Our food system needs to change, and help to understand the problem and ways to fix it, Katerina Gladkova and the Sustain hivemind have compiled a must-have reading list for your bookshelf.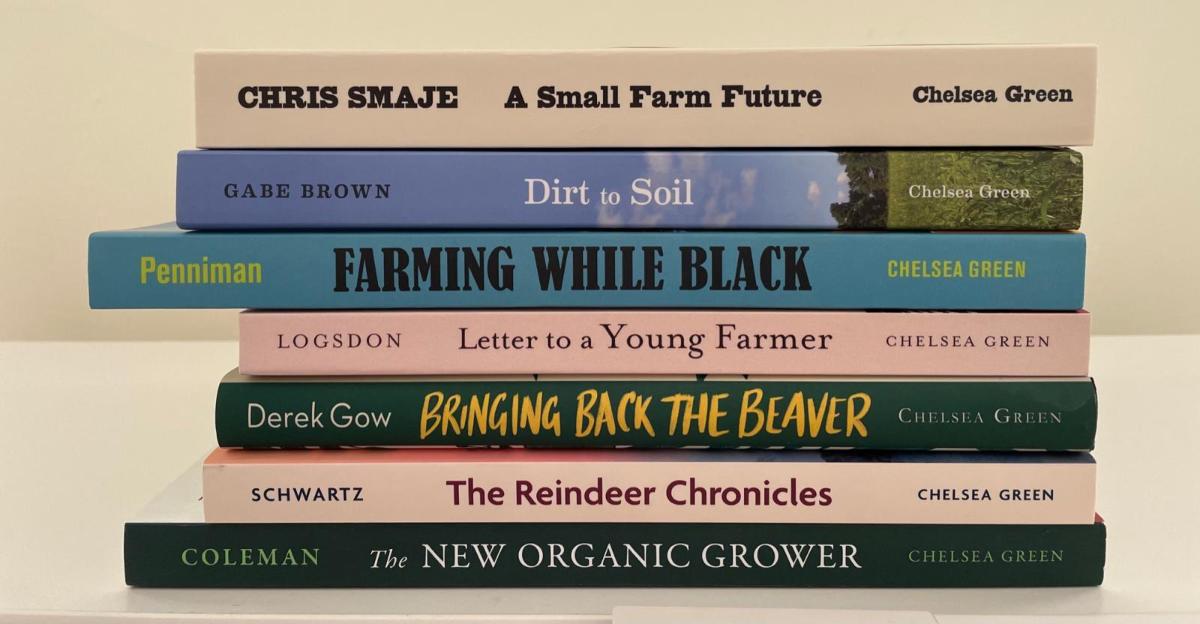 Chelsea Green Publishing
Hungry to know more about food systems?
Sitopia: How Food Can Save the World, by Carolyn Steel
For Carolyn Steel, a leading thinker on food and cities and the author of internationally acclaimed Hungry City, our world is a 'Sitopia', a 'food place' (from the Greek words sitos and topos). Food shapes our bodies, our lives, our societies, and the natural environment. Because of that, it is a powerful tool for changing the world. Each chapter is dedicated to a particular idea (Food, Body, Home, Society, City and Country, Nature, Time), where food is central to all of them, demonstrating its unparalleled power.
Check out Carolyn's summary on the Eel here.
@carolynsteel
A writer and historian, Aldes Wurgaft explores the idea of generating meat in the lab and what it means to imagine that this is the future of food. Having spent five years researching the phenomenon, he showcases how debates about lab-grown meat reveal the links between appetite, growth, and capitalism. He argues that lab-grown meat could transform the way we think of animals, relate to farmland, use water, and think about ecosystem's capacity to sustain life.
@benwurgaft
Tim Lang, Professor Emeritus at the Centre for Food Policy at City University of London, is undoubtedly an expert on food systems change. In his detailed review of UK food sources, industries and impacts, Lang concludes that Britain's food system is more fragile than we think. He calls for a more diversified, decentralised food system and urges a change in consumer behaviour in favour of more sustainable diets.
@ProfTimLang
Writer, scholar and anthropologist, Reese focuses on the ways Black people produce and navigate food-related spaces in urban areas in the context of systemic racism. The book is based on her extensive ethnographic research in the American capital and highlights not only racism and residential segregation in Washington, D.C. but also tracks the ways transnational food corporations have shaped food availability.
@AMReese07
Stuart, a UK-based food waste campaigner and founder of Feedback, digs into the disturbing fact that at least one third of the world's food is wasted – or 1.3 billion tonnes per year, generating 3.3 billion tonnes of greenhouse gases. The book reveals how the way we live and eat has created a global food crisis - and what actions we all can take to fix it.
@TristramStuart
Want to delve deeper into Farming?
A Small Farm Future: Making the Case for a Society Built Around Local Economies, Self-Provisioning, Agricultural Diversity and a Shared Earth, by Chris Smaje
A recent publish from our friends at Chelsea Green*, sees farmer and a social scientist, Chris Smaje discusses how low-carbon, locally self-reliant, agrarian communities can be empowering to successfully challenge industrial, monoculture-focused food system and how this transition can be delivered politically. His vision for the future of food is centred around a large number of small, diverse farms that produce for local markets. Smaje argues that the UK should become more self-sufficient and can feed itself, with no food imports and no synthetic fertilisers (it would require big reductions in sugar, cereals and meat, and an increase in fresh vegetables, potatoes, and fruit).
@csmaje
An author and food justice activist from Soul Fire Farm in Grafton, New York, Penniman documents racism and injustice of our food system. The book is a manual for African-heritage people to reclaim their place and agency in the food system. It guides readers through all aspects of small-scale farming, from finding land, to crop planning, to raising animals humanely. Another Chelsea Green publication*.
@soulfirefarm
Or perhaps understand about regenerative agriculture...
A farmer from North Dakota, Brown has become one of the leading voices for regenerative agriculture. Dirt to Soil can be considered a handbook, teaching farmers and gardeners how to treat the soil and transition from a traditional farming/ranching model to regenerative agriculture. Brown delves into the soil science and explains why good soil is an integral part of a healthy ecosystem.
Wilding, by Isabella Tree
An award-winning author and conservationist, Tree demonstrates how land and wildlife can be restored and how the project of rewilding might work in practice. Tree's book is a fascinating story of a project of returning an intensive farm in West Sussex back to nature. After the introduction of free-roaming cattle, ponies, pigs, and deer, 3,500 acres of land have seen increases in wildlife numbers and diversity in little over a decade.
@isabella_tree
Or want to take action from the comfort of your home?
A prolific organic food grower, Ratinon shares her wisdom on urban food growing. Covering the essentials of growing a range of edible plants at home, the book is accessible to new gardeners who don't have access to much outdoor space. Ratinon covers topics such as sowing seeds, taking care of plants and different approaches to growing different plant groups (from annual herbs to aubergines and tomatoes).
@claireratinon
From the guru of fermentation, this bible of all things fermented is pretty much a must have for anyone interested. Covering the health benefits and with step by step guides, this book can help you start a 'food revolution from your home' and get 25% off with our discount code*.
*If you are looking for more great books check out Chelsea Green Publishing and Jellied Eel Readers get 25% off. Check our latest print mag or join the mailing list to access the code.
Like this? Then check out our top 10 food and farming podcasts
Published 18 May 2021
London Food Link: London Food Link brings together community food enterprises and projects that are working to make good food accessible to everyone in London to help create a healthy, sustainable and ethical food system for all.
Support our work
Your donation will help support community food initiatives and enterprises to thrive as part of a more sustainable food system.