With four locations spread across the capital's hippest neighbourhoods, Mildreds is a meat-free institution. In honour of its 30th birthday this year, staffer Vera Zakharov went along for a National Vegetarian Week warm up.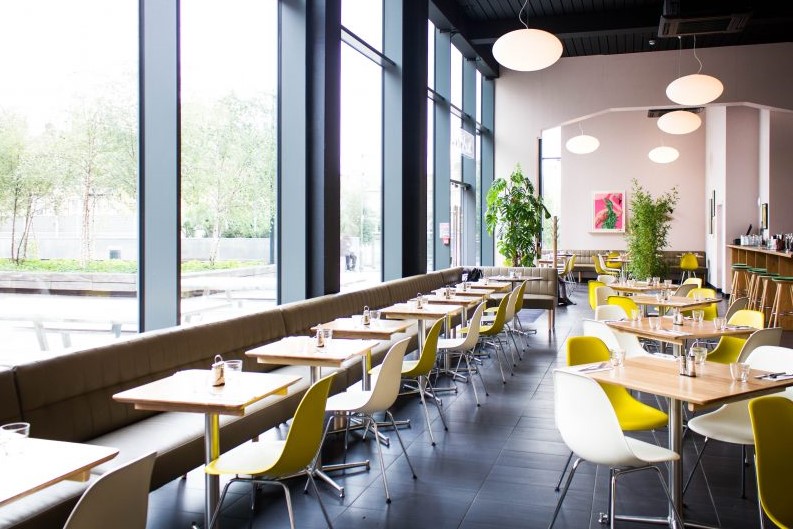 Copyright Mildreds
As a London newbie on the hunt for good vegetarian eats, I've heard Mildreds' name come up time and again. I was interested to find out how their ethical and sustainable credentials stack up against other eateries in a growing landscape of tempting, meat-free menus.
Aware that Mildreds offers no advance bookings, my friend and I arrived early at the Dalston restaurant before 7pm to ensure we got a table. It took a while for the staff to take our orders, which we didn't mind as it bought us time to choose our dishes.
The menu is entirely meat-free and mostly vegan, which crucially makes choosing a dish with a lower carbon footprint elementary. As someone with a predilection for meat but a determination to eat more ethically, I appreciate a restaurant that helps me to stay the course, and affordably so. Mildreds has been serving vegetarian takes on popular dishes since the late '80s, back when going meat-free was for the die-hard believers, and a generally limited choice elsewhere certainly did little to tempt away your average omnivore.
Seitan worship
We chose two very different dishes – the mock chicken burger and the falafels with jeweled rice, roasted aubergine and tahini. The seitan-based burger was greasy, squishy and overflowing with (vegan) mayo, requiring clean hands and courage to get them messy – it was everything I look for in junk food, served up in vegan form.
The falafels were our favourite, as the inclusion of dill and other herbs gave them a distinctly meatball-like taste. The dish had the attention to texture and flavour one rarely finds in non-veg restaurants, where animal proteins attract most of the creativity. But hopefully the growing interest in plant-based food, and campaigns such as The Food Foundation's Peas Please working to give vegetables more prominence on people's plates, will mean more chefs will be inspired to work with a plant-based palette.
Celebrate your standards
Mildreds focuses on choosing small suppliers and often uses organic ingredients and does well to model Sustainable Restaurant Association's One Planet Plate concept. The drinks menu has an extensive list of organic wines and beers, but we struggled to find more information about their standards on the menu. The staff were helpful in answering our questions, although too busy to ask for more information on things we were keen to find out, like organic produce and local suppliers.
On the plus side, we were offered plenty of water and my alcohol-free whisky-ish mocktail came without a straw as Mildreds has a policy of not including in drinks unless requested, and only use biodegradable ones when they do.
All in all, Mildreds deserves its status as a veggie and vegan institution.
Published 15 May 2018
London Food Link: London Food Link brings together community food enterprises and projects that are working to make good food accessible to everyone in London to help create a healthy, sustainable and ethical food system for all.
Support our work
Your donation will help support community food initiatives and enterprises to thrive as part of a more sustainable food system.