For a tasty brunch with less impact on the planet, try out Chef Tom Hunt's tasty toast topping!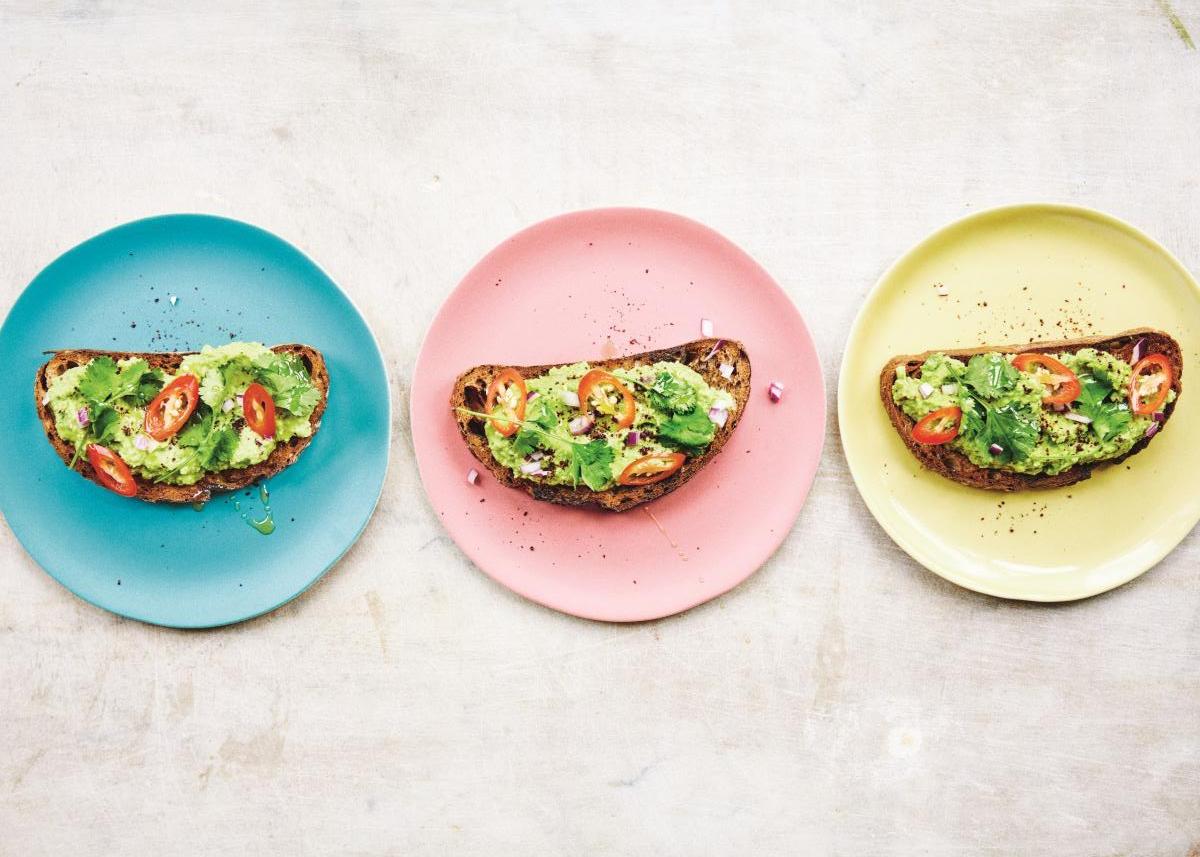 Photo: Jenny Zarins
As broad beans come into season we bring you this recipe from Tom's new book Eating for Pleasure, Planet & People. Tom's book is built on his ethos that as well as being delicious and healthy, what we cook should and can support a biodiverse food system and fight food waste.
---
Not avocado on toast: Broad bean guacamole, coriander and chilli
Who needs avo on toast when you've got broad beans? When blended they become creamy, unctuous and vivid green, just like avocado but with a fraction of the carbon footprint. Avocado on toast is perhaps the biggest brunch seller out there. It's delicious, but the popularity of avocados has put a strain on the supply chain, impacting the countries of origin like Mexico and Kenya where the increased prices have made this staple food unaffordable to some local people. To improve your footprint, eat avos as a treat and try experimenting with different locally grown alternatives like this broad bean guacamole. It's made in just the same way as regular guacamole, but with broad beans instead. Blanched first, then blended with lime, coriander and olive oil. Enjoy!
Serves 4
360g fresh or frozen broad beans – shelled weight
glug of extra virgin olive oil, plus extra to serve
6 fresh coriander sprigs, leaves picked, stalks finely chopped
1 unwaxed lime, zest and juice
1⁄2 red onion, finely diced
pinch of dried chilli flakes or some sliced fresh red chilli
light dusting of sumac, optional
Blanch the whole broad beans in a large pan of boiling water for 3 minutes, then drain and refresh under cold running water. Transfer the beans to a food processor, add the extra virgin olive oil, coriander stalks, half of the coriander leaves and the lime zest and juice and blitz to a smooth purée. Season to taste with salt. Spread the guacamole generously onto the toast and dress with the remaining coriander leaves, red onion, some chilli, a dusting of sumac (if using) and a drizzle of olive oil.
---
@cheftomhunt
Check out another recipe from Tom's book: Merguez spiced cauliflower with tahini and molasses
Published 16 Jun 2020
London Food Link: London Food Link brings together community food enterprises and projects that are working to make good food accessible to everyone in London to help create a healthy, sustainable and ethical food system for all.
Support our work
Your donation will help support community food initiatives and enterprises to thrive as part of a more sustainable food system.