Granville Community Kitchen is investing in the health of its community through a veg box scheme that makes fresh, seasonal, localised and culturally significant food affordable for everyone. Ceire Carey finds out more about Good Food Box.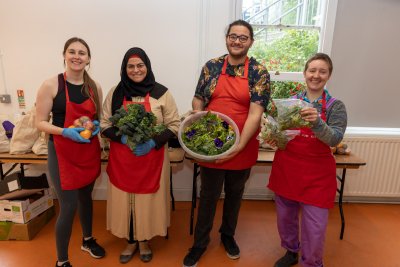 Good Food Box team. Credit: Jonathan Goldberg
The building itself, known as The Granville, is an historic, brick building in South Kilburn. A place for local residents to meet, it was also home to Merle's Diner for 25 years. Merle herself started off at The Granville with £10 to feed the youth club downstairs, and was later hailed as "The Queen of Caribbean Cuisine", loved by locals and celebrities alike. When she hung up her apron, Granville Community Kitchen (GCK) followed in its place.
Local co-founders Dee Woods and Leslie Barson started with the aim of developing a vibrant community hub to promote the health, wellbeing and employability of the South Kilburn community. Cooking and eating, and growing food together was a way of bringing the community together, building resilience and repairing harms done to marginalised people. Dee believes "people have a right to a life of dignity and a right to food and nutrition". She adds, "as long as we continue to conflate the issue of food waste with household insecurity, then not only are we supporting an industrial food system that is killing our planet (and us!), but we are complicit in the violation of human rights of millions of people."
When the COVID-19 pandemic hit in 2020, their focus became to feed over 1000 food insecure people a week. Whilst Granville is proud to have served their community this way, they recognise the social problems they initially set to address - "not enough money, problems with benefits, low wages, zero-hour contracts, rising costs of living" – have worsened. Granville believes everyone should have choice in where they get their food and what they eat. This, combined with the reliance of food aid on supermarket surplus, donations and volunteers has led them to take the tough decision to end this service. Good Food Box continues as a way for Granville to focus on the need to build healthy food systems.
Good Food Box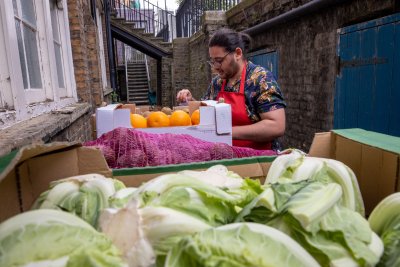 Good Food Box is a vegetable box scheme (with an optional fruit addition) run on a membership model with a set tiered pricing system. Leslie comments: "here, in one of the richest economies in the world, we have a growing number of people who can't afford to put good food on their plates". Their approach aims to create a model which breaks this cycle, and draws on other organisations leading this transition including those the United States such as Zenger Farm (Portland) and Rock Steady Farm (New York), Growing Communities in the UK and on food justice work in Canada and the international CSA movement (Urgenci).
Members choose the pricing option they feel is most appropriate to them. The finances and membership is balanced in such a way that in the long term, they hope this can be a self-sustaining system, aimed primarily at making fruit and veg accessible to the local community whilst paying fair prices for farmers. Any profit that comes from this is put back straight into work they do.
Leslie adds, "if the pandemic has shown us one thing, it's that the health of communities can't be pulled apart from the health of individuals. If we want to live in a healthy community with one another, we must design systems which can be accessed by all."
Each veg box contains predominantly certified organic and agroecological seasonal produce (like potatoes and carrots), plus members can add fruit and a culture bag containing heritage produce of their choice. GCK source from Better Food Shed, part of sustainable food network Better Food Traders, as well as using food grown from their own urban spaces. Heritage produce, including African and Caribbean or Northern European, is sourced from local shops and specialist traders, which might not always be organic, but is culturally significant.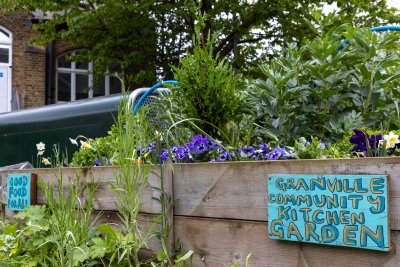 Faye Gordon, Good Food Box co-ordinator adds, "we are building on agroecological food systems that are really feeding the world, with a community centred model that aims to respect the significance of cultural identities and diversities. [We have] a payment system based in solidarity and equity, and accept cash payments and Healthy Start vouchers, with a pick up point within The Granville."
One Good Food Box member subscribed to the box in January after noticing prices increasing. Another member who joined after her health crisis says: "The quality is amazing […] I plan meals around whatever vegetables come in on Wednesdays, and then buy extras. It's money saving, better for planning, cooking and spending. I find I buy less in the shops. This is crucial with the cost of living going through the roof for most of us."
Beyond these economic considerations, it is likewise a celebration of community, food and joy. "My 91-year-old neighbour recently joined Good Food Box' adds this member, 'when I drop off her bag, she pulls out each vegetable with delight, calling her partner (and anyone else around!) to admire the produce."
Plans for the future
Now that the team is in place to run Good Food Box, there are big and exciting plans for the scheme as part of a wider vision for good food retail, inside and out of Granville Community Kitchen. This includes getting access to land, and networking African and Caribbean Heritage producers and developing those supply chains. They aim to look beyond the current market system to more equitable models of exchange, and to diversify local food production, expanding what is grown here to meet some of the culturally significant needs of communities.
Dee adds "Community resilience is not just about having access to good food, it is the services that facilitate that, creating real living wage jobs and community wealth building and the participation of people in making decisions about their food."
At the heart of this is community and good food, and the people that make both.
Find out more about Sustain's new programme, 'Bridging the Gap', which aims to provide to provide healthy, affordable, planet-friendly food for all.
Published 18 Jul 2022
London Food Link: London Food Link brings together community food enterprises and projects that are working to make good food accessible to everyone in London to help create a healthy, sustainable and ethical food system for all.
Support our work
Your donation will help support community food initiatives and enterprises to thrive as part of a more sustainable food system.