London isn't an island and, no matter how many fantastic urban growers we nurture, will never feed itself. British farming is in crisis – the average age of a farmer rose to 59 as income fell by 24% - and needs our support. Indie Farmer Nigel Akehurst sets the scene for a series of features on the reality of farming in the UK.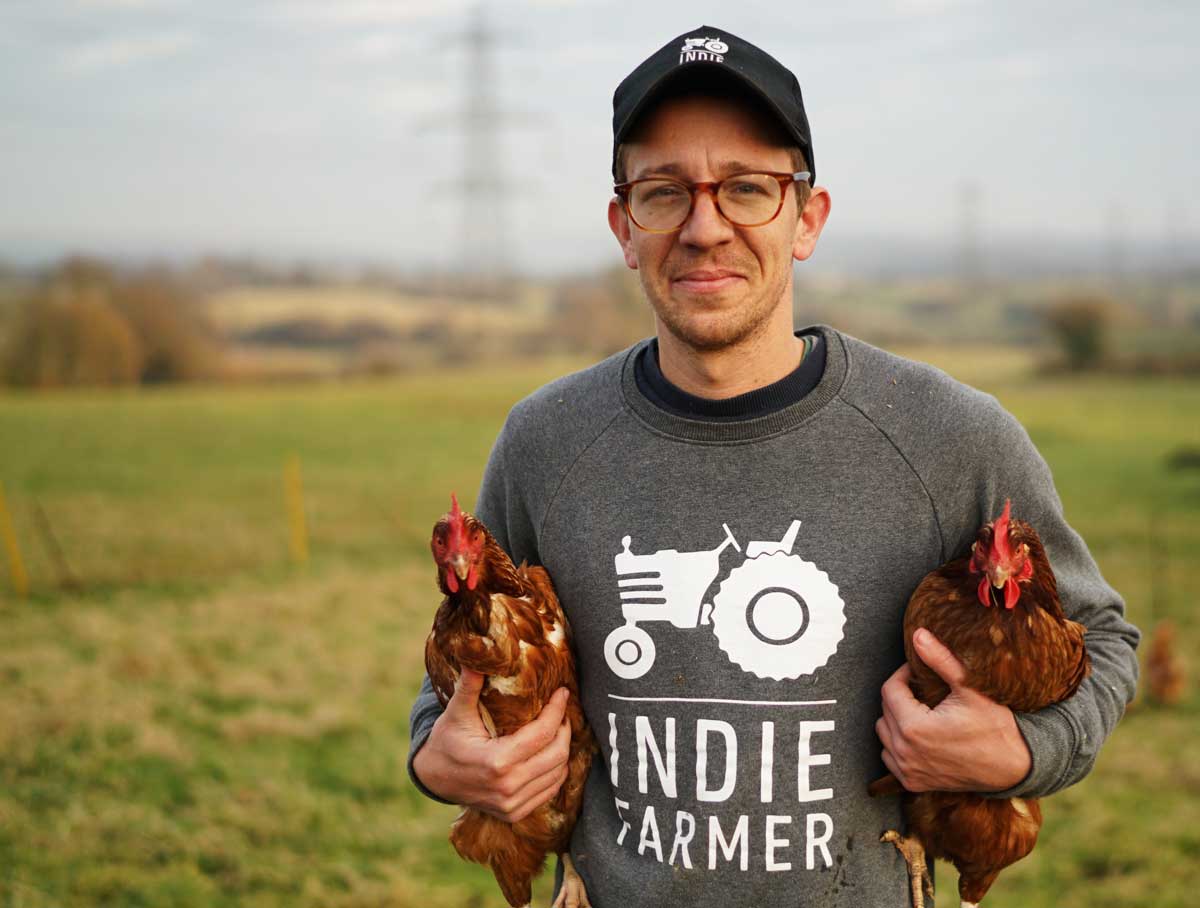 Indie Farmer founder Nigel Akehurst
As the poet, philosopher and farmer, Wendell Berry, put it: 'eating is an agricultural act' reminding us that we get to influence our farming and food systems directly through the food we buy and eat. The problem is that we purchase most of our food from supermarkets – who, being motivated by profit, have forced farmers to scale up to produce ever cheaper food - often paying them below the cost of production or choosing to import food from abroad. This era of industrial farming has led to a number of worrying outcomes, from the degradation of our soils to declining wildlife populations - the future of our environment and countryside is at stake.
What can we do to change this?
Firstly, it's important that we support our existing British farmers. While many have been forced to scale up, UK food standards are among the highest in the world, so look for the country of origin on the food and drink you buy in supermarkets.
Secondly, if you can, try to source direct from farmers and growers, whether at a farmers' market, via a local organic veg box scheme like Growing Communities, or through an online local and organic food delivery business such as Farmdrop, where the farmer receives between 70-75% of the retail cost compared to as little as 11% in some supermarkets.
You'll not only be buying fresher, healthier and tastier food, but you'll also be supporting a growing community of hard-working farmers and small producers – those who are building an alternative food system based on more sustainable methods, one that won't jeopardise our environment or our health.
Learn more about the farmers who feed London in this ongoing series, which includes Fosse Meadow and Just Kidding.
---
Plans for Nigel
As much as I enjoyed growing up on our small family farm, I decided pretty early on farming wasn't for me. In 2012 I headed for the bright lights of London, landing a freelance role at the food assurance scheme Red Tractor - you've probably seen the logo in supermarkets. There I learned more about our food chain and reconnected with my farming roots in the process. Then in 2013 the horse meat scandal hit the headlines raising questions for consumers about food provenance. Sensing an opportunity to help reconnect people with their food, I set up my blog, Indie Farmer, to showcase small farmers and independent producers.
---
Published 5 Apr 2018
London Food Link: London Food Link brings together community food enterprises and projects that are working to make good food accessible to everyone in London to help create a healthy, sustainable and ethical food system for all.
Support our work
Your donation will help support community food initiatives and enterprises to thrive as part of a more sustainable food system.