A sugary drinks (or "soda") tax has been implemented in a number of different countries already, as well as now the US city of Berkeley. Here is a quick round-up of what has happened where:
Mexico's tax on sugary drinks has resulted in a 6% reduction in soda purchases in the country during 2014, with the year-on-year reduction reaching 17% by the year-end. Importantly, evaluation of the first year of the tax has revealed that the reduction was greatest amongst lower-income groups.[i] Demand has also fallen in France (by 3.3% in 2012 and 3.4% in 2013), even more dramatically in Hungary, and also in Finland, since those countries introduced their versions of the duty.[ii]
City University's Food Research Collaboration produced a report in May 2015 giving more details about the different initiatives and their impact. Here are the 2 key tables: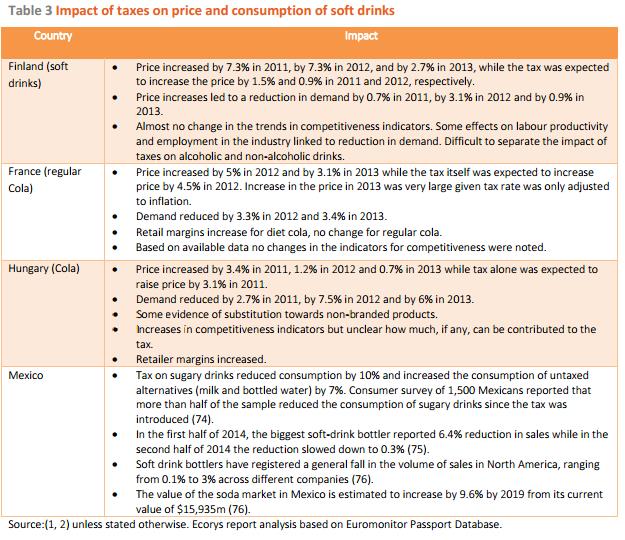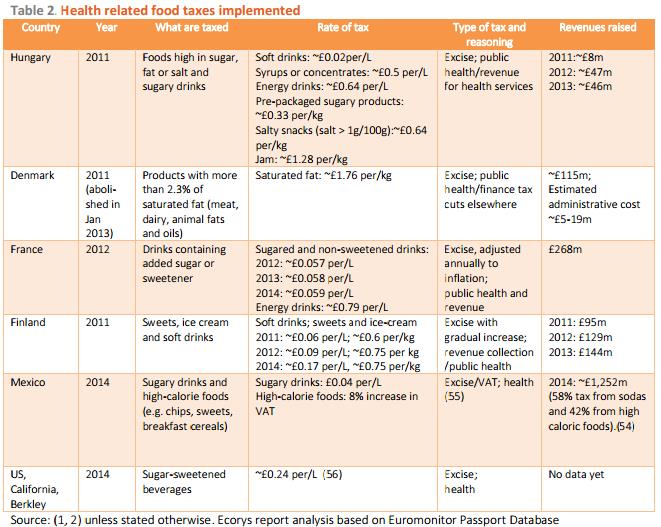 [i] University of North Carolina at Chapel Hill Food Research Program (June 2015) http://uncfoodresearchprogram.web.unc.edu/822/
[ii] Ecorys. Food taxes and their impact on competitiveness in the agri-food sector. Final report for DG Enterprise and Industry. 2014.
Share
Get updates
Sugary Drinks Duty: Support the campaign for a sugary drinks duty, to pay for programmes to improve childrens health and protect the environment they grow up in.
Menu
Support our charity
Donate to enhance the health and welfare of people, animals and the planet.