Strength in diversity: Capital Growth Survey 2017-18
This survey of Capital Growth members was undertaken during the spring of 2018 and completed by 205 people who represent a London-based food growing garden. The questions covered details on the members' garden, their challenges, the usefulness of Capital Growth's support, and views on what our future focus could be.
Contents
Introduction
Headline findings
Who responded?
What you told us (part 1): About your garden
Who is benefiting?
Employment and training
Diversity
What are your challenges?
The need for land protection and designations
What you told us (part 2): About Capital Growth
Our offer
What impact is Capital Growth having?
What should we be doing next?
Our reflections on your feedback
Engagement
Value of the network
Innovation
Getting growing
Strength in diversity
Acknowledgements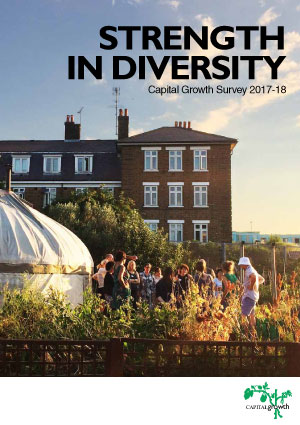 Strength in diversity: Capital Growth Survey 2017-18
24pp - 2019 | 2000Kb
Published 8 Feb 2019
Capital Growth: We believe everyone should have the opportunity to grow food as part of a healthy, resilient food system and we are working with our network of growers in London to make this happen.