In our submission we consider multiple factors that impact UK's food security, including the war in Ukraine, rising input costs, cost of living crisis, labour shortages, commodity prices and the climate and nature emergency. We argue that food security does not equal a healthy diet and we advise the term 'nutritional security' instead.
The Government should accelerate the implementation of Environmental Land Management (ELM). Transitioning to nature friendly farming (i.e. agroecology) will lead to a more resilient farming sector and a healthier environment. We should avoid off shoring harms from food production to other countries and put core standards in place for imports.
We also consider the problem of increasing household food insecurity and the practical steps the Government should take to provide more support for low income households. This should include expanding access to Healthy Start, Free School Meals and the School Fruit and Veg Scheme. such as Healthy Start and Free School Meals.
We also urge Government to convene big food businesses and work towards tackling low pay issues by paying food workers the real living wage.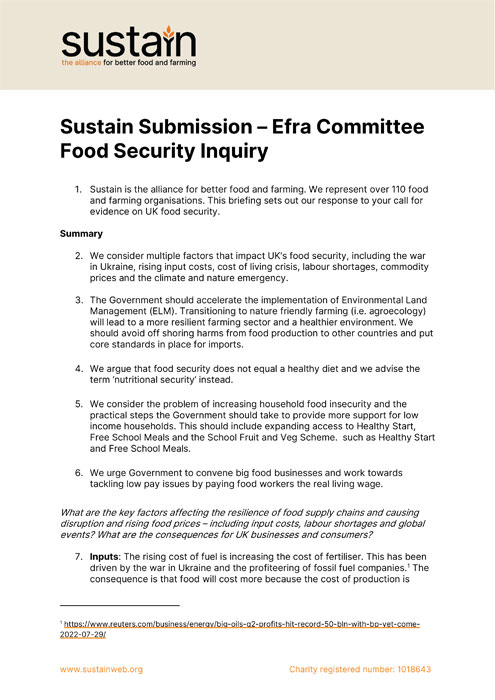 Food Security. Sustain responds to EFRA Select Committee inquiry
9pp - 2022 | 141Kb
Published 5 Sep 2023
Sustain: Sustain The alliance for better food and farming advocates food and agriculture policies and practices that enhance the health and welfare of people and animals, improve the working and living environment, enrich society and culture and promote equity.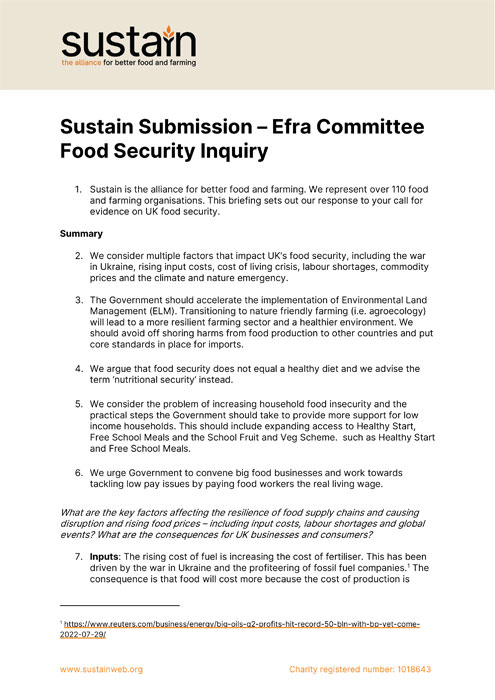 9pp - 2022
141Kb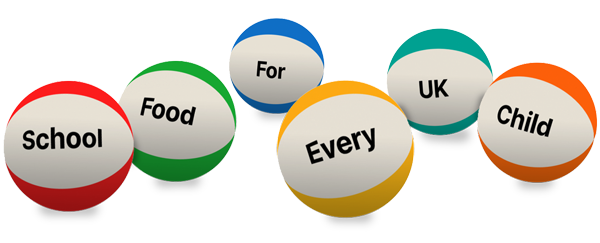 Ask your MP to end the school food postcode lottery now
Support our charity
Donate to enhance the health and welfare of people, animals and the planet.