In this submission we consider multiple issues including the impact of trade policy on the agricultural sector, the need for core standards, the lack of a strategy for trade policy, and the need for greater parliamentary scrutiny.
In our view the UK urgently needs to develop a trade strategy as currently there is none. This leaves the UK government open to challenge. The impact of the liberalisation in the first post Brexit deals are currently difficult to measure as they only came into effect in April 2023, but a number of parliamentary committees and external organisations have expressed their concern about the cumulative impact. The Sustain alliance remains concerned about the potential impact on UK standards, due to the lack of core standards for imports. We have particular concerns about the potential for harms to human health from excessive pesticide residues – some of which from substances currently banned in the UK - and increasing risks from antimicrobial resistance. We are also concerned about the poor parliamentary scrutiny arrangements and the potential impact on climate change of free trade agreements that are not aligned with climate goals.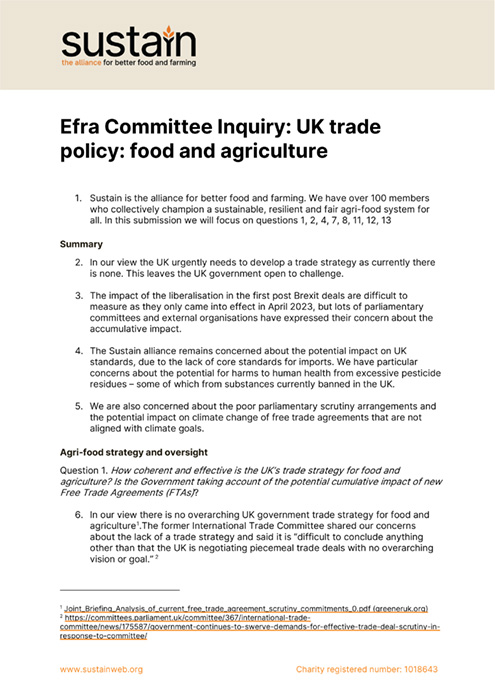 Sustain responds to EFRA Select Committee inquiry into UK trade policy
9pp - 2023 | 150Kb
Published 26 Sep 2023
Sustain: Sustain The alliance for better food and farming advocates food and agriculture policies and practices that enhance the health and welfare of people and animals, improve the working and living environment, enrich society and culture and promote equity.