Saving a food growing site that is under threat
Two first-of-their-kind guides from Capital Growth and CPRE London explain how to protect food growing sites from future risk or help save ones that are already under threat. They can help you understand how to use designations and political campaigning and legal actions you can take.
Food growing sites are valuable community spaces but they are not always well protected from risks such as urban development. These two first-of-their-kind guides give practical advice on how to use legal, planning and political campaigning tools to protect your green spaces.
The first guide, Protecting a food growing site for the future (available here), focuses on the preventative measures you can take. It covers two main ways you can protect your food growing space:
Designate it as a protected area
Monitor threats
The second guide, Saving a food growing site that is under threat, helps communities understand how they can respond if they are already at risk of losing access to their food growing site, due to a planning application being submitted for the land. It provides a range of actions that fall under two categories:
Planning & legal
Political campaigning
These two guides have been developed in partnership with CPRE London and are part of Capital Growth's Growing for Change campaign supporting London's urban food gardens in building community, climate and nature resilience. Capital Growth is London's largest food growing network. Find out more about their Growing for Change campaign here.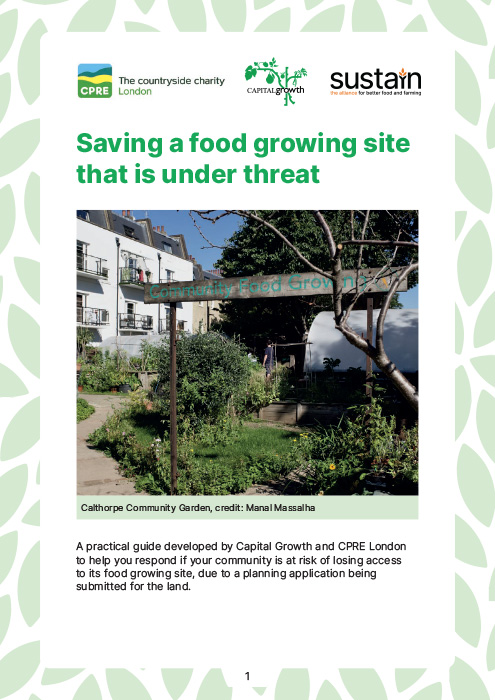 Saving a food growing site that is under threat
7pp - 2023 | 743Kb
Published 30 Oct 2023
Capital Growth: We believe everyone should have the opportunity to grow food as part of a healthy, resilient food system and we are working with our network of growers in London to make this happen.