We consider multiple factors including agriculture, land use, climate and nature, public health, household food insecurity, nutritional food security, and diet.
The food sector makes up a third of UK GHG emissions with agriculture making up 10% of emissions. Farming drives 70% of terrestrial biodiversity loss. By 2070, UK summers could be 60% drier and winters 30% wetter, impacting domestic production. The UK imports 46% of the food it eats, with much of that coming from climate-vulnerable countries. The UK Government must design and implement Environmental Land Management (ELM) schemes and a Land Use Framework (LUF) that will support farmers to transition to agroecological farming. This will contribute towards tackling the climate and nature emergency, and national food security concerns.
Industrial livestock farming is a driver of environmental degradation and poses a serious threat to public health. Factory farms are linked to direct GHG emissions, air and water pollution, deforestation, and land grabbing. Research downstream of intensive pig and poultry units in the UK has found antimicrobial resistant pathogens, and poultry units have been a major driver of the Avian influenza crisis. The UK Government and all local authorities must impose a moratorium on new factory farms.
British farmers receive less than 1 pence of profit on their produce from the supermarket chains. The UK Government must strengthen fairness regulations, invest in local infrastructure and partnerships through Levelling Up, and introduce mandatory reporting on retailer costings, the operation of their supply chains, and their environmental impacts. 6. Before the cost-of-living-crisis, four million UK households were experiencing food insecurity. Over 800,000 children who need a free school meal, miss out. The UK Government must expand access to Healthy Start, make Free School Meals universal, and bolster the School Fruit and Veg Scheme, to help children and young parents access healthy, hot food.
Intensive livestock farming poses a serious threat to climate change and food security. We use 85% of global farmland to rear animals. Much of this land is used to grow crops to produce animal feed. We must take a less and better approach to serving meat and dairy in public procurement. Local authorities and public services can use dynamic procurement systems to supply their food from local, sustainable small and medium (SME) farms. By doing so, food procurement can play a role in reducing emissions and creating routes to market for sustainable producers.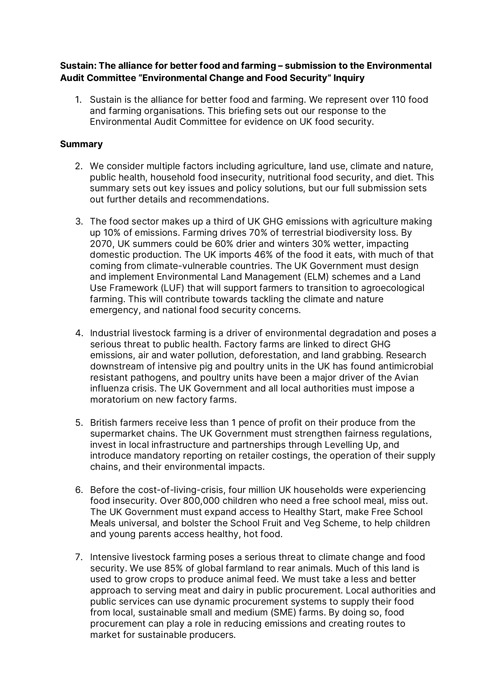 Sustain submission to the Environmental Audit Committee on environmental change and food security
13pp - 2023 | 208Kb
Published 31 May 2023
Sustain: Sustain The alliance for better food and farming advocates food and agriculture policies and practices that enhance the health and welfare of people and animals, improve the working and living environment, enrich society and culture and promote equity.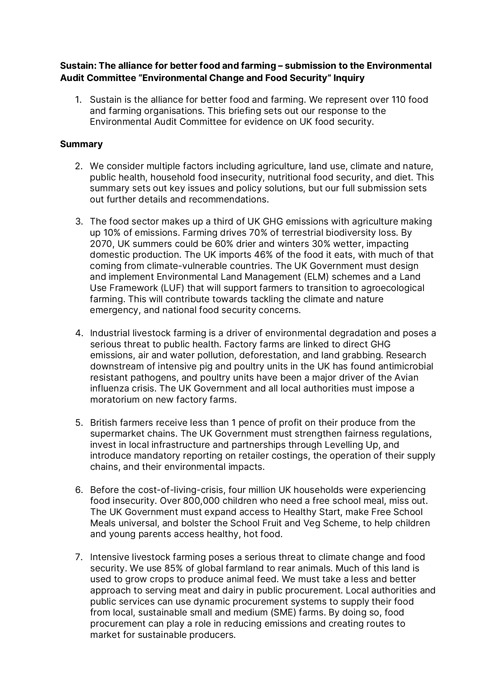 13pp - 2023
208Kb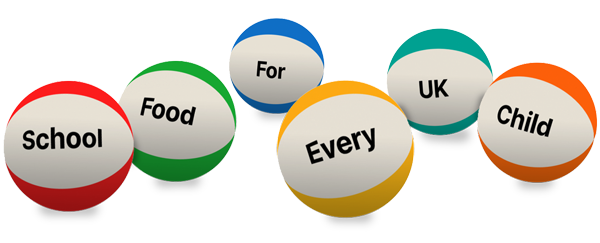 Ask your MP to end the school food postcode lottery now
Support our charity
Donate to enhance the health and welfare of people, animals and the planet.