The UK is in trade negotiations with India. The Government has already negotiated a trade deal with Australia which will see trade liberalised in agrifood products, some of which are produced to lower standards than is legal in the UK. Sustain has concerns about the deal with India, which permits higher usage of pesticides and whose exports regularly containing high (and even illegal) levels of pesticide residues.
This threatens to undermine UK farmers' competitiveness but also threatens the lives of Indian farmers, thousands of whom die every year from pesticide-related illnesses. We also have concerns about antibiotic overusage in India, where medically important antibiotics are still licensed as growth promoters and the government has no data on farm antibiotic use or farm antibiotic sales.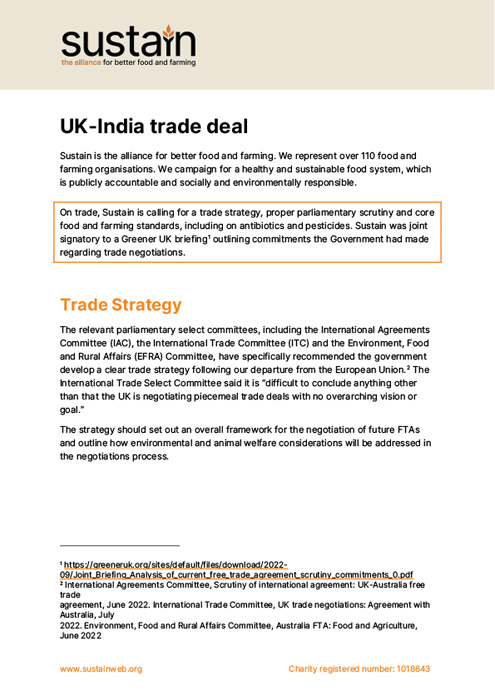 UK-India trade deal
5pp - 2023 | 130Kb
Published 14 Mar 2023
Sustain: Sustain The alliance for better food and farming advocates food and agriculture policies and practices that enhance the health and welfare of people and animals, improve the working and living environment, enrich society and culture and promote equity.