Food Power evaluation report: Responding to COVID-19
Food Power aims to transform the way that people in food poverty can access support and create long-term sustainable lives free from hunger. Researchers from Cardiff University have acted as evaluators of the programme across its delivery. This is one of a series of reports focused on years three and four (2020-21), presenting experiences and impacts associated with particular areas of activity. It focusses on how having formed an alliance made a difference in responding to COVID-19. This report draws on the experiences of a number of alliances who shared their experiences through the Food Power survey, local evaluation workshops and interviews.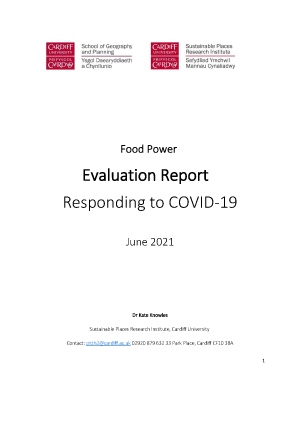 Food Power evaluation report: Responding to COVID-19
2021 | 325Kb
Published 1 Oct 2021
Food Poverty: Millions of people in the UK struggle to get enough to eat. We're working to change that through people-powered projects and campaigns that tackle the root causes of food poverty and ensure everyone has dignified access to healthy, affordable food.