Food Power evaluation report: Peer Mentoring
Food Power aims to transform the way that people in food poverty can access support and create long-term sustainable lives free from hunger. Researchers from Cardiff University have acted as evaluators of the programme across its delivery. This is one of a series of reports focused on years three and four (2019-21), presenting experiences and impacts associated with particular areas of activity. It focuses on experiences of peer mentoring in the North West, drawing on the experiences of three alliances: Knowsley Kitchen, Blackburn with Darwen Food Resilience Alliance, and Foodwise Leeds.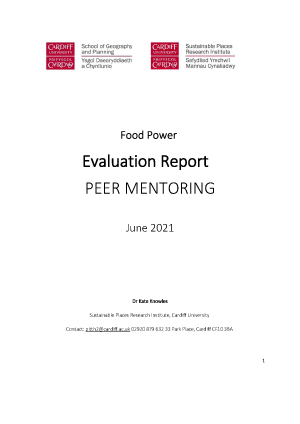 Food Power evaluation report: Peer Mentoring
2021 | 306Kb
Published 1 Oct 2021
Food Poverty: Millions of people in the UK struggle to get enough to eat. We're working to change that through people-powered projects and campaigns that tackle the root causes of food poverty and ensure everyone has dignified access to healthy, affordable food.