Written in 2003, this report sets out the many policy ideas generated over recent years to support the local food sector, and to stimulate policy initiatives to complement and support activities across local and regional levels.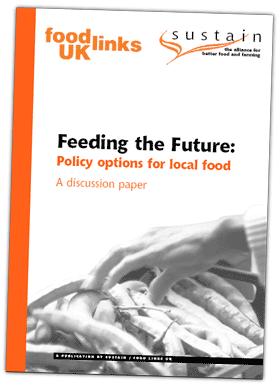 Written in 2003, this report by Sustain and Local Food Links sets out the many policy ideas generated over recent years to support the local food sector, and to stimulate policy initiatives to complement and support activities across local and regional levels.
The report and its policy options have been identified through an extensive literature review of the reports listed in the bibliography. Of particular note are the Soil Association's Strategic Needs of the Local Food Sector and Submission to the Organic Action Plan documents, Sustain's Eating Oil: Food Supply in a Changing Climate and Good Food on the Public Plate publications, Lucy Nichol's How can planning help
the local food economy? report, several briefings from the UK Food Group and Sustain on the CAP and
WTO, and Action Aid's Farmgate - the developmental impact of agricultural subsidies report.
The Feeding the Future report and policy options were also been developed from the results of a number of conferences and workshops including the Foundation for Local Food Initiative's conferences, Sustain's conference on promoting fruit and vegetables, in 2002, and the Local Food: Global Solutions conference held in 2001, which was instigated by Colin Hines and coordinated by Sustain. The options have also been generated through consultation with members of the Sustainable Food Chains working party, members of Food Links UK, and key individuals working in or supporting the local food sector.
The policy options are divided into local to national, European and global as there are different structures, institutions, and contexts at these levels. However, some of the issues are common to all levels so there is a degree of repetition and cross-referencing between sections. We have attempted to place the options at the most appropriate level at which they would be implemented. For example, a tax on aviation fuel to reflect its real cost, would be needed to be implemented at a global level whilst planning regulations and guidance could be adjusted at a local and national level to enable the growth of local food economies.
The report was coordinated and written by Local Food Links, a pioneering organisation that brought together food links organisations and community food entrepreneurs from across the UK. Food Links UK helped local food enterprises, particularly those taking a leadership role at local or regional level, to adress issues of common concern. In 2007, Local Food Links merged with Sustain, enabling participation in the national five-year Making Local Food Work programme. The work undertaken on local food systems informed development of the Making Local Food Work programme, as well as Sustain's successful Good Food on the Public Plate project, which helped public sector institutions buy and serve more local and sustainable food. Subsequently, Sustain has also worked to improve public sector food policy through the Good Food for Our Money campaign, Sustainable Fish City and the Campaign for Better Hospital Food.
---
Report contents
About the report
Summary of key options
Introduction
The local to national context - opportunities for change
Local policy and practice
Parish / Town level
District level
County / Unitary Authority level
Devolution and the regional food strategies
National policies
Curry and farming and food policy
Defining local food and regional food policies
Specific local food initiatives
Health
Planning
Public procurement and catering
Tourism
Supermarkets
Option tables
Local sustainable development
Sustainable economic development
Government strategy
Trade policy
Legal
Education
Health
Land
Planning
Finance
Research
Public procurement
Food safety regulations
Public sector catering
Supermarkets
Tourism
The European dimension - the CAP and beyond
The Common Agricultural Policy
Rural Development Regulation and agri-environment
Accession countries
Agriculture, food industries and supply chains
EU procurement law
Links between farmers and consumers
Option tables
CAP
Agriculture
State Aid Rules
Rural development
Accession countries
Fiscal measures
Supply chains
Food industry
Public
Public procurement
EU procurement law
The global perspective - the World Trade Organisation as a key influence
Issues around WTO agreements
Tariffs
Intellectual property
Anti-dumping, subsidies and safeguards
General Agreement on Trade and Services (GATS)
Agriculture
Option tables
WTO structure and process
Tariffs
TRIPS
Anti-dumping, subsidies and safeguards.
GATS
AoA
Agriculture
Trans-National Corporations
Economic
Climate change
Codex Alimentarius
Acronyms and abbreviations
Bibliography
Weblinks
References

Feeding the Future: Policy options for local food - A discussion paper
ISBN: 1 903060 34 6 - 64pp - 2003 | 415Kb
Published 1 Jan 2004
Making Local Food Work: Making Local Food Work aimed to reconnect people and land through local food by increasing access to fresh, healthy, local food with clear, traceable origins.