Read the review of Sustain's activities and achievements for this financial year.
This Annual Report reflects on a year in which the Covid-19 crisis transitioned almost seamlessly into a cost-of-living crisis, as fuel and food prices started to increase due to Russia's invasion of Ukraine in early 2022. Such developments served to deepen the many challenges now facing our food and farming system, as well as household food insecurity for millions of people in the UK experiencing financial hardship. This year also saw world leaders meeting in Glasgow in the latest round of international talks at COP-26 on the climate emergency.
Amidst such a perfect storm of developments and pressures, the Sustain team has once again kept up an admirable level of project and campaign work, bringing people together in common cause to help secure a healthy and sustainable food future for all. The work we have undertaken this year to support the well-being of our staff members feels especially important in such challenging times.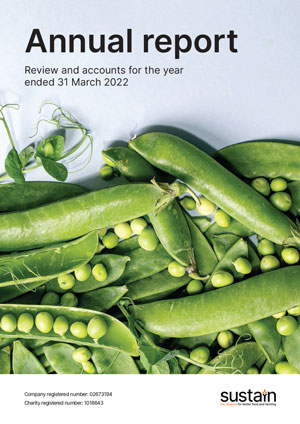 Annual report 2021/22
2022 | 4176Kb
Published 14 Dec 2022
Sustain: Sustain The alliance for better food and farming advocates food and agriculture policies and practices that enhance the health and welfare of people and animals, improve the working and living environment, enrich society and culture and promote equity.