Tools for tackling food poverty
This booklet showcases some of the tools used by local food poverty alliances from around the UK. From building robust approaches to evaluation in Middlesbrough using the Collective Impact Tracker, mapping community food service provision in Greater Manchester, building and strengthening community food networks through collective action in Oxfordshire, working in partnership to survey food poverty in Brighton and Hove, co-designing and using various tools to capture and tell food stories, to using feminist and intersectional approaches in Tower Hamlets.
Contents
Introduction
Middlesbrough Food Power Alliance: Using the Food Power Collective Impact Tracker
Good Food Oxfordshire: Scaling collective action from city to county
Greater Manchester Food Poverty Alliance: Mapping food service providers
Brighton & Hove Food Partnership: Working in partnership to survey food poverty
Leapfrog Toolbox: Tools for Food Stories: Flexible ways to capture and tell stories about food and food poverty
Tower Hamlets Food Partnership: Feminist/intersectional approaches to food insecurity
Acknowledgements / Endnotes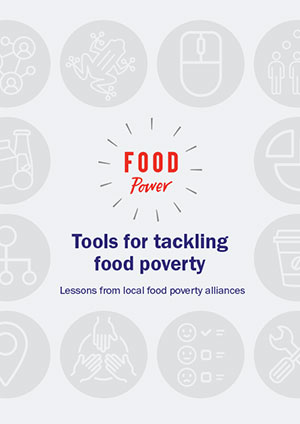 Tools for tackling food poverty
2012 | 370Kb
Published 1 Aug 2021
Food Poverty: Millions of people in the UK struggle to get enough to eat. We're working to change that through people-powered projects and campaigns that tackle the root causes of food poverty and ensure everyone has dignified access to healthy, affordable food.