The first in-depth analysis of how unhealthy food purchasing restrictions could work in the UK.
A Time and a Place for Treats explores future policy levers that champion children's health by restricting the sale of unhealthy food to under-16s. With rising levels of child overweight and obesity, and current policies focused on nudging in change, Sustain has taken a closer look at more decisive interventions that could help the Government meet its aim of halving child obesity by 2030, including:
An unhealthy food licence – where businesses have to pay in order to sell unhealthy products;
An age restriction – where businesses are not allowed to sell unhealthy food to children;
A watershed restriction – where businesses are not allowed to sell unhealthy foods before 6pm;
An age-restricted watershed – where businesses are not allowed to sell unhealthy food to under-16s before 6pm.
The report reviews current food profiling models as well as data about the foods and drinks children consume to make suggestions about which products could be restricted. It suggests a category-based approach for age and watershed restrictions which would include restricting cakes, biscuits, ice cream and confectionery. While for the licensing policies, it would be possible to target specific products based on their nutrition.
Both a licensing approach and an age-restricted watershed are considered to be effective measures worth further exploration. However, a key finding of the report was that there are major limitations on the data currently available, particularly on children's purchases. It is recommended that this is proactively sourced through the formation of a children's purchasing panel which could be used to inform the shape and scope of the policy proposals.
The main recommendations of the report are:
To establish a children's purchasing panel, which could build a basic level of data on what, where and when children are purchasing and how much of it.
To conduct further research into how a combination of age and time-based restrictions could most effectively target children's purchasing of unhealthy foods and drinks.
Model the impact of licensing to explore appropriate price and relative impacts on businesses, different locations, and on children's purchasing.
Ahead of these potentially more stringent restrictions, Government should seriously explore fiscal measures on product categories contributing most unhealthy nutrients to children's diets.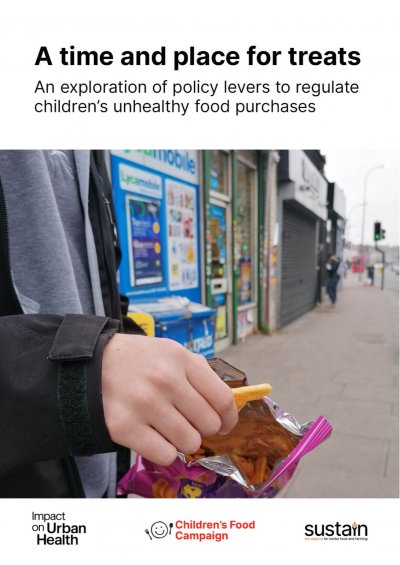 A time and a place for treats: An exploration of policy levers to regulate children's unhealthy food purchases
66pp - 2021 | 745Kb
Published 13 Dec 2021
Children's Food Campaign: Better food and food teaching for children in schools, and protection of children from junk food marketing are the aims of Sustain's high-profile Children's Food Campaign. We also want clear food labelling that can be understood by everyone, including children.