Capital Growth: Annual Monitoring Survey 2013
Every year, Capital Growth carries out a survey of its community food growing spaces. This survey allows us to find out about the people involved, assess the value of the support the network offers and helps inform its future development. This year's survey, sent out early 2014, asked members about their activities in 2013.
Key findings
During 2013 almost 19,000 people were involved in activities across the 342 growing spaces that responded to the survey. Of these, 9,680 were involved in school gardens and 9,199 were involved in community growing spaces and urban farms.
Respondents also reported the number involved during the life of their project, with a total of 24,086 people involved since the projects had started, with 14,360 of these through schools and 9,576 through community growing spaces.
Based on survey responses, we estimate that almost 150 000 people have been involved in food growing across the Capital Growth network during 2013. Of these, approximately 97,000 are involved in food growing through schools and 52,000 through community food growing spaces, including farms.
90% of respondents said one of their main motivations for being involved was a desire to improve the area and create a sense of community. The same percentage stated that improving health and wellbeing was a key motivation.
120 sites (roughly a third of respondents) reported that their project had helped someone into training or employment. From these sites 140 people had gone into employment and a further 237 had gone on to formal training. This shows the potential that the gardens have for creating skills and employment opportunities for the people involved, with a rough estimate that around 2,500 people across the network are receiving help into training or employment, with potential for more.
In terms of challenges, both community growing projects and schools felt that "lack of funding for materials" was seen as the greatest challenge (63%), closely followed by "finding volunteers" (60%).
58% of respondents reported that the support that they had received from Capital Growth was useful or very useful.
Respondents were asked which services they were most likely to use; newsletters, the members area of the website, training and events were the most popular. They also felt that Capital Growth had a wider role to play in encouraging more people to grow food, as well as influencing policy makers, e.g. to make land, funds, training and other support available.
In terms of demographics, the findings show that Capital Growth spaces are engaging a wide variety of people. For example 60% engage with both under 16s and over 60s and over 50% have volunteers from Black or Asian ethnic backgrounds. Nearly half reported that they also had volunteers from disadvantaged groups, such as people with a disability or "NEETs" - young people not in education, employment, or training.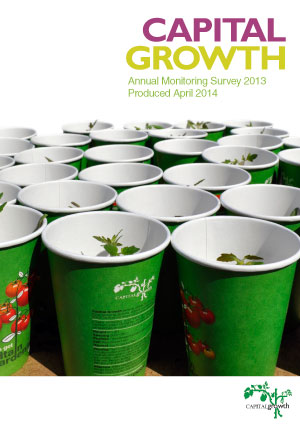 Capital Growth: Annual Monitoring Survey 2013
16pp - 2014 | 993Kb
Published 19 May 2014
Capital Growth: We believe everyone should have the opportunity to grow food as part of a healthy, resilient food system and we are working with our network of growers in London to make this happen.