Policy Brief: Dietary Inequalities
This briefing sets out Sustain's response to recommendations 3-7 in Part Two of the National Food Strategy.
The National Food Strategy establishes a clear link between deprivation and poor nutritional food, where lack of income pushes families towards cheap, high calorie, ultra-processed and convenience foods that are less healthy.
We welcome the evidence provided by the National Food Strategy that when families are provided with cash and other resources, this is a well directed investment that results in families improving the nutritional quality of the food they are able to buy.
However, food insecurity is rooted in socio-economic deprivation, low-wage and insecure employment and immigration conditions that go beyond the National Food Strategy. The Government's response must go further than the NFS to address the welfare and economic challenges faced by those experiencing food insecurity. It must pay particular attention to the multiple social, cultural, legal status and ethnographic factors that impact on poverty and food insecurity.
To ensure people are not pushed into further poverty and are able to live a dignified life, we call on the UK government to get behind the evidence and recommendations in the National Food Strategy and ensure welfare benefits and social security payments are sufficient to access sufficient good food including immediately cancelling the scheduled cut to Universal Credit.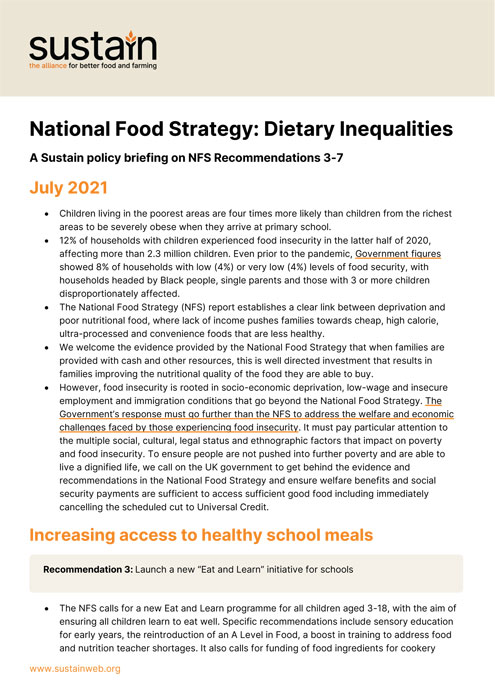 Policy Brief: Dietary Inequalities
4pp - 2021 | 85Kb
Published 9 Aug 2021
Food Poverty: Millions of people in the UK struggle to get enough to eat. We're working to change that through people-powered projects and campaigns that tackle the root causes of food poverty and ensure everyone has dignified access to healthy, affordable food.