How Andra Stefanescu's online sourdough teaching business began and continues to develop.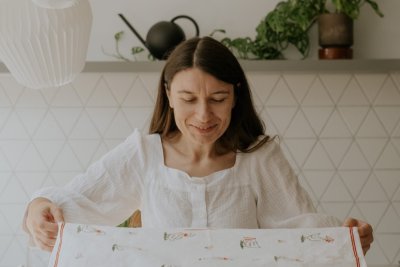 Andra Stefanescu. Copyright: Roxana Voicila Photography
I'm Andra and I love sourdough bread!
London has been my home for the past seven years, but I grew up and spent more than half of my life in Romania, where my family still lives. My love of bread was first inspired by my grandmother. As a toddler I spent many mornings right next to the steamy loaves on the counter of her bakery. I was only three years old but this memory is still as fresh in my mind as was that warm bread enjoyed by the whole village.
Discovering sourdough
Spending most of my childhood in the countryside taught me the importance of homegrown and homemade food. There was no separate category for organic food, it was simply the norm. Buying bread in the supermarket, reading the lists of additives on factory loaf labels absolutely terrified me. Since bread has always been such an important part of my diet, I wanted to take control of it. I also wanted to be able to enjoy the taste of something like my grandmother's bread, so decided to start making my own.
At first, I used baker's yeast and one of those bread machines. Then, in October 2019, I discovered sourdough bread and the therapeutic effect of preparing the dough by hand. It was by chance, I would say, as I just happened to be in my friend's kitchen as she made one of her first sourdough loaves. It was amazing how this extraordinary thing could come out of two hands and as few as three ingredients. That was the moment of realisation that making my own sourdough bread at home was something totally achievable. My friend gave me some of her sourdough starter, with the recipe she followed and my adventure began.
Everyone should have access to great bread
Making sourdough bread can seem overwhelming at first. I felt the same myself at the beginning. There's so much information out there that it can become confusing. Many people don't even dare to give it a try. Some of those who do then abandon the process after the challenge of making a sourdough starter from scratch, or initial baking failures.
With the aim of making sourdough more approachable, in June 2020 I launched Sourdough Explained. It began on social media, followed by my website and is now my full-time job. It allows me to share my passion for homemade, sourdough bread with everyone interested in the topic. Through posts, e-guides and virtual classes, I share my experiences and learnings, both good and bad - the successes and failures - so that everyone can learn from it, including myself. Most importantly, it allows me to contribute in a humble way to sharing the joy of homemade bread.
'If I can make this happen, anyone can'
This is how I like to encourage everyone at the start of their sourdough baking journey. I let people know that I have not had any formal training as a cook or baker, I've learnt everything by myself. I read a lot on the topic and, most importantly, I kept on baking. I failed many times, then started to get decent loaves and continue to improve. Making bakery-quality sourdough bread at home takes some practice and patience, but it is totally achievable.
My bible on this journey has been The Sourdough School by Vanessa Kimbell. Another big source of inspiration is Maurizio Leo's blog The Perfect Loaf. Making sourdough bread is more than just following a recipe and schedule, though. It's understanding the process that helps you to progress.
Learning with and from other people is what has worked best for me. My virtual classes bring together people from all over the world, offering them the chance to ask questions and share their experiences. In 2022 I also began offering one-to-one coaching for people who prefer private interactions or want answers to a number of very specific questions.
Making my own sourdough bread is probably the best feeling in the world. Second best is sharing it with family and friends. Sourdough Explained takes this further, allowing me to connect and exchange ideas with fellow home bakers around the world. It has grown over time, reaching more than 100,000 people across the globe, a beautiful community of sourdough lovers. It's my small contribution to making sourdough bread more accessible.
Published 6 Sep 2023
Real Bread Campaign: The Real Bread Campaign finds and shares ways to make bread better for us, better for our communities and better for the planet. Whether your interest is local food, community-focussed small enterprises, honest labelling, therapeutic baking, or simply tasty toast, everyone is invited to become a Campaign supporter.
Support our charity
Your donation will help support the spread of baking skills and access to real bread.