Not everyone has a bread knife, notes Wild Hearth Bakery owner John Castley.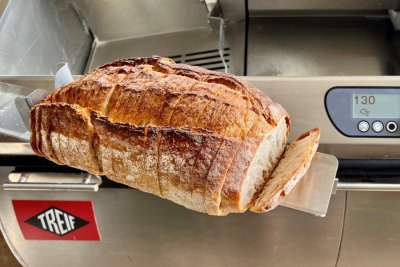 Sourdough, sliced. Copyright: Wild Hearth Bakery
At this year's UK Grain Lab, I was on a panel about bread accessibility, a key theme for the Real Bread Campaign this year. Affordability is, of course, a major element of this but there's something else I'd like to feed back to my fellow small bakery owners out there. It's simple but can transform your bread into something that reaches more people's bellies: slicing.
The first aim of any business is to survive and thrive. If having a social mission is important to you, then creating fulfilling careers and feeding people Real Bread is a huge contribution to that. If you want to take this a step further then slicing may be something for you.
Slicing surplus
Fellow panellist (and founder of the event) Kimberley Bell said that her Small Food Bakery had trialled a way of putting their Real Bread into the hands of neighbours who never set foot in the bakery, and might well not buy a loaf even if they did. Kim's team made wholesome Real Bread in a tin, sliced and bagged it, then sold it at a lower price at a local corner shop – much more familiar surroundings than the bakery, located in former school repurposed by arty/hipster types. The subsidy was funded by customers buying the same bread in the bakery itself at the regular price.
It dawned on me that, while hardly revolutionary, slicing and bagging bread might not only make it more convenient for some regular customers (and perhaps help to attract some new ones), it could also help to solve a problem we have at Wild Hearth Bakery.
Food banks
It's a shame they exist but food banks are a reality and the work that people, like Tina Mcrorie from our local food bank, do is amazing. I don't like to crow about supplying a food bank — this is absolutely not about virtue signalling and I wish I lived in a society where food banks were not necessary. I'm writing this simply to share my recent experience that something relatively simple can help to get Real Bread to people for whom it can make a real difference.
We have a tight system of production planning at Wild Hearth, run by spreadsheets that calculate starter and dough requirements to the gram. Sometimes, however, we have a small surplus due to a deliberate 2% overrun that gives us wriggle room in case of admin or production errors. Sometimes it's a larger surplus – many bakery owners will know the sinking feeling at the end of a slow day at the farmers' market...
Rather than our leftover loaves going to compost or as animal feed, we pass them to the Crieff Community Food Bank. After supplying Tina for 18 months the message came back that they found our bread was 'hard to shift' and was often ending up in the organic waste. That got me pondering: is our bread simply not to people's tastes? Is it too different from the industrial loaves that most people in the UK are accustomed to?
Real Bread sliced is still real
At UK Grain Lab, I heard something that some of us (myself included) had not considered: many people who use food banks (and many who don't, for that matter) don't have a bread knife. Even some of those rattling around kitchen drawers aren't capable of piercing the crusty armour of your average sourdough loaf. Either situation makes an unsliced loaf all but useless – or at least presents a challenge to be avoided. Tina confirmed this, so we decided to give slicing a go.
After the first delivery, I got a message from Tina: "It's a huge success the way you are now doing it. Every single bag of bread has gone. A lot of happy people were in for a real treat today." In a follow up message, she wrote: "We have had a lot of people who have asked me to thank you for donating the bread and pastries." She added: "…a lot never had bakery bread [before] and they loved it."
Worth a little extra effort
Now, I know that simply succeeding in our primary role of supplying Real Bread is a big enough challenge for small artisan bakeries. Bakers are in short supply, energy costs are skyrocketing and it's basically just a tough job keeping our businesses running. The outlay for a slicer, the space required to house it and the labour/time needed to operate the thing means that it's just not a realistic option for many.
If a slicer isn't a fit for your business, but your local food bank has space, maybe you could help them to source a cheap second-hand one? Or maybe you could suggest that they apply for a grant (or you could work toegther on a crowdfunding campaign) to buy one?
Slicing and bagging is a very small job for us that makes a big difference. It's something we can do in those brief windows in production during the day. If it could work for your business, I can recommend making that little extra effort as part of your social mission, either for a food bank, or as part of your own work on affordability and accessibility. I can assure you it's a good feeling to get messages like the ones above.
See also
Published 1 Sep 2022
Real Bread Campaign: The Real Bread Campaign finds and shares ways to make bread better for us, better for our communities and better for the planet. Whether your interest is local food, community-focussed small enterprises, honest labelling, therapeutic baking, or simply tasty toast, everyone is invited to become a Campaign supporter.
Support our charity
Your donation will help support the spread of baking skills and access to real bread.