Author and professor Eric Pallant clocks on for the night shift.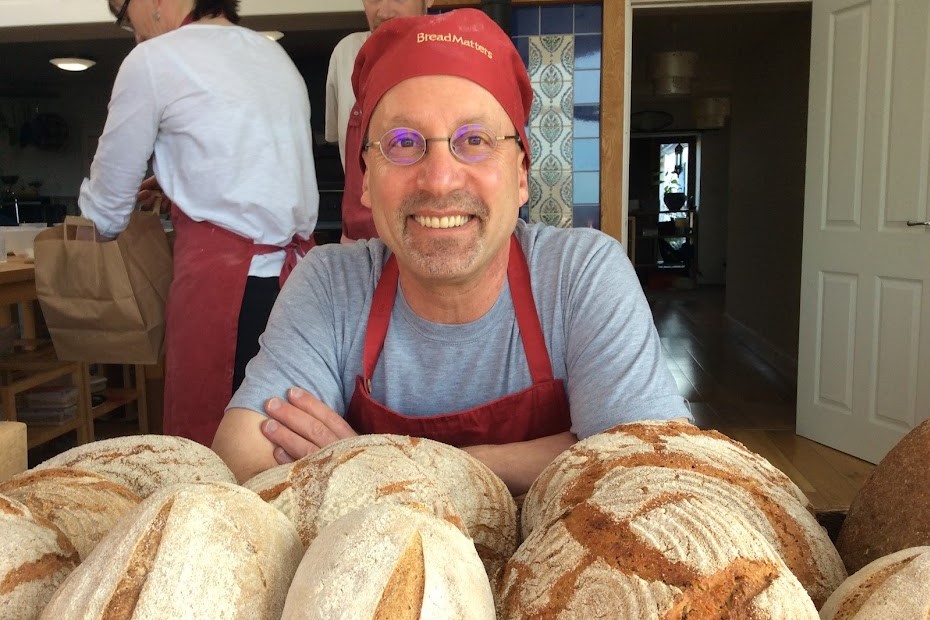 Eric in a Bread Matters class © Eric Pallant
I thought writing a book was difficult: It took me ten years and hundreds of drafts before publishing Sourdough Culture: A History of Breadmakers from Ancient to Modern Bakers. Then I spent one night working with an artisanal baker…
White flour, black coffee, gray shirt
In 2016, Paul Allin was the only bread baker at The Creative Crust, the only bakery in Meadville, Pennsylvania. Before he and his family left to start another bakery in Ohio, I asked Paul if I could bake with him and he welcomed me.
Like bakers who have preceded him for millennia, Paul's workday begins in the evening. It is the only good way for fresh loaves to be warm and ready for morning customers.* I joined him at 11pm. He was wearing a gray tee-shirt beneath a black apron, which quickly became dusted with flour and turned, well, obviously, gray as well. The October night was drizzly and cold. Paul made me a cup of fresh, El Salvadoran coffee - the first of many. We went to the basement. On what little wall space was not blocked by shelving, 50-pound bags of flour and baking apparatus, he had paste-ups of recipes and a clipboard with pre-printed flow charts of activities. He had marked our goals in pencil. We set to work.
Bakers' log
11pm While a wholewheat, multigrain sourdough is mixing in one Hobart, Paul scrapes ingredients for pan de muerto into the second. He pours in two cups of melted butter and then an intoxicating mixture of anise seeds, orange peel and orange juice. We set the two doughs in basins, cover in plastic wrap, and push them aside to rise.
11.40pm We head upstairs to the ovens, shape 18 loaves of previously-prepared sourdough white bread and begin baking them in shifts. Another batch of dough (I'm not sure what it is) that has been proved in loaf pans, gets baked in an electric oven at 350°F for about 45 minutes. Every loaf that goes into the gas oven gets hand sprayed with water to create extra steam for a glossy crust.
1am Paul has his first cup of coffee, but neither of us sits down. It is eerily quiet inside the shop and outside on Chestnut Street. The only interruptions are periodic trumpet calls from his electronic timer holstered on his belt. The holster is wrapped in grey duct tape. There is also a clock somewhere on the main floor that voices the hour: "It is now one o'clock."
1.30am Paul lets me roll and primp some not very good looking batards. He knows that bread is forgiving and accepts that my loaves are not precise. Watching him, I can see all the knowledge possessed in his hands. He shapes twenty loaves for every five I manage.
1.45am Downstairs, Paul pulls a soaker of cornmeal and buttermilk from his cooler. We make cornbread batter, then run upstairs. While the cornbread is baking we shape the pan de muerto. I hand Paul paired, slender snakes of dough, each about a foot in length, that I have made. When the snakes are criss-crossed over boules of the dough, the effect is bone-like. The smell of orange rind and anise is wonderful. We, in contrast, have been loading in and out of a five-hundred-degree oven many times and are starting to smell sweaty.
2am Back downstairs, we start feeding and mixing sourdough starters that will be used tomorrow night in preparation for Saturday's sales. Saturday is the big day at Creative Crust.
3am We are mixing dough for ciabatta and some sourdough loaves. Paul leaves me with instructions, before climbing the stairs to attend to the cornbread and other loaves in the oven. By the time he returns, I have made a mistake: I've added enough ingredients to the ciabatta to feed all of southern Italy. I feel terrible. After a moment staring at the mixers, Paul starts, stops, recalculates, starts again, is overtaken by a new thought, and finally hauls the bowl with the ciabatta dough from the Hobart to his countertop. He scrapes off about eight pounds of flour and has me bring extra water and salt to set things back on track.
3.50am We add flour and water to a sourdough culture that I gave it to Paul a few weeks ago. I had been assured it began life in 1893, during Colorado's Cripple Creek Gold Rush. Downstairs is blanketed by body odor, and the heated oil that lubricates the motors on the hard-working Hobarts. At this hour I am easily mesmerized by dough hooks.
4am "The time is now four o'clock," says the recorded voice.
4.15am Paul starts dough for croissants.
5am We shape and place wholewheat sourdough in 18 loaf pans. We bake eight white sourdough breads. I've lost track of where they came from. Paul heads downstairs to start dough for brioche, while I am managing the ovens.
5.10am Paul pulls focaccia dough from somewhere. It is floating in a pan of oil. He pokes it with his fingers until it is as dimpled as a golf ball and schmears it with half a cup of melted butter. An equal amount of cinnamon sugar goes on top. That's focaccia?
5.30am Downstairs we mix eggs, milk and cream, then run it upstairs. Paul has oversized muffin tins waiting, with neatly-pressed pie crusts pressed into each hole. He pours in the eggy filling, then adds feta to half a dozen, chopped tomatoes and basil to another half dozen, leaving the remaining six plain. Eighteen mini-quiches.
6am It is still very dark outside, but Paul says we are ahead of schedule. He makes a second cup of coffee and finally sits down. A garbage truck and street sweeper rumble by.
7.30am Paul is plating cinnamon rolls. The store opens in half an hour. He makes fresh coffee for customers and gathers challahs and whole wheat loaves, which must have been made yesterday sometime before I arrived. He is slicing up the sugared focaccia to put into the front sales counter. My stomach is now so acidified by coffee that I believe I must have developed an ulcer during the night. Paul throws a dozen pretzels (I vaguely recall watching him whip those into knots sometime during the evening) into the oven.
8am The multigrain sourdoughs have to go into the oven. Paul heads off to make brioche and give his croissant dough a third lamination. Vicki, his wife, has just arrived and she shows me how to run the bread slicer. We slice and bag. Customers arrive and Vicki tells each one how she hit a deer the night before last, totalling her car. The deer died but, as long as neither it or any human suffered in the accident, Vicki is okay.
9.30am Paul is going to work a few more hours and then do the dishes before clocking off. He will begin again by 10pm.
I head home bearing pan de muerto.to get some rest and then, humbled, return to my task of writing a book about the history of bread making.
@epallant
---
Sourdough Culture: A History of Breadmakers from Ancient to Modern Bakers, was published by Agate on 14th of Sourdough September 2021
Published 14 Sep 2021
Real Bread Campaign: The Real Bread Campaign finds and shares ways to make bread better for us, better for our communities and better for the planet. Whether your interest is local food, community-focussed small enterprises, honest labelling, therapeutic baking, or simply tasty toast, everyone is invited to become a Campaign supporter.
Support our charity
Your donation will help support the spread of baking skills and access to real bread.