Real Bread Campaign ambassador Danielle Ellis reports back from Europain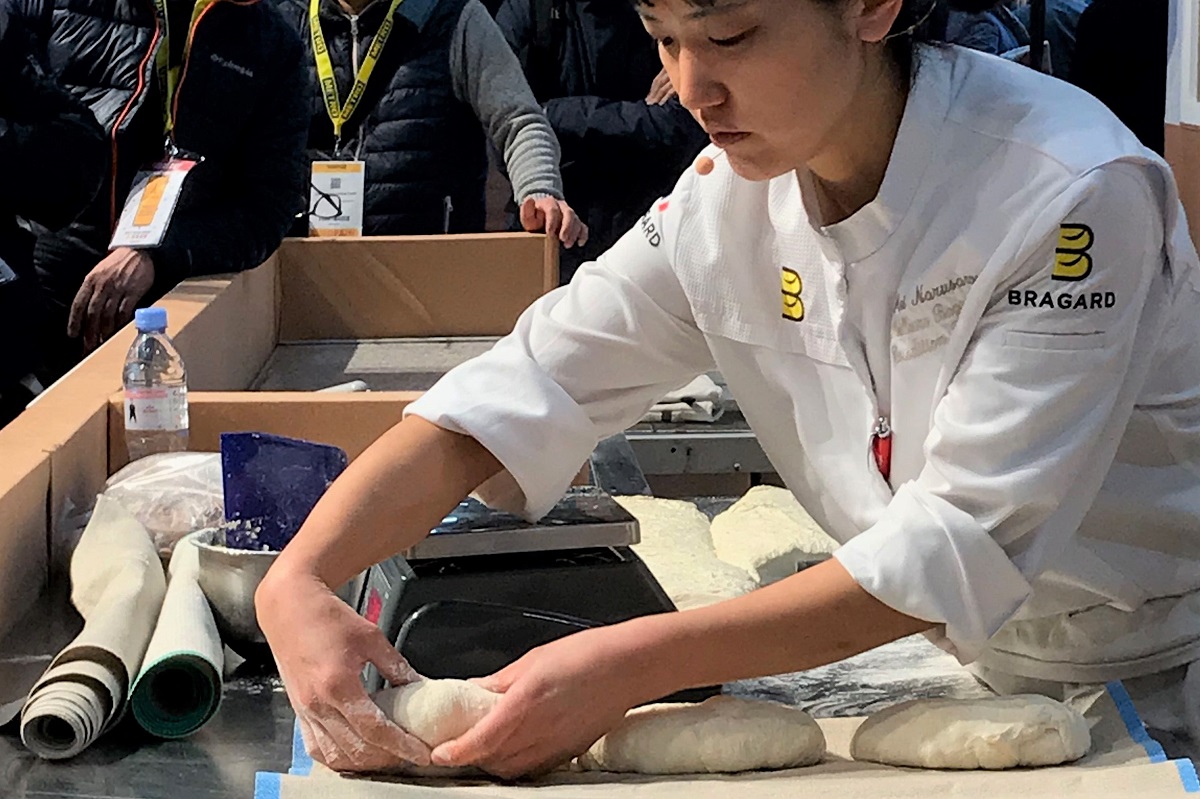 Mei Narusawa © Danielle Ellis
Once every two years in January, the Europain exhibition for milling and baking professionals is held in Paris. An astonishing number of people visit; more than 50,000 over four days. I had booked to go to Paris months before but by the time January 2020 came around, a transport strike was on in the capital city. That wasn't going to deter me, though!
Milling about
I trained as a baker in France and the first surprise for me on entering the large exhibition hall was bumping into one of the staff of École Banette*, where I studied, who were exhibiting this year. After many hugs and exclamations later, I truly felt back at home.
In France, millers are all important. Rarely will a baker use more than one mill's flour. A mill will often support a baker to start his or her bakery, sometimes even providing financial assistance - we can only dream of this in the UK. Otherwise, the miller might provide marketing support in return for their recipes and flours to be used for a set period.
Since my last visit to the exhibition four years ago, the emphasis has changed. Each miller was proudly exhibiting their bio (organic) flour. Everywhere I looked, there were what we might call heritage, or ancient, grains einkorn, spelt, buckwheat, emmer. Between wholemeal (Type 150) and white bread flours (T55 and T65) there were more T85 and T110 (higher extraction, darker) flours.
Watching bakers at work
The breads displayed were simply stunning. Many millers had full bakeries on site with boulangers beavering away making breads throughout the day. My favourite was the bakery café run by students at the École Cordon Bleu. You ordered via a flat screen and one of the students would serve your choice, and what a choice! Baked by the second year students, there were innovative shapes (one was a pea pod) and different snacks. Imagine a tart made with thin slices of baguette placed on end in a circle, then filled and baked with a savoury custard.
The show is the home of La Coupe du Monde de la Boulangerie (The Bakery World Cup). For this, elite baking teams were set challenges to compete for the title but only after getting through four years of competitions to get the final contest. Twelve teams composed of three members competed in four tests: Baguette and breads of the world; Sweet viennoiserie; Artistic creations and Gourmet baking. Taking time out from the rest of the exhibition, you could watch the contestants work. The resulting creations were jaw dropping. And no, France didn't win, China was first, Japan second and Denmark third.
There were also demonstrations by brilliant bakers, such as a baguette masterclass by a Mei Narusawa. Originally from Yokohama, Mei joined a bakery in Nice when she arrived in France before moving on to work with Éric Kayser, first in Paris and then in Japan. After winning the 2017 trophy for the Best Traditional French Baguette, she now works for Laurent Durrenberger, a baker in Mertzwiller in Alsace.
Europain is an amazing place to gain inspiration, to see new techniques and ideas being demonstrated (le snacking is big in France at the moment); to learn about new products, machinery and ingredients. Whilst speaking French helps, you would definitely get by without. The next one is in 2022 - put it in your diary!
Danielle's website is www.severnbites.com
*NB Some flours and mixes marketed under the Banette brand contain added enzymes and other additives. Any product made from those particular flours/mixes are not what we call Real Bread. [ed.]
Published 17 Mar 2020
Real Bread Campaign: The Real Bread Campaign finds and shares ways to make bread better for us, better for our communities and better for the planet. Whether your interest is local food, community-focussed small enterprises, honest labelling, therapeutic baking, or simply tasty toast, everyone is invited to become a Campaign supporter.
Support our charity
Your donation will help support the spread of baking skills and access to real bread.