How Sally Milner helped distribute the best part of a ton of flour to people in north east England during lockdown.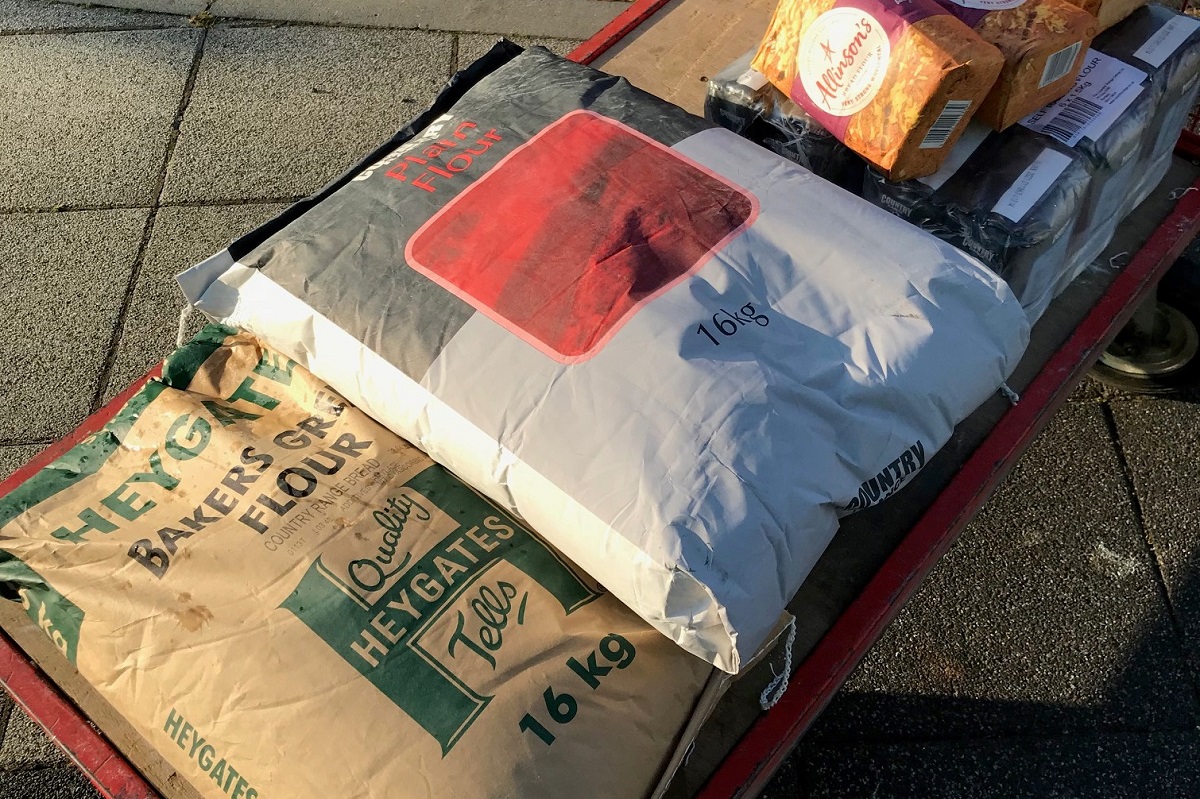 Photo © Sally Milner
It began with staff at our three schools bewailing the shortage of flour in the shops in Ashington, a town in Northumberland 20 miles north of Newcastle, as they made up 850 food parcels for needy families.
I was co-ordinating the operation in my role as chaplain to Northumberland C of E Academy Trust, which comprises three schools spread across multiple sites, teaching around 2750 children aged from 2 to 18, including 100 with severe learning difficulties, and employs over 500 staff members.
The white stuff
Food for our parcels came from catering supplier Birchall Food Service of Burnley, so I contacted them to ask if I could buy some flour for us to distribute locally. The flour was weighed, bagged and labelled so it could be collected or delivered, with caretakers and local vicars helping us with drop offs. It was the start of an operation that lasted two and half months.
At first we were buying and dividing up 3kg catering bags of plain and self-raising flour, but when supply of these bags became short, we switched to ordering 16kg sacks. We also started ordering strong white flour as so many people had started making their own Real Bread. After weeks of being out of stock, very strong wholemeal came back and we added it to our range as well. People emailed in their orders or texted or just stopped me in school. "Here comes the Flour Queen," they would say.
News breadlines
To help people keep in touch and process orders, I put together an email list and our Flour News enewsletter was born. It included prices, order deadlines, recipe suggestions and information on where the flour came from, plus pictures of everyone's baking. A well as homemade loaves, we received and shared photos of cakes, scones, pizzas and children enjoying baking.
When shops ran short of yeast, we ordered 500g blocks, which we weighed out into 50g packs. For several weeks, no dried yeast was available, so we featured links to the Real Bread Campaign in Flour News so people could take up sourdough bread making.
Carry on baking
Now flour is readily available in the shops, I've put my scales away, having helped to distribute 855kg of flour, and 7kg yeast, plus 5.4kg of baking powder for cakes and biscuits. It was a really practical way to help people during lockdown, we kept prices low at just over cost, hints and tips were exchanged, new recipes made and new skills learned. It has kept families busy, brought people together and put food on the table.
It was a pleasure to organise and now I hope people carry on baking and exploring Real Bread-making and especially sourdough.
Published 16 Jul 2020
Real Bread Campaign: The Real Bread Campaign finds and shares ways to make bread better for us, better for our communities and better for the planet. Whether your interest is local food, community-focussed small enterprises, honest labelling, therapeutic baking, or simply tasty toast, everyone is invited to become a Campaign supporter.
Support our charity
Your donation will help support the spread of baking skills and access to real bread.