All of us are finding our own routes through the pandemic. For Jon Rosser it's involved encouraging other people to become home bakers.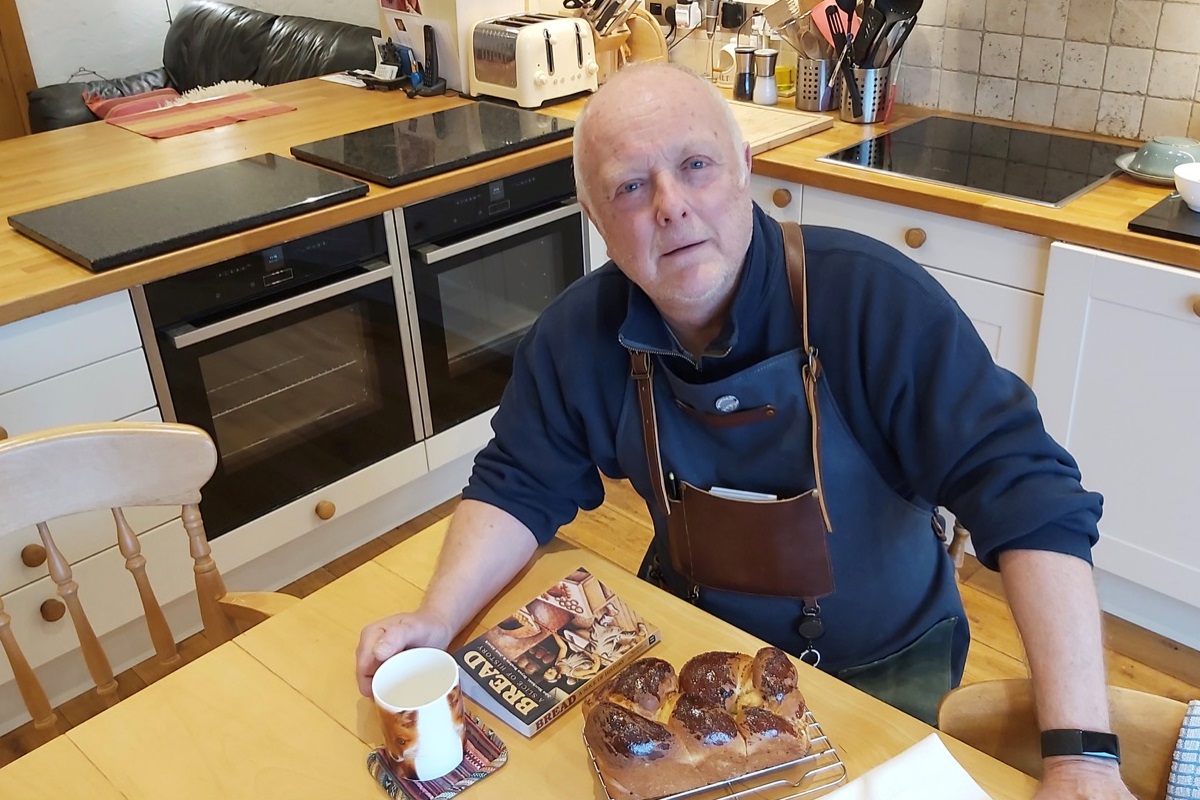 Photo © Jon Rosser
I've been baking since I was 17. I started part-time with Sunblest in Stockport when I was studying for A levels, then worked for Castle Bakery in Beaumaris, Anglesey, while I was at university. In March 2020, my daughter in London - who is mum to two young boys - wanted to make her own bread. Being retired from the local Education Authority since 2016, I had the time to give her a hand.
This helped me to realise that my baking skills and nearly life-long interest in bread were things that I could share with other people as well. In May 2020, I launched BreadClub20, a free blog aimed at those who either wanted to start, or get back into, making their own bread. Through it I support home bakers, offering walk-through recipes on all types of bread, as well as providing instruction on basic and more advanced skills.
Health and history
I've got taste testers at home and in a nearby village who sample my breads before I upload the recipes. I'm also learning myself. As well as bread being good for you and fun to make, I read an article on the web about how baking was beneficial to one's mental health. I've never been as confident in cakes and pastry, so that's my own lockdown challenge.
At the same time, I'm researching the social history behind the bread I bake. It's fascinating to learn that the Cherokee First Nation were the first people to use sweet potato in their bread; or that Frankfurters first found their way into bread rolls as early as the late 1800s - until then, people borrowed gloves from the vendor to make eating the sausages easier but often forgot to return them!
Bakers everywhere
It's really taken off. I have regular subscribers and social media followers from close to home here in Denbighshire in Wales, throughout the UK, in Europe and as far away as Australia and the United States. It's growing all the time, which is great to see.  People seem to be happy, too.
Sheri Phillips, an infection preventionist in Oregon, has been working on the front line supporting medial teams through the pandemic. "What an inspiration BreadClub20 has been over this past year!" she said. "It is insightful and enriching and has inspired many therapeutic baking days." Over in West Yorkshire, Steve and Ros Duckett said: "We have found BreadClub20 to be an invaluable source of information, advice and inspiration as we embark on our own bread making journey". My daughter, how now posts regular updates about baking for her forever-hungry young family on our WhatsApp group, told me: "In 2015 it was 'Can you make me 200 flower pot breads for my wedding, dad?' In 2020 I can now make my own!"
I think that Jo Hesketh, who's one of my taste-testers, gets to the heart of microbakeries like mine: "Jon delivering bread during lockdown has been good for the soul. It represents the ability of individuals to support others by providing emotional and physical wellbeing through these tough times."
---
We invite everyone who runs a Real Bread baking school (virtual and/or or bricks-and-mortar) to put it on the Real Bread Map, and to add details of Real Bread classes, workshops, chats and other specific events to our events calendar.
Published 27 Feb 2021
Real Bread Campaign: The Real Bread Campaign finds and shares ways to make bread better for us, better for our communities and better for the planet. Whether your interest is local food, community-focussed small enterprises, honest labelling, therapeutic baking, or simply tasty toast, everyone is invited to become a Campaign supporter.
Support our charity
Your donation will help support the spread of baking skills and access to real bread.