Compleating – it's using your loaf
Helen White from Love Food Hate Waste tells us about a new food philosophy we can all get on board with to help tackle food waste.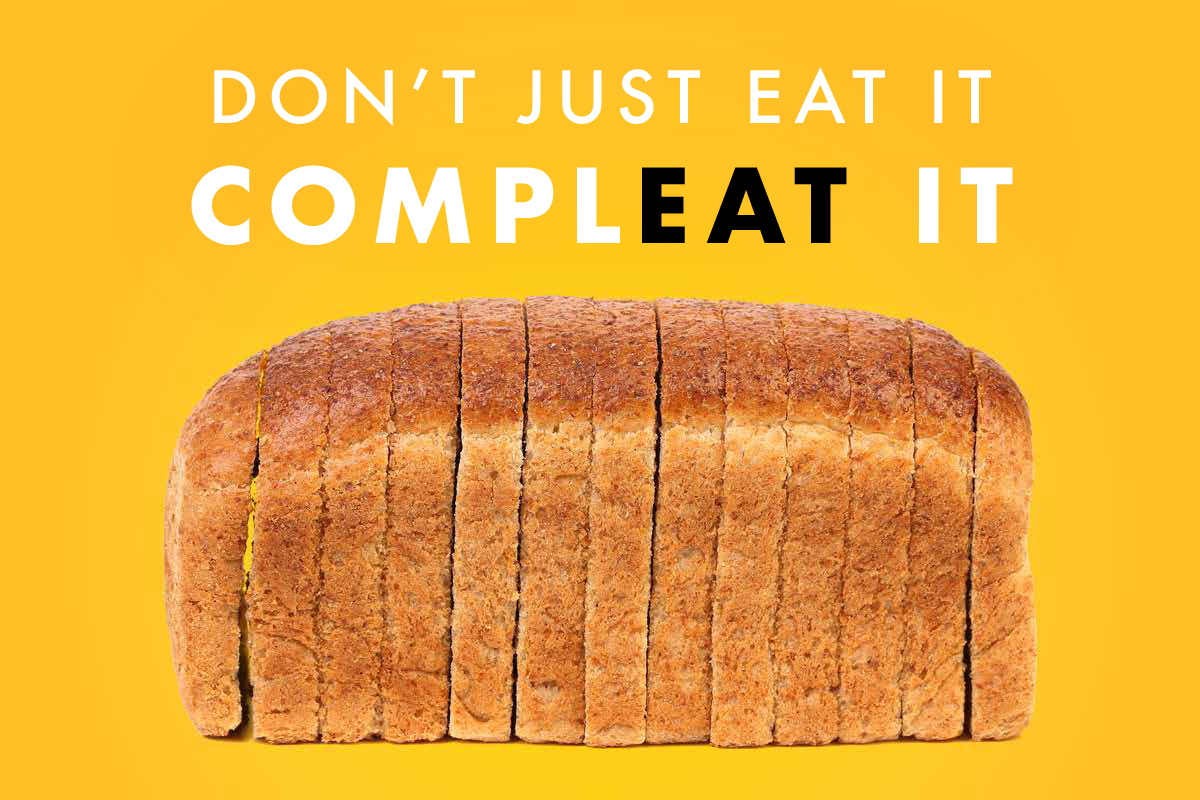 Did you know that UK householders throw away nearly a third (32%) of all* loaves, buns, baguettes bought each year? That's 410,000 tonnes wasted in the home every year.
This unnecessary waste costs us all, not just by adding up to around £570 million worth being binned, but also as it's associated with around 1,700,000 tonnes of carbon dioxide emissions.
Real Bread-lovers might be surprised to hear that over one quarter of this waste is due to people choosing not to eat the crusts and end slices – they're the best bit, right? But 110,000 tonnes are wasted each and every year due to that personal preference.
Top tips
The good news is, there's a new food philosophy taking off that's aimed at tackling this. It's called compleating and it's all about eating the whole ingredient or food, so no edible part goes to waste. Simple really!
Here are a few ideas to get you started:
Use your loaf – The end slices of a tin loaf make perfect mini pizza bases. Make a super quick and cheap snack by piling toppings onto these thicker end slices – yum!
Attennnnshun!! – Make stronger 'soldiers' by using the ends of the loaf – simply toast, butter, slice and dip!
A crust must – Keep your favourite salsa or dipping sauce handy when you next serve pizza to ensure the kids – and big kids – eat their crusts!
Crumbs! Whizz up crusts and loaf ends, then dry or freeze the crumbs for stuffing, crumbing or binding burgers. Larger cubes can be toasted or fried as croutons for soups and salads
A new food philosophy
Compleating doesn't stop at crust-busting, though. Household food waste in the UK totals 7.1 million tonnes annually and personal preference, or habit (such as discarding perfectly edible potato skins, broccoli stalks, and apple peels) is one of the key reasons for this waste.
How do you like your fruit and veg? Do you get your peeler out as a matter of course? Peeling potatoes, or discarding the skins, accounts for 410,000 of the 710,000 tonnes of potatoes wasted by UK householders annually. This makes the humble potato the number one food wasted in UK homes.
But it doesn't have to be so.
A whole lot of benefits
By simply changing your food preparation habits, trying parts of foods you may not usually eat, and compleating your food, you can help to reduce food waste in your home. Collectively that can add up and significantly reduce the amount of food wasted by UK householders each year – reducing our environmental impact.
Compleating has a lot of other benefits too. Compleating means:-
You get the best value from the food you buy as nothing edible goes to waste
You make the most of the nutrients in your food
You save the time and hassle of peeling vegetables like potatoes, carrots and parsnips, and unlock a whole load of flavour potential
When food that is grown and produced for us to eat goes uneaten, all the resources that have gone into bringing that food to our plates – land, water and energy – go to waste too. The best thing we can all do is to make sure the food we buy makes it to our plates and is enjoyed. Anything that we can't compleat (egg shells, tea bags and banana skins might never be on the menu!) can be composted, or recycled if you have a local food waste recycling service.
Compleating – Join the feel-good food revolution
Compleating your food makes sense, makes a difference, and is easy to do, so why not give it a try? Here are some more top tips:
Be a smoothie – Make smooth mash with skins. Cut whole, clean potatoes into small cubes and boil for 15 minutes – mash them up with some butter and milk and you will never notice the skins but will get all the nutritional benefits.
Say cheese! – Next time you make cauliflower cheese, include the leaves and stalks for an even tastier and more colourful meal.
Don't fumble your crumble – no need to peel apples for this winter favourite! Simply slice the apples thinly or into small chunks, saving time and adding colour to your crumble too!
Don't just eat it compleat it!
Be a Compleat Legend and share your own #compleating ideas on social media
Find more hints and tips, recipe ideas and inspiration at the Love Food Hate Waste website
---
* The methodology used by WRAP to calculate the data in the Restated Household Food Waste Report didn't distinguish between industrial products (wrapped loaves, in-store bakery loaves baguettes, rolls etc) and Real Bread, ie made without artificial additives. The Real Bread Campaign believes that (due to factors including time or money invested, and its great taste) people value Real Bread too much to throw it away and so, unlike industrial products, that very little of it is wasted.
---
SHARE