Real Bread bakers come in all types, shapes and sizes, as do their loaves, proves home baker Michael Forte of Maine, USA.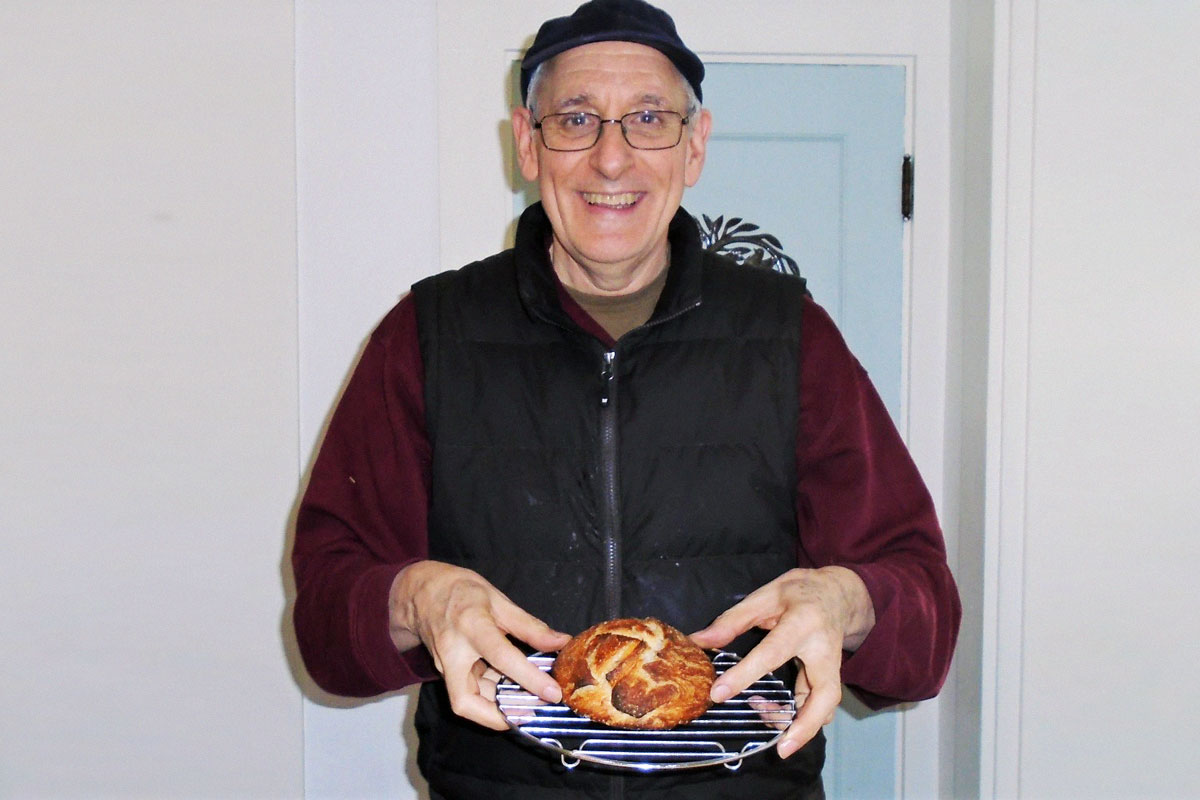 Photo © Michael Forte
My wife and I can't imagine a day without freshly-baked bread! I started baking with sourdough about 25 years ago but a challenge we faced as a family of two was how not to make too much bread and end up with leftovers every day. Our goal was to bake a tiny loaf that afforded us a mid-afternoon snack, enough to have a piece with dinner and a final piece toasted with some rose-petal jam for dessert. Everything would be eaten in one day. No leftovers, no waste.
Lasting impressions
Some of my earliest childhood memories are of my Portuguese grandmother making pão. The aroma, crispy crust and the wonderful taste of her freshly-baked pão left lasting impressions and I was hooked. At home I used to watch legendary cook Julia Child making bread on television. I experimented and learned as much as I could about baking bread.
Tiny tools
When making tiny breads we discovered we needed to scale down our tools: Tiny bowls, a tiny casserole dish, and a tiny oven. The bowls were easy - the dough's final rise is in a little soup bowl. I was then able to find a five-inch, ceramic-covered casserole dish online and I use a little propane-fueled Coleman camp oven for baking. This allows me to quickly get the high temperatures needed to bake our small breads. To create more even heat, I added a nine-inch pizza stone to the oven rack.
24 - 36 - 48
I begin by making enough dough for three loaves over three consecutive days. For our pão caserio (house bread) I use a blend of 40% organic Italian flour, 40% bread flour and 20% quick oats. Spring water, sourdough starter and Himalayan salt round out the ingredients.
Once the dough is mixed, I stretch and fold in three sessions about 45 minutes apart. I then cover the dough and set it in the fridge for 24 hours to ferment slowly. On the second day, I remove a tennis-ball-sized piece of the dough, shape and put it in the little soup bowl to rise in a warm place for about an hour and a half. The dough for the following day's bake will have fermented for about 36 hours, and 48 hours for the third loaf. I do lose a little spring by this last bake, but it's small price to pay as the sourdough flavours mature over time.
Ready, set, bake
Once the dough is risen, I heat the oven along with the ceramic pot to 288°C. I dust the dough with a little cornmeal, turn it out into the pot, replace the cover and bake for about 25 minutes. I cannot fine-tune the temperature on this crude oven so I need to keep my eye on the bake as it progresses. The little tweaks of hands-on baking are very special to me.
The finished round loaf is about 13cm across and weighs maybe 180g. For us that is the perfect tiny size for our freshly-baked daily sourdough bread for two.
Published 21 Dec 2019
Real Bread Campaign: The Real Bread Campaign finds and shares ways to make bread better for us, better for our communities and better for the planet. Whether your interest is local food, community-focussed small enterprises, honest labelling, therapeutic baking, or simply tasty toast, everyone is invited to become a Campaign supporter.
Support our charity
Your donation will help support the spread of baking skills and access to real bread.