My sourdough starters, my bread...our bond!
Food blogger Fabiana Marchet reveals her relationship with Real Bread making and her sourdough starters.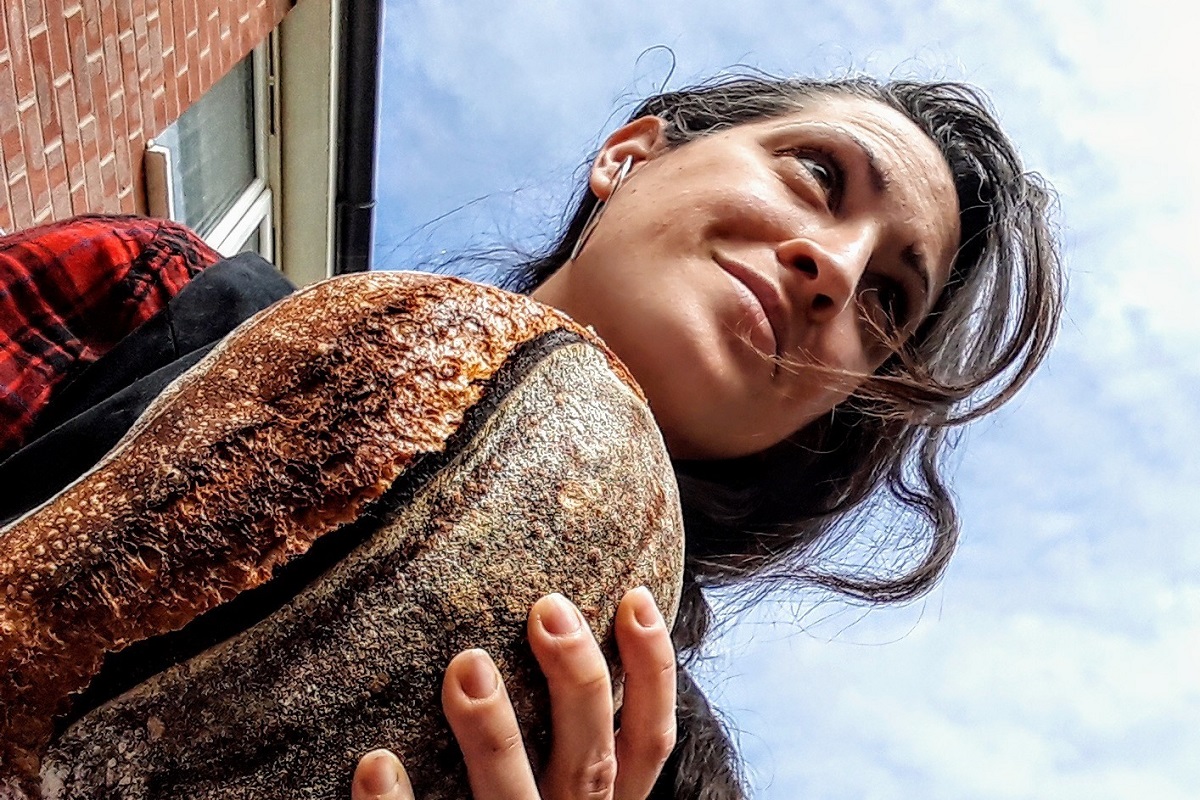 When I started my journey with sourdough I wasn't sure what was going to happen. Starting a new relationship with this living creature was truly inspiring and yet terrifying. I had a starter culture when I lived in Italy, and when I moved with my family to England about six years ago I tried bring it with me, but it died. What a sad moment. I was truly heartbroken when it happened, so I decided that I wouldn't try again.
Falling in love again
Nevertheless, after giving birth to my third child and having a super busy mummy life, I couldn't take myself away from the kitchen; my passion was too strong. When I started using fresh yeast again for making homemade pizza, bread and any recipe that would involve a rising dough, my love for this world grew even bigger than it used to be in Italy. A friend of mine suggested me to try again with sourdough: "You would be amazing at it!" she told me. Even though my heart was still broken and I wasn't very confident at the idea of trying again, I did it... and fell in LOVE all over again, as expected.
First time, my new starter was covered with mould after a couple of days (so annoying!), so I had to start again and it worked beautifully the second time. When I saw the little creature of mine, rising inside the jar by itself I was totally amazed again. I mean, it's flour and water that we are talking about...only flour and water. How exciting is that?! It couldn't be more natural than that, and, as a big fan of homemade, organic, home growing and natural food in general, I was so happy to be able to provide fresh homemade sourdough bread for my family whenever I wanted.
Gut feeling
I knew from my previous experience in Italy the benefits of sourdough bread and I found myself studying all I could learn about the subject: this gut friendly guy is just what you need in a healthy lifestyle. I believe that introducing sourdough bread in my diet for sure helped me losing weight without giving up the joy of eating bread at every meal. When I used to eat ordinary bread from the market, I felt bloated and uncomfortable straightaway after dinner, but now, eating mine, of course I don't.
The fact that it takes about two to three days to make sourdough bread makes a huge difference. The bacteria in sourdough help break down the flour, which in my opinion means healthier and more digestible bread.
Peace of mind
The purpose of sourdough isn't just about how healthy and delicious it is to eat; in making it I found a great friend. I know, it sounds weird, but it's true. When it comes bread day, for me it's like having a yoga class. I can say that it's meditation for my mental health as well. Touching the dough, working with it, being careful of not breaking the gluten network but making it stronger, the waiting, the resting, the breathing...it's all bonded together! It's like a strong chain of actions that require focus, concentration and passion. It brings not only joy of eating the bread, but also a peaceful feeling in my mind!
Sourdough siblings
There is this funny kind of relationship between my starters and me: we actually take care of each other. I feed them and they make me feel great every time I see them rising and double up themselves in their jars. I also have named them - how couldn't I? They are my babies and active members of my family. I have my stiff starter, Aldo, and my liquid starter, Alice. They both bring me a different kind of experience, so I choose which one is going to be better for the recipe I have in mind. Aldo was born from plain / multipurpose white flour and water and I keep feeding him in this way. Alice was born from a higher amount of water, rye flour and white bread flour. As you can imagine, they are totally different and so what makes them 'siblings' is simply the fact that there is a bit of myself in both of them. In fact, I am convinced that there is a little piece of my soul in every loaf I make.
You wanna piece of me?
Every time I make bread, I am actually in a different state of mind: sometimes I'm stressed and I need to remember how to breathe, sometimes I'm sad and I really can use some cheering up, and sometimes I'm just happy and want to share my happiness with my loved ones. Every piece of bread is different, even if the recipe is always the same, because I am different all the time.
When I think about sharing my bread, it's actually my way to say thank you. When I bring my bread to someone, it means that that person is going to have a piece of my soul and real taste of who I am. Only the most special ones deserve my bread.
thesugarsmithandthewhitewitch.blog
Fabiana's tips
If you want to get started with sourdough I suggest you follow:
---
SHARE