The Weald & Downland Living Museum's Lucy Hockley tells the story of a watermill's revival.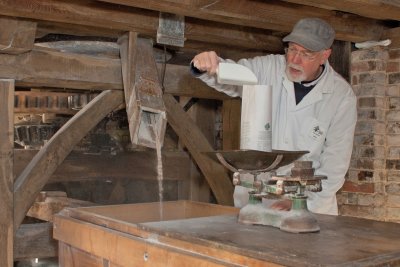 Lurgashall volunteer miller. Copyright: The Weald & Downland Living Museum
Lurgashall Mill was built from local stone during the 17th century in the Sussex village from which it takes its name. As a Weald & Downland Living Museum newsletter from 1972 noted "there is nothing pretentious about Lurgashall Mill. It is a small, country mill, serving part of a great country estate, and it stands in a very inconspicuous position."
The watermill supplied flour to villagers and residents of the Leconfield Estate until around 1935, when it was driven out of business by competition from large, roller milling companies, able to produce flour more cheaply. Given its location, it is perhaps a wonder that it stayed in business as long as it did. Tucked away on the slope of a dam, it looked hardly more than a low shed from the road and would not have had passing trade on market day or similar. That it survived longer than many traditional flour mills is perhaps due to its modest function.
Disaster and dereliction
The mill stood unused and all but forgotten for decades, until disaster struck in the autumn of 1968. Heavy rain caused the dam to overflow and water poured into the mill, causing significant damage to the building, which also disturbed the millstones. This accelerated the estate's decision to remove the building as it was now not only redundant but also potentially dangerous.
Volunteer-powered revival
In the early 1970s, it was acknowledged that acquiring and restoring the mill would be a large but important project for the Museum. Much work ensued to raise the funds to save the mill and build two mill ponds to ensure that there would be water to power it.
The mill had been rebuilt and modified at least once during its working life. For a time, it had two waterwheels operating in tandem, each independently driving a set of machinery, though records show that this was no longer the case by the early 20th century. Much of the machinery in place when the Museum acquired the mill in 1973 dates from the 19th century.
From the outset the idea that the machinery had to be working was crucial to the project, as it continues to be. While John Friar worked on the stone building, the machinery was restored by Peter Stenning and the water wheel was rebuilt by Geoff Boxall. Millwright Robert Demaus has been involved since the beginning of the project. He still comes to help us care for the mill, as he did most recently when his services were needed in 2021. The dedication of these people is so valued by the Museum, without whom the mill's revival would not have been possible.
Lurgashall Mill was kept in storage for a number of years before being rebuilt at the Museum, a project that then took seven years. It was formally re-opened in April 1981 by Mr and Mrs Ansty, whose family had run it before its decline. Thanks to a dedicated team of volunteers, we have had milled regularly since then, selling the stoneground flour at the Museum shop and other local outlets.
The mill today
In many places, a traditional mill is an attraction in its own right. Here, the context of the Museum's collection adds a special, extra dimension to this ordinary yet extraordinary building. Visitors can follow flour from the mill just a few metres to see (and taste) bread being made in the wood-fired oven of an eighteenth/nineteenth century bakehouse, relocated from the Surrey village of Newdigate in 2018. With the Eastwick Park dairy next door, the story of bread and butter is all there in one small area!
In addition to the mill, bakehouse and dairy, there is a Tudor farmhouse and kitchen, smithy and many other small workshops. Six historic gardens surround historic homes and the Museum team works with heavy horses to plough and harvest crops from the fields. The woodland is managed using traditional tools to produce materials used in a range of settings around the Museum, from heating sources to garden fencing.
It is easy to overlook, or romanticise, the story of how our ancestors' everyday staple foods were produced. For example, millers' and bakers' work was not easy, and neither profession has always had good press through the ages. This put into context through Museum displays and activities, including a series of seasonal, daily demonstrations. By continuing and demonstrating traditional crafts and trades, we are working to ensure their survival long into the future.
@wealddownmuseum
Published ahead of National Mills Weekend, 7 and 8 May 2022
Published 3 May 2022
Real Bread Campaign: The Real Bread Campaign finds and shares ways to make bread better for us, better for our communities and better for the planet. Whether your interest is local food, community-focussed small enterprises, honest labelling, therapeutic baking, or simply tasty toast, everyone is invited to become a Campaign supporter.
Support our charity
Your donation will help support the spread of baking skills and access to real bread.