In August 2013 UNISON and the Campaign for Better Hospital Food sent a survey to every hospital caterer in England to identify how they cooked hospital food, what factors they felt influenced their ability to cook high quality patient meals, about their working conditions and what changes to hospital catering they want to see.
This report summarises the key findings of the survey.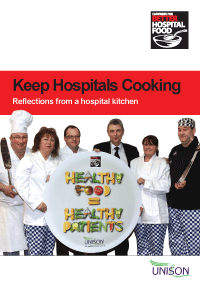 Keep Hospitals Cooking: Reflections from a hospital kitchen
2013 - 8pp | 2791Kb
Published 10 Dec 2013
Better Hospital Food: The campaign represents a coalition of organisations calling on the Westminster government to introduce mandatory nutritional, environmental and ethical standards for food served to patients in NHS hospitals in England.