Read the review of Sustain's activities and achievements for this financial year.
This has been another extraordinary year for Sustain. The profound implications of Brexit for farming, fishing, food standards and international trade have become ever more real; our response as a robust alliance ever more needed. In spring 2018, the Sustain alliance co-hosted with Defra a consultation event on future farm policy, with Secretary of State Michael Gove MP as a keynote speaker. In the autumn, National Food Strategy lead Henry Dimbleby joined us for a vibrant discussion at Sustain's AGM. Throughout the year, our policy team has worked with great dedication to consult with, brief and meet with alliance members, sister alliances, MPs, Peers, parliamentary researchers and the media, to help shape thinking on some of the biggest policy changes that our sector has experienced in decades.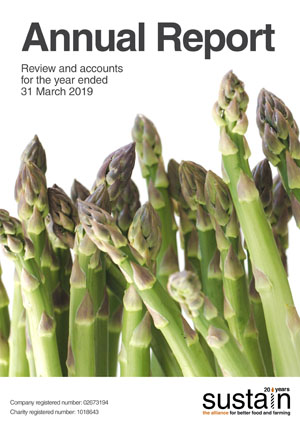 Annual report 2018/19
40pp - 2019 | 5352Kb
Published 16 Dec 2019
Sustain: Sustain The alliance for better food and farming advocates food and agriculture policies and practices that enhance the health and welfare of people and animals, improve the working and living environment, enrich society and culture and promote equity.