New report finds food poverty has hit hard in Brighton & Hove
A recent survey by Brighton and Hove Food Partnership finds 76% of respondents (or members of their household) have either reduced the size of, or skipped their meals since lockdown began.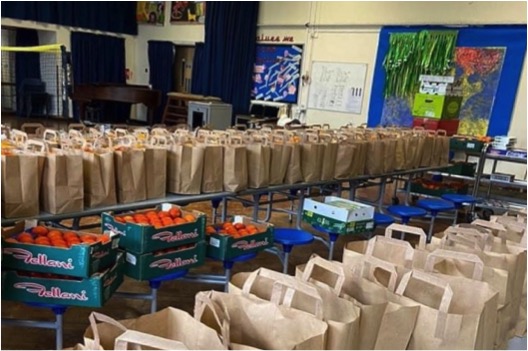 HS3S Hampshire County Council
For at least the past 7 years, food parcel distribution in Brighton & Hove has been increasing, with a 374% increase between July 2019 and July 2020 alone. In the height of lock-down in Brighton & Hove, 3,001 food parcels and 3,966 meals were being given out per week. With demand slowing slightly but a long winter ahead, Brighton & Hove Food Partnership took the opportunity to run a survey of food bank users. The survey aimed to build awareness of who was struggling to afford food, why their circumstances had led them to use the foodbank and what their household food budgets were. The results will enable Brighton & Hove Food Partnership to improve their support, target the most impacted communities and identify any gaps to extend their reach as necessary.
The results of the survey were alarming:
76% of respondents said they or someone in their household had reduced the size of or skipped a meal because they cannot afford to buy food
The biggest increase in users was from families (69%) and single-parent families (62%)
Households with children had an average weekly food budget of just £8.53 per person.
22% of those who are struggling to afford food are already in work
78% of respondents said that their day to day activities were limited because of a health problem or disability which has lasted or is expected to last at least 12 months. This is in comparison to 16.3% of residents in Brighton & Hove from the 2011 census
Read the full report here.
There is a similar situation up and down the UK and with lockdown restrictions tightening and furlough coming to an end this month, things are expected to get more difficult.
Food banks and other community food projects are doing so much to provide for those in need but they should not be a long term solution to food poverty. Instead of relying on charity and volunteers to feed the nation, the Government must take action. As a start they should invest in children's health by committing to our five key policy asks in the upcoming Spending Review. Help make that happen by using our simple tool to email your MP to ask for their support.
Support our work
Your donation will help communities identify ways to alleviate food poverty.