Bridging the Gap launches first pilot project in Tower Hamlets
Sustain's Bridging the Gap programme launched its first pilot project this week, selling local organic fruit and veg at two east London food co-ops, sourced from the Better Food Shed.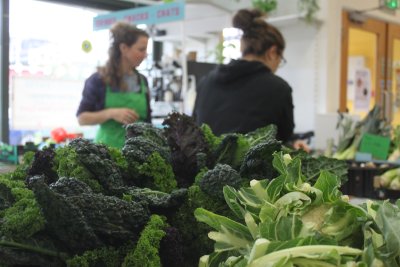 Teviot Centre Food Co-op. Credit: Kiloran O'Leary
The nine month pilot project, introducing discounted afforable organic fruit and vegetables to Teviot Centre food co-op and Limehouse Town Food Co-op is led by Alexandra Rose Charity (ARC), Women's Environment Network (WEN), Leaders in Community and Better Food Shed, the wholesale arm of Growing Communities.
Bridging the Gap aims to enable everyone to enjoy a universally healthy, just and sustainable food system, by reducing barriers to planet-friendly food for people experiencing low incomes. The programme will deliver a series of pilot projects across the UK that demonstrate the policies and financial mechanisms that would bridge the gap.
The Tower Hamlets pilot is addressing the lack of affordable organic fruit and veg in the immediate areas surrounding Teviot Centre and Limehouse Town Hall by working with two food co-ops to swap in organic fruit and veg from organic food hub Better Food Shed at no extra cost to customers.
One customer said:
"I love cooking with mooli, it's perfect in a curry and I have never seen organic UK grown mooli before, so it's very exciting."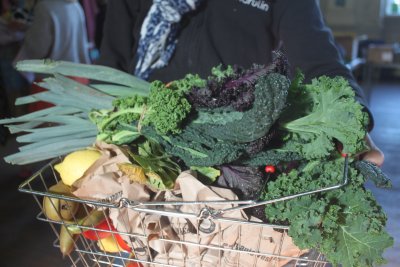 Melanie Sailsbury, project lead at Teviot Centre Food Co-op said:
"Today we have launched a long awaited pilot, offering entirely organic produce. We opened at 11am and by midday we had nearly sold out! People could not believe the quality of the fruit and vegetables and we've had such an incredible reaction and enthusiasm."
Supporting the launch, WEN organised craft activities while a team of local researchers spoke to residents about their perception of organic food and affordability in return for Rose Vouchers provided by ARC.
With cauliflower, mooli, ginger, garlic and kale flying off the shelves, the launch sets an exciting precedent for further Bridging the Gap pilots across the UK. These pilots will demonstrate how removing the price barrier to organic fruit and veg drives up the demand for healthy and climate friendly fruit and veg in areas of low income.
The 2021 census found that Tower Hamlets has the highest rate of child poverty in the UK in 2022 and high levels of health inequality. These food co-ops are a lifeline in areas where there are few local retailers or supermarkets selling fruit and veg.
The food co-ops were established in Spring 2023 building on the work of long running St Hilda's Food Coop. The food co-ops have support from Just FACT (Just Food and Climate Transition), a multi-year Climate Action Fund programme led by WEN and a partnership of local organisations.
Supporting the project at the launch, Professor Elaine Swan and a team of Food Lives researchers with UKRI FoodSEqual project brought their rich participatory research approach to a project that is already demonstrating the popularity of healthy, sustainable fruit and veg in Tower Hamlets. This pilot will now run for the next nine months and share its learning for future projects and policies of this kind across the UK.
The Teviot Centre food co-op, based in Poplar operates on Thursdays from 11:00-14:00 while Limehouse Town Hall in open on Wednesdays from 10:00-14:00.
Find out more about the six approaches we're taking to bridge the gap.
Get in touch about getting involved in this pilot project and other opportunities at bridgingthegap@sustainweb.org
Support our charity
Donate to enhance the health and welfare of people, animals and the planet.