The Children's Food Campaign welcomes recommendations in a new report Serving up Child Health from Guy's & St Thomas' Charity, which is based on investigation of the meals that children are really being served at school.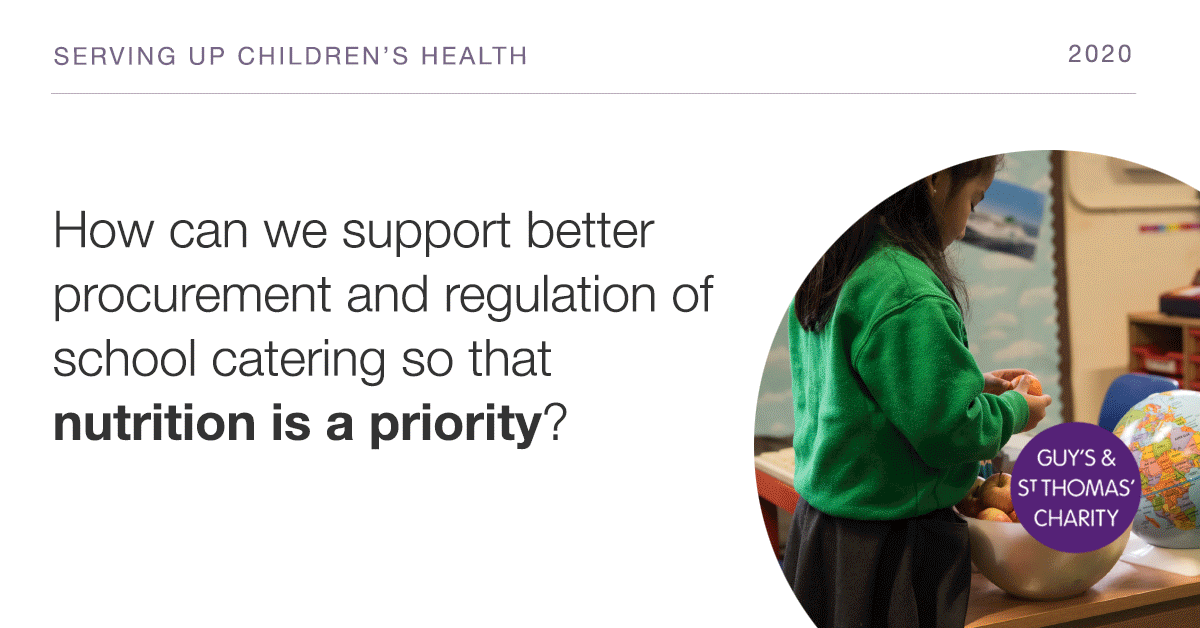 Credit: Guy's & St Thomas' Charity
The introduction of the School Food Standards in 2013 sought to ensure that every pupil could access nutritious food, recognising multiple inequalities faced by children, and recognising healthy children are also better able to study and achieve better educational outcomes.
The new report Serving Up Child Health from Guy's and St Thomas' Charity, based on a review of food provided at 60 primary and secondary schools across one London borough, found that in many cases School Food Standards are not delivering when it comes to the food on children's plates. The report suggests that if this is the case in one borough, there is likely to be a similar pattern in other urban communities.
This postcode lottery in the quality of food children are eating disproportionately affects young people living in lower income neighbourhoods. While some schools and caterers are offering nutritious and tasty food each day, they are the exception not the rule, and the system offers no real incentive to prioritise young people's health.
In his foreword to the report, Henry Dimbleby, non-executive board member of the Department for Environment, Food and Rural Affairs, comments:
"We are, I think, 15 years in to a 30-year struggle to raise the status of school food. And this report is a bracing reminder of what has been achieved, and want remains to be done. It not only highlights problems, it offers solutions - ways in which we can improve procurement, funding and accountability."
The report lays out solutions and recommendations to improve consistency and health of school food in three main areas:
Procurement and regulation
Department for Education to adapt the school food procurement guidance so that contracts explicitly weight value towards nutritional quality of food as well as cost
This guidance should cover food quality, finance, contract types, employee training and remuneration (including real living wage for all school catering staff), and support schools (particularly Headteachers and Governors) to source the best possible food provision
New funding mechanisms and eligibility
Long-term the report is calling for universal free breakfasts and lunches in both primary and secondary schools
Transparent, clear and simple funding mechanisms would underpin successful delivery of national school food policies and ensure that nutritious food is being provided throughout the school day  
Shorter term, immediately support the National Food Strategy recommendations to extend eligibility of Free School Meals for those children particularly at risk of health inequalities, including those from families with no recourse to public funds
Monitoring and accountability
Department for Education and local governments to put in place mechanisms that hold schools and caterers to account for meeting Schools Food Standards in practice
Department for Education to create transparency around the level of nutritional quality that different caterers and schools deliver per pound spent
The Serving Up Child Health report comes at a time when the importance of school food to young people's health is in the national spotlight.
Rebecca Sunter, Portfolio Manager at Guy's and St Thomas' Charity says:
"All young people deserve access to nutritious food, no matter where they go to school. In light of high-profile public campaigns to extend Free School Meal eligibility, and drastic changes to school life in the aftermath of COVID-19, our report shows that there's never been a more important time to put children's health at the heart of the school food system."
Responding to the publication of the report, Barbara Crowther, Children's Food Campaign Co-ordinator says:
"Guy's and St Thomas' report throws a timely and worrying spotlight on the patchy and inconsistent application of School Food Standards, which are mandatory for all state funded schools and most acadamies, but are not being adequately funded, enforced and monitored. All children have a right to access healthy and nutritious food. Especially in light of growing food and income insecurity affecting a growing number of children and families as a result of the ongoing Covid-19 pandemic, we urge the Government to respond swiftly to these practical recommendations."
Read the Serving Up Child Health report
Support our campaign
Your donation will help us champion children's rights, parent power and government action to improve the food environment children grow up in.