Food charities have exposed a massive rise of 57% in household food insecurity just as supermarkets announce record profits of more than £4 billion.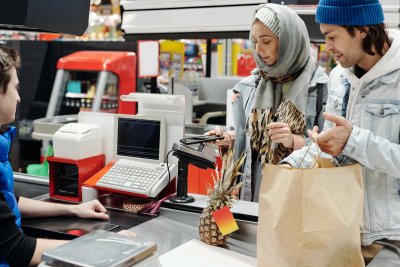 A couple pay for their shop at the supermarket. Credit: Jack Sparrow | Pexels
Fresh data released by the Food Foundation shows that in April 7.3 million adults reported going without food, including the fact that a quarter of food sector workers - including people employed by supermarkets and their suppliers - are living with food insecurity. Meanwhile farmers are struggling with supply chain pressures, escalating costs and low prices for their produce.
Campaigners are calling for the Government and business to do more to make the food system fairer and help families cope with the cost of living crisis which is leaving them unable to buy food.
So far this year three of the UK's top four supermarkets, TESCO, Sainsbury's and Asda have issued preliminary profit information for 2021-22. Once Morrison's half year data is added, this creates collective profits of £4.08 billion. These four supermarkets cover 66.5% of the UK market. The Co-op, with 6% of the market has announced profits of £57 million for 2021 and Waitrose, with 4.8% of the market has announced £14.44m.
Kath Dalmeny, Chief Executive of Sustain said:
"Supermarkets are posting record profits - more than £4.08 billion this year so far. This stands in shocking contrast to the 7.3 million adults in our country who have been going without food due to low incomes – including in the food sector - and the cost of living crisis.

"Food production, manufacturing and supermarkets are together the biggest industry in this country and yet we also know that there are people employed in these industries going hungry. Farmers only receive 8% of the value of their produce, as supermarkets put the squeeze on farmgate prices, and not all supermarket workers receive a real living wage.

"There have been calls for a windfall tax on energy companies, including this week from the chair of TESCO. But TESCO needs to look at its own profits - £2.2 billion last year alone. Such profits need to be shared fairly with farmers, producers and workers, some of whom can't afford to eat what they grow and sell. More of that profit needs to be used to provide healthy and affordable food, with a special focus in low-income neighourboods.

"The Government needs to issue its response to the National Food Strategy urgently and it needs to be underpinned with legislation for firm, assertive action to fix our broken food system. If it doesn't, we will continue to lurch from one crisis to the next leaving even more people without enough food to live and thrive."
End of year supermarket business performance - profit before tax
2021/22

2020/21

Percentage increase

TESCO

£2.03 billion

£636 million

Increase of 219.7%

Sainsburys

£854 million

£(164) million

Asda

£1 billion

£469.2 million

Morrisons*

£133m

£190 million

Aldi

Not yet available

£264.8 million (year end 2020)

(£271m in 2019)

Lidl

Not yet available

£9.8 million

(-£25.1m in 2019)

139%

The Co-op

£57 million

£127 million

Iceland

Not yet available

£69 million

(£27 million in 2019)

Waitrose

£14.77 million

£158 million

(£45m in 2019)

Approximate total

£ 4.08 billion

£1.78 billion
* Morrisons changed their reporting period. The £133m figure is for 39 weeks, ending 31 October 2021. This is the last available information.
List of supermarkets by share of market, as of April 2022.
TESCO – 27.3%
Sainsbury's 15%
Asda 14.1%
Morrisons 9.5%
Aldi 8.8%
Lidl 6.6%
The Co-op 6%
Waitrose 4.8%
Iceland 2.2%
This story and Kath Dalmeny's quote first appeared in The Grocer.
What we're fighting for 2023
Support our charity
Donate to enhance the health and welfare of people, animals and the planet.