Over 50 charities, organisations and education unions have called on Education Secretary Gavin Williamson MP to announce additional funding for continued food provision during the forthcoming school half-term and summer holidays.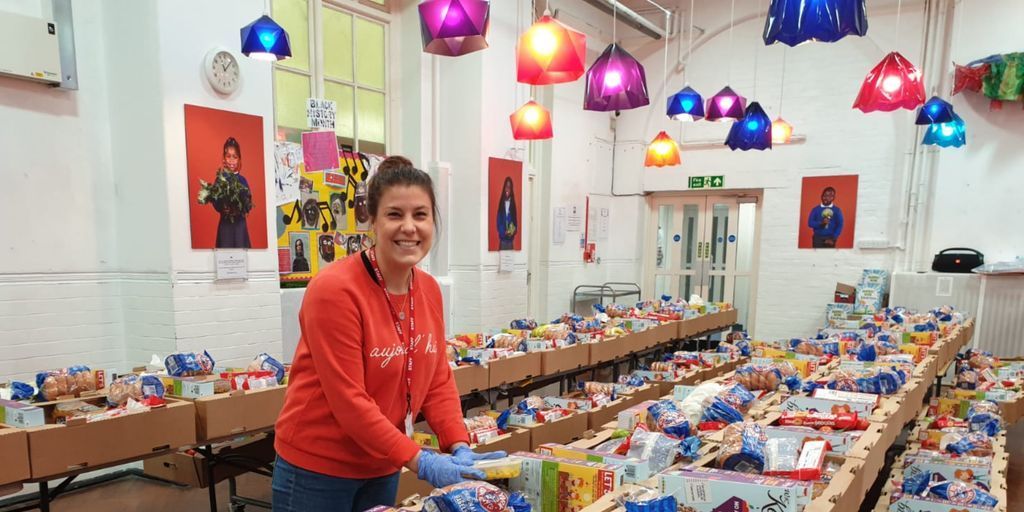 Mandeville Primary School food boxes. Credit: Chefs in Schools
In a joint letter to the Secretary of State Gavin Williamson MP and Schools Minister Vicky Ford MP, the organisations point to recent figures from the Food Foundation that show around 2 million children across the UK are directly experiencing some level of food insecurity or hunger. Before the crisis, 1.3 million children in England were eligible for benefit-related free school meals, however a further 1.4 million families have applied for Universal Credit since the start of the outbreak.
Campaign Co-ordinator for the Children's Food Campaign Barbara Crowther says,
"Hunger does not know the difference between term time and school holidays, and the Government's support for families should be continuous through this crisis. Given the scale of food and income insecurity being experienced by so many families, it is critical that the Government makes national level funding available to cover all the school holidays until the start of the new academic year."
The Welsh Government has already committed £33m additional funding to cover all holidays until the end of August, which is equivalent to holiday provision of £19.50 per week per child eligible for support. However in England, the Department for Education has so far only committed to £9m funding for pilot holiday food projects in a few selected areas, with successful funding bidders still to be announced. In the letter, the organisations say this is not enough and a national level holiday provision funding formula is now needed "at a level sufficient to expand provision of free school meals substitutes, and to the National School Breakfast Programme, to cover all holiday periods across the whole of England until end of August."
The Government did extend funding to allow the national school voucher programme for England to cover Easter holidays. The organisations are arguing that giving more advance notice for forthcoming holiday periods would allow schools, academy trusts and local authorities to make better plans with their relevant food and catering suppliers, or alternative voucher/cash support provision, with confidence that they will have the funds to deliver.
Join Us! If you would like to add your organisation's name to the joint call on Government to fund holiday food provision, get in touch with Barbara@sustainweb.org
Updated list of signatories backing the call for holiday food provision
(as of 18 May 2020)
1. Barbara Crowther, Co-ordinator, Children's Food Campaign
2. Stephanie Wood, Founder/CEO, School Food Matters and Co-Chair School Food Plan Alliance
3. Anna Taylor OBE, Executive Director, The Food Foundation
4. Jeanette Orrey MBE, Co-Founder Food for Life & Co-Chair School Food Plan Alliance
5. Rob Percival, Head of Policy, Food for Life/Soil Assocation.
6. Naomi Duncan, Chief Executive, Chefs in Schools
7. James Bielby, Chief Executive, Federation of Wholesale Distributors
8. Kath Dalmeny, Chief Executive, Sustain
9. Matthew Philpott, Executive Director, Health Equalities Group
10. Leigh Powell, National Officer, Education & Children's Services, UNISON
11. Maria Bryant, Chair of Board of Trustees & Kath Roberts, Trustee, Association for the Study of Obesity
12. Katharine Jenner, Campaign Director, Action on Sugar & Action on Salt
13. James Toop, CEO, Biteback 2030
14. Dr Helen Crawley, Director, First Steps Nutrition Trust
15. Duncan Stephenson, Deputy CEO, RSPH
16. Andrew Forsey, National Director, Feeding Britain
17. Alysa Remtulla, Head of Policy & Campaigns, Magic Breakfast
18. Dr. Mary Bousted and Kevin Courtney, Joint General Secretaries of the National Education Union
19. Kirsty McHugh, Chief Executive, Mayor's Fund for London
20. Sara Jayne Stanes, Chief Executive, Royal Academy of Culinary Arts' Adopt a School Trust 
21. Peter McGrath, Operations Director, Meals and More
22. Daf Viney, Director of Services, Hackney Migrant Centre
23. Nicola Dolton, Deputy Director Services & Innovation, Family Action
24. Tim Morfin, CEO, Transforming Lives for Good
25. Tom McIntosh, Operations Director, Sport Birmingham
26. Sarah Hickey, Programme Director - Child Obesity, Guys & St Thomas' Charity
27. Josef Davis-Coates, Co-Founder, United Diversity
28. Shane Holland, Executive Chairman, Slow Food in the UK
29. Tom Skinner, Director, Greater Manchester Poverty Action
30. Jonathan Pauling, Chief Executive, Alexandra Rose Charity
31. Elly Heaton-Virgo, Chief Executive Officer, Young Ealing Foundation
32. Mark Fishpool, Director, Middlesbrough Environment City
33. Clare Roberts, Poverty Truth Commission Co-ordinator, Cheshire West and Chester Council
34. Pascal Gerrard, Founder, Streetcube
35. Stephanie Ellis, Project Manager, The Welcome Network & trustee, Feeding Britain
36. Philip Barron, CEO, Young Westminster Foundation
37. Alan Proudler, Chair of Trustees, Middlesbrough Food Bank
38. Rod Munro, Team Leader, New Life Community Impact, Sleaford
39. Nigel Curry, co-Chair, Lincoln Food Partnership
40. Maurice di Rosso, Director, Feeding Bristol
41. Trewin Restorick, CEO, Hubbub
42. Caz Hattam, Co-ordinator, The Unity Project
43. Laurence Guinness, Chief Executive, The Childhood Trust
44. Hon. Baroness Frances d'Souza, Honorary President, Children First Alliance
45. Peter Grigg, CEO, Home Start UK
46. Rachel Hall, CEO, City Catering Southampton
47. Dr Sam Royston, Director of Policy & Research, The Children's Society
48. Nynke Brett, Opearations Manager, Made in Hackney
49. Andrew Jolly, Trustee, Birch Network, Birmingham
49. Mike Farley, FiSH Project, Lincoln
50. Clive Bower, Trustee, Waltham Forest Migrant Action
51. Keith Morgan, CEO, Young Camden Foundation
For more information:
Read the full original letter from 23 organisations to the Department for Education on Holiday Food Provision
Find out what Sustain is doing to increase access to healthy, nutritious food for vulnerable children during the Covid-19 Emergency
Read the latest Government guidance on free school meals for children during COVID-19 in England
Support our campaign
Your donation will help us champion children's rights, parent power and government action to improve the food environment children grow up in.