Go SUGAR SMART! Jamie and Sustain join forces on new campaign
Jamie Oliver Food Foundation and Sustain have launched a new campaign which supports organisations looking to change the amount of sugar we consume. They are now encouraging organisations to register on the new SUGAR SMART website, for support in tackling sugar within their premises, and also those wanting to run campaigns across their local area.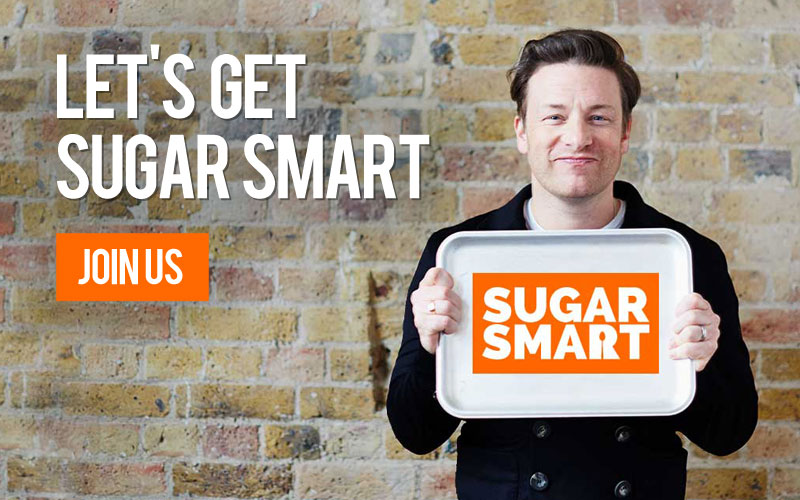 The website is a central hub for local campaigns and organisations who want to start a campaign in their local area and reduce sugar consumption in their communities. It also provides resources for those who want to pledge to become SUGAR SMART – from councils and schools to restaurants, hospitals and independent companies looking to reduce the amount of sugar around their organisation or business.
Take the first step and register now at www.sugarsmartuk.org
The website is full of information whether you want to start a campaign, or just change your own organisation, there are tonnes of useful assets you can download.
For local campaigns some of the key features of the SUGAR SMART website include:
See how many people and organisations are signing up in your local area
Connecting with others taking part in your area
Guidance, assets and case studies to help you in your actions
Sharing resources with others running activities in your area
Tracking the impact and reach of your activities
Share ideas, resources and success stories across a growing network
The Sugar Smart team need your help to stop the sugar crisis, so register now and join a growing community of cities and local areas going SUGAR SMART.
For organisations who want to pledge to go SUGAR SMART, the website includes:
lists of actions you can take with bundles of resources
case studies of similar organisations already taking action
Whether you're a community group, workplace, hospitals, school, university, independent restaurant or retailer, sports club or leisure centre, tourist attraction or venue, we want you to register now to see what difference you can make.
SUGAR SMART is the feature campaign of Sustainable Food Cities until mid-2018.
Support our campaign
Your donation will help communities and organisations to take action to reduce the sugar we all consume.