UK government publishes its negotiating objectives for a US trade deal
The UK government has finally published its negotiating objectives for a future trade deal with the United States, with worrying signs for food and farming.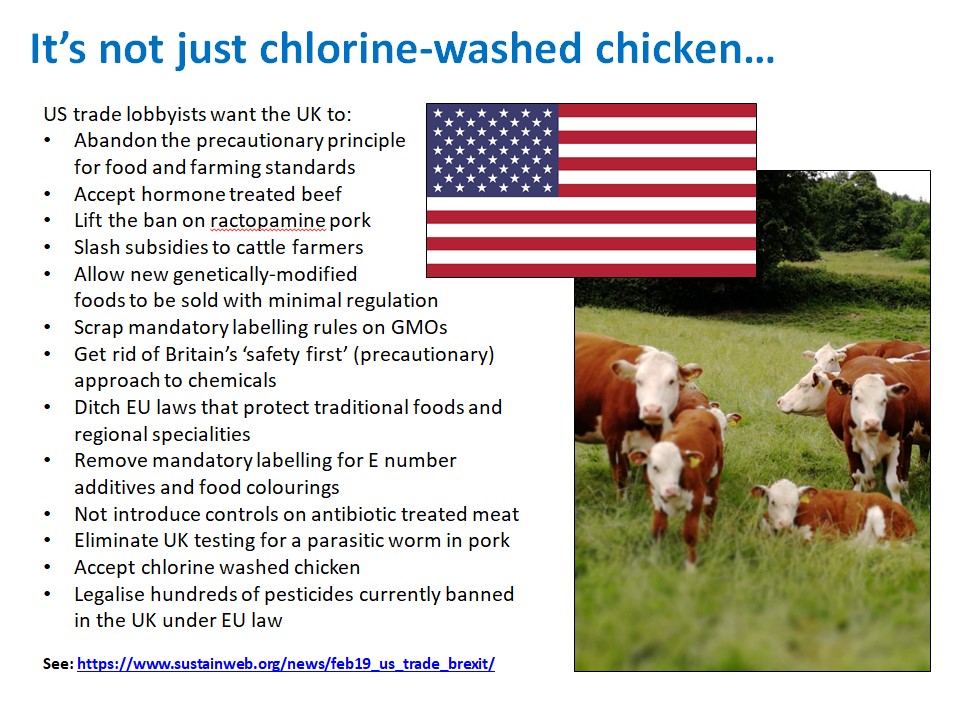 The key message of the 188-page document is that the Government hopes to "increase trade between both countries by £15.3 billion in the long run… and increase UK workers' wages by £1.8 billion" (p5). But commentators were quick to point out the prediction would benefit the economy by just 0.2% of GDP, versus a potential drop in per person GDP by anywhere between 2.3% and 7% with the Prime Minister's EU proposal.
Kath Dalmeny, chief executive of Sustain: The alliance for better food and farming, said:
"To the casual reader the UK negotiating document appears to commit to food imports that meet British standards. However, closer reading shows they don't factor in issues that are important to UK consumers such as animal welfare and the environment. Even more alarming is the admission that the deal could increase the intensive use of chemicals and increase threats to biodiversity.

"The document shows that the UK is performing better than other developed countries on environmental measures – with the notable exceptions of forestry and fishing. The US, on the other hand, is underperforming on seven measures including biodiversity, climate, water usage and air pollution.

"British consumers will be appalled at the prospect of our standards being sacrificed in exchange for a deal with the US. The meagre gains of that deal will be wiped out anyway if the government fails to secure a trade agreement with our closest neighbours in Europe."
Agriculture
The opening paragraphs of the document are specific about the potential benefits to agriculture [p5], and later predicts "a small increase in output" in the agriculture, semi-processed and processed food sectors [p61] thanks to "cheaper intermediate imports from the US". However, it also predicts that the reduction in tariff barriers will be greatest for US agri-food exporters, which the National Farmers Union (NFU, representing British farmers) has been clear will put UK agriculture at greater risk. The document also predicts, in certain scenarios, a possible contraction of 0.05% in UK agriculture employment [p70].
Food standards
The negotiating document uses the same phrase used in the Conservative Party manifesto about not compromising on "our high environmental protection, animal welfare and food standards". It goes further in saying that the "UK's independent food regulators will continue to ensure that all food imports into the UK comply with those high standards". This would be cause for celebration if the document did not later clarify that this refers to imports meeting the UK's "stringent food safety standards" [p20]. Sustain maintains that food should be produced to high standards, not just on safety, but also on other measures such as animal welfare, climate, pesticides, environmental impact and working conditions.
We note with interest that demands from the public for the UK's current food and product standards to "be maintained and not negatively impacted by an FTA [Free Trade Agreement] with the US" was the issue that generated the second highest number of responses to a consultation run by the UK's Department for International Trade [p16 consultation response document].
Chemicals [p108]
The UK government's objectives state that US businesses have the potential to provide goods and services, and cites the US's chemical industry as being the top 'value added' provider in the manufacturing sector. It is worth noting that in the leaked working party papers from November 2019, the US negotiators flagged the "philosophical difference" in approach between a risk-based approach (US) and an increasingly hazard-based approach (EU).
In discussing the possible impact on agricultural land use in the UK, the negotiating objectives document specifically states that "Increased agricultural production could also increase the intensive use of chemical inputs and increase threats to biodiversity."
Climate change
Back in November 2019, when the documents from the US and UK working groups were leaked, we noted that the US refused a UK request to make any reference to climate change in future trade agreements. We are therefore heartened to find that the UK's negotiating objectives state it wants to secure use their "FTAs to support delivery of the UK's strong environmental and climate commitments" and will be monitoring the government's progress against those commitments [p23]. [Note: you can read more on Sustain's declaration on a climate and nature emergency here].
Cheap food [p5]
The Government claims there will be opportunities throughout the economy, and said there would be benefits for consumers from "more choice" and "lower prices". Whilst they have not been specific about lower food prices in this new document, Sustain has previously laid out the case against 'cheap food' imports, which always comes at a cost, to the farmer or food producer, to animal welfare, to the environment or jobs in UK food and farming. You can read that here.
Specially protected food products
At first glance the Government appears to want to protect UK food products with legally protected marketing descriptions based on tradidtional recipes and geographical location, for example Stilton cheese, Melton Mowbray pies and Welsh lamb. However, in the same paragraph [p11] they also say they want to ensure consumers have "access to a competitive range of products", which casts rather a shadow. The US has long been vehemently opposed to products with geographical indicators as it wants to sell its own generic products riding on the back of such premium heritage names – for example to market its own Greek-style cheese as 'feta'. This does note bode well for British producers of traditional foods.
---
02/03/2020
Food and Farming Policy
SHARE
---
Food and Farming Policy: Sustain encourages integration of sustainable food and farming into local, regional and national government policies.